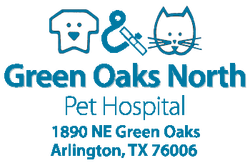 Green Oaks North Pet Hospital
Welcome Message
Green Oaks North Pet Hospital is located in north Arlington on N.E. Green Oaks Boulevard. We are easily accessed from both Arlington and Grand Prairie. Our medical facility is a fully equipped veterinary hospital providing both routine and major surgeries, pet dentistry, radiography, diagnosis and treatment for a wide range of illnesses. In addition, Green Oaks North Pet Hospital has a full, on-site laboratory to aid in providing prompt diagnosis and treatment, and a boarding facility.
Mission
To the best of our abilities, we will provide quality medical care for companion animals as well as genuine concern for the needs and wishes of their owners. Every effort will be made to serve our clients in a timely manner. Staff members will be empowered to be confident, self-sufficient professionals who will treat each pet as they would their own. We will strive to educate pet owners on responsible pet ownership and preventative healthcare.
Services Offered

Dog Services

Cat Services
Location & Areas We Serve
History
No embed code settings found. Please configure it
Welcome to Green Oaks North Pet Hospital

Your Veterinarian in Arlington and Grand Prairie, TX

Call us at 817-860-3087



Pet Emergency? Read no further and call us right away!

Green Oaks North Pet Hospital offers superior veterinary care for your pets. We are located on Green Oaks Boulevard in north Arlington, TX. Our services include routine examinations, surgery, dentistry, radiography and boarding. We also have the capability of performing on-site laboratory testing.

A modern, state of the art facility combined with a caring and competent staff insures that your pet receives the best medical care, bathing and boarding possible. With all of these services in one facility and convenient hours, keeping your pet healthy and happy just became easier. If you have any questions or need directions, please visit our contact page for further information.