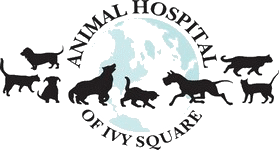 Animal Hospital of Ivy Square
COVID-19 Information for
Animal Hospital of Ivy Square
Animal Hospital of Ivy Square is currently: Open and delivering curbside services
Welcome Message
Your pet is an important part of your family that deserves to be cared for with love and respect. That's why the veterinary team at Animal Hospital of Ivy Square in Charlottesville is dedicated to providing you and your pet with the highest quality, most compassionate health care possible, in a comfortable, safe and caring environment. To schedule an appointment or learn more about all the ways we help you protect your pet's health, including 50% off of initial examinations for new patients, free dental health checks, multi-pet discounts, payment plans and more
Mission
Advanced and Compassionate Pet Care
in Charlottesville Since 1993
Selecting a veterinarian is one of the most important decisions you make as a pet owner. When you choose Animal Hospital of Ivy Square to be your pet care partner, you can be assured your pet is receiving care based on the most advanced medical protocols from a skilled, dedicated team of veterinary professionals.
Pet Wellness Exams for a Lifetime of Great Health
The centerpiece of your pet's healthcare plan at our animal hospital is regular pet wellness care that includes comprehensive examinations, dental care, customized vaccinations and parasite prevention. Identifying issues before they become serious is the key to your pet's long-term good health and keeping the lifetime cost of care as low as possible.
Advanced Veterinary Medicine
We understand an illness or injury can be a serious concern, and that's why our veterinarians and medical team are here to provide the experienced, thorough veterinary care that's especially important when your pet is unwell. Our state-of-the-art diagnostic technology and surgical expertise mean we can work quickly to get you answers and restore your pet's good health.
Involving You in Your Pet's Healthcare
It's our job not only to protect your pet's health, but also to make sure you have the knowledge to be the best possible caregiver to your pet at home. That's why the veterinarians and staff at Animal Hospital of Ivy Square invest our time in getting to know your pet, talk with you and give you all the information you need to make the right decisions for your companion.
We Are Your Other Family Doctors
Thank you for taking the time to learn more about our animal hospital in Charlottesville. If you have any questions or would like to schedule an appointment, call us today at (434) 295-8387 (VETS). Please ask us about our discounted wellness examinations for new patients, our discounted dental health checks, the multi-pet discounts and payment plans we offer.
We look forward to meeting you and your pet!
Services Offered

Dog Services

Cat Services
Location & Areas We Serve
History
Advanced and compassionate pet care in Charlottesville since 1993
Job Opportunities at this Practice