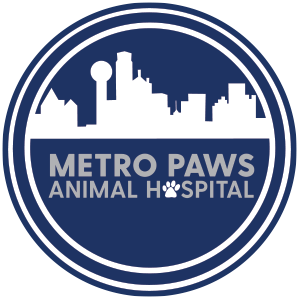 Metro Paws Animal Hospital - White Rock
COVID-19 Information for
Metro Paws Animal Hospital - White Rock
Metro Paws Animal Hospital - White Rock is currently: Open and delivering curbside services
Welcome Message
Metro Paws Animal Hospital is a collaboration between three veterinary hospitals in the Dallas Metro area. Our locations are full-service, offering many additional services for dogs and cats in addition to wellness care and immunizations, boarding, dermatology, radiology, surgery, dentistry, reproduction, and heartworm treatment.
Mission
Entrusting us with the health and well-being of your pet is not something we take for granted. We pride ourselves in making veterinary visits a positive experience for both you and your pet. As such, we go the extra step to be a fear-free and cat-friendly-certified practice.
You can always count on us to be honest, compassionate, and provide complete veterinary care when your pet needs it most.
Services Offered

Dog Services

Cat Services
Location & Areas We Serve
History
In 2006, Metro Paws Animal Hospital was founded by Drs. Jennifer Lavender and Kathryn Sarpong to offer Dallas residents personalized veterinary care for their dogs and cats. The Metro Paws Skillman location serves Central Dallas, M Streets, Junius Heights, Swiss Avenue, Munger Place, West Lakewood and Vickery Park.
To better serve our clientele, a second location was built in July 2012. Metro Paws Oak Cliff serves Kessler Park, Bishop Arts, The Belmont Area, Stevens Park, Oak Cliff, Downtown Dallas, and West Dallas.
Finally, Metro Paws White Rock, which opened in January 2017, serves East Dallas, Casa Linda, Forest Hills, Little Forest Hills, Enclave, Gastonwood, Lakewood, and Hollywood Heights.