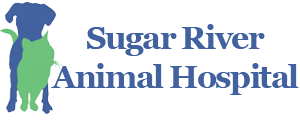 Sugar River Animal Hospital
Welcome Message
Sugar River Animal Hospital is not just a hospital, but is also a full-service clinic, able to provide care for sick pets as well as wellness and preventive care for pets in any stage of life. We are continually motivated to provide the absolute best care to our clients and patients in Sullivan county, Grantham and the surrounding areas, from Enfield to New London and Lebanon to Newport. As a small, privately owned practice, we make our pet care recommendations based on each pet's needs. We will guide you to the best option for your pet's treatment, considering all aspects of their needs and your lifestyle.
Mission
Exceptional care is our number one goal, and you and your pet are our priority!
We pride ourselves in our customer service and having a warm friendly environment. We literally have clients that just stop in to socialize!
We believe in treating our patients like they are our family pets.
We practice the latest and most up-to-date medicine and have a state of the art facility.
Services Offered

Dog Services

Cat Services

Other Services
Location & Areas We Serve
History
Whether it's vaccines, surgery, dentistry, or laser therapy, our team is proud to provide high-quality medical care for your loving companion.
Your pet is part of your family. That's why everything we do at Sugar River Animal Hospital is focused on providing them with the quality medical care they deserve. Founded in 2013, we're proud to do just that. Our caring team goes above and beyond for every loving companion, no matter if they're receiving surgery, vaccines, acupuncture, dentistry, or laser therapy. We're a full-service, AAHA-accredited practice that's dedicated to putting furry patients and their owners first. Make an appointment at 120 NH-10, where friendliness, compassion, and high-quality medicine are always top priorities for our New Hampshire community.