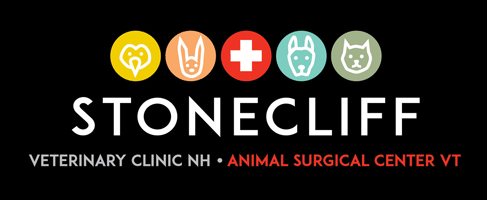 Stonecliff Veterinary Surgical Center of Vermont
COVID-19 Information for
Stonecliff Veterinary Surgical Center of Vermont
Stonecliff Veterinary Surgical Center of Vermont is currently: Open and delivering curbside services
Welcome Message
We are family owned and operated, with two locations, Lebanon New Hampshire and downtown Montpelier, Vermont. Dr. Kelly has been providing Vermont and New Hampshire veterinary care for over 30 years. He is well known for his amazing surgical skills and also his down to earth, genuinely friendly attitude. Dr. Kelly has been supporting area veterinarians by providing a place for their clients to have complicated surgeries performed without having to send them to a more expensive specialty hospitals, hours away. We provide financing options and range of treatment plans to insure that your pet can get the very best care. We are so excited to bring Stonecliff Veterinary Surgical Center to Central Vermont. Stop by and meet our staff and see why Stonecliff is a household name for so many.
Mission
We pride ourselves on being not your run of the mill veterinary clinic. We go above and beyond to make sure you and your pet's experience is nothing less then perfect!
Services Offered

Dog Services
Dog Illnesses and Disease
Dog Reproductive Services

Cat Services

Other Services
Location & Areas We Serve
History
Stonecliff Animal Clinic has been practicing the highest quality veterinary medicine since 1990 in the Upper Valley of Vermont and New Hampshire. Originally a mixed animal practice, Dr. Kelly's love of surgery and complicated medical cases lead him to concentrate on his surgical skills. In 1999 he participated in a training course on Tibial Plateau Leveling Osteotomy (TPLO) with Dr. Barclay Slocum the creator of the procedure. He became the first veterinarian in Vermont and New Hampshire to be licensed to perform the TPLO. Since that time Dr. Kelly has completed many courses on correcting orthopedic conditions in the dog and cat.
The areas lack of 24 hour care lead Kelly to open Small Animal Veterinary Emergency Services (SAVES) in Lebanon, New Hampshire. Dr. Kelly and his family operated SAVES for six years until it was ready to stand on its own, and sold the practice in 2014 to the very capable Intown Veterinary Group that operated four other emergency facilities in the Northeast. Stonecliff Animal Clinic was then moved out of the SAVES building to a brand new facility on Mechanic Street in Lebanon, New Hampshire.
Dr. Kelly's patients come from near and far. A few years back a dog was flown in from Russia for a consult and TPLO surgery with Dr. Kelly. Stonecliff Veterinary Surgical Center (SVSC) has been created because many of Kelly's clients reside in Central Vermont and he wanted to make it more convenient for them to seek his advice and care. Dr. Kelly will provide surgical services in both his Lebanon, NH and Montpelier VT locations. Find out why our clients love Stonecliff and their staff! Honest, experienced, affordable and dedicated to you and your pet!