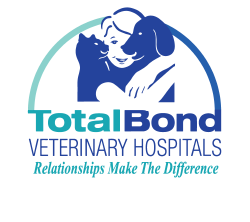 TotalBond Veterinary Hospital at Bethel
Welcome Message
TotalBond Veterinary Hospital at Bethel is a full-service veterinary hospital that serves dogs, cats, and pet parents of Lake Wylie, South Carolina. At our fully-equipped veterinary clinic, we are fully committed to the TotalBond way: you and your pet receiving the utmost compassion and care.
Mission
Although our practice has continued to grow and modernize over the years, we pride ourselves on intimately understanding and anticipating your pet's needs. It's this environment that allows us to feel like our clients are a part of our family, and we care for your pets as our own.
Services Offered

Dog Services

Cat Services
Location & Areas We Serve
History
TotalBond Veterinary Hospital at Bethel believes in The TotalBond Way, meaning we build and strengthen memorable relationships, while giving your pet the highest level of compassionate care during every stage of their life. We have loved serving both our clients and patients at our animal hospital located in Lake Wylie, South Carolina since 1984.