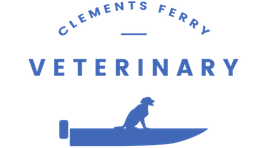 Clements Ferry Veterinary
Welcome Message
From the moment you walk in the door, you and your pet will feel a sense of connection that is comforting and relaxing. Our compassionate team is invested in forming a long-lasting relationship based on trust and transparency. Courtesy, respect, and patience are values we instill in our well-trained and accommodating staff. Pets are family, and we see no other way to treat them than as our own.
At Clements Ferry Veterinary you can be confident that you are not only receiving exceptional quality care, but also complete understanding throughout the process. You will know what we are doing and why we are doing it every step of the way. After all, your satisfaction is just as important to us as your pet's health.
Mission
At Clements Ferry Veterinary, we value a strong connection to both you and your pet. Going to the vet should not be a burden or an inconvenience. We want you to feel like a part of the family as soon as you walk in the door. A large part of providing top-notch medical care is the client-pet-doctor relationship.
Services Offered

Dog Services

Cat Services