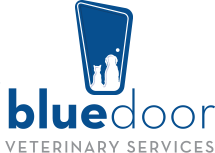 Blue Door Veterinary Services
Welcome Message
Blue Door Veterinary Services is proud to be the first full-service veterinary hospital to serve the greater Portland community on wheels!

We have a custom-outfitted, 26-foot mobile clinic, driven by veterinarian and founder, Dr. Meridith Dawson.

Mission
We're committed to ensuring that our clients and our patients experience the boutique feel of our veterinary hospital with exceptional service. Whether you're looking for convenience, state-of-the-art service, or customized treatment right at your door, Blue Door Veterinary Services is the pet doctor for you!
Services Offered

Dog Services
Dog Reproductive Services

Cat Services

Other Services