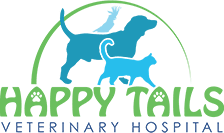 Happy Tails Veterinary Hospital
Welcome Message
Welcome to Happy Tails Veterinary Hospital, where we strive to give exceptional care, kindness, and compassion to our animal friends and their "parents." We combine the highest quality modern diagnostics with convenient hours, old school service, and competitive prices. We are proud to offer a family doctor feel to our clients and patients, giving you the special attention that you deserve!
Mission
The Happy Tails Veterinary Hospital team loves animals and it shows. We opened our animal hospital with the desire to provide flexible treatment options with state-of-the-art equipment. We have established our reputation as an animal hospital that maintains our own high standards and strives to offer the best possible treatment to our patients and our clients.
Services Offered

Dog Services

Cat Services

Other Services
Location & Areas We Serve
History
How We Got Our Name
The goal of our nameHappy Tails Veterinary Hospitalis two-fold. We chose our name to honor our hospital owner, Dr. Marko Sima's Golden Retriever GT, who had already crossed the Rainbow Bridge at the time. While he was brainstorming a name that fit the goal of the practice, GT appeared in Dr. Sima's dream, wagging her happy tail just like she'd always done in life, and he knew right then that "Happy Tails" was the perfect name for the animal hospital. It also truly speaks to our vision for the practice as we hope that all of our patients leave feeling better with their happy tails wagging!
More About Our Animal Hospital
The veterinarians and staff at Happy Tails Veterinary Hospital have a commitment to veterinary excellence. Combined Drs. Sima and Rovere have over 50 years of experience as veterinarians.