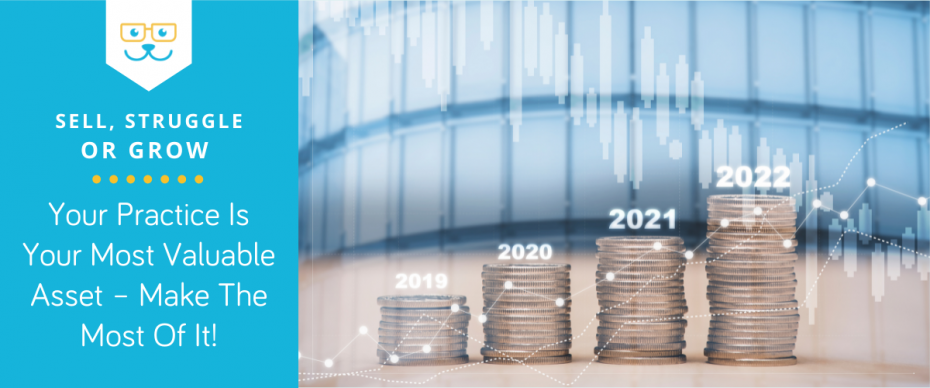 If you're like most practice owners, you've spent the majority of your adult life building your practice, and it's the most valuable asset you own. But what's surprising is that many practice owners don't make the investments to ensure their practice is as valuable as possible. This week we'll be talking about some of the critical steps winning practices are taking to maximize their value – whether or not they ever intend to sell.
What's Wrong With This Picture?
As a homeowner, even if you don't do an extensive remodel, you'd certainly patch a hole in the roof. But many practices are "leaking" enormous amounts of value by neglecting to really care for their business. This is not news to the corporations and private equity firms entering the vetmed space – in fact, they're counting on it. Many vetmed practices are the equivalent of "flippable houses" – a buyer can pick them up for a modest price, make a few tweaks, and then flip them for a nice profit.
What's unfortunate is that despite all the news about "high multiples" happening today, many practices are actually worth a lot less than they should be due to neglect. High staff and client turnover, a weak practice culture, low community engagement, or the lack of effective communications all contribute to low EBITDA and thus a lower valuation. 
The good news is, there are many steps that a practice owner can and should take to increase the value of the practice – regardless of the exit strategy.
What Matters More: The Market's Timing – or Yours?
It can be tempting to consider selling, with the increase in valuations being promoted so widely in vetmed publications and chat groups. It might seem like a "magical" time to sell a practice. But this is an incomplete picture. 
Veterinary practices are not stocks that shoot up and down in value all the time – in fact, that's what makes them so valuable! Veterinary practices are an astonishingly durable asset. 
Just because multiples are higher now than they have been in the past doesn't mean that practice owners are somehow "putting one over" on the multi-billion dollar funds backing these acquisitions. These are brilliant people, and they do their homework. 
Valuations are high for a number of legitimate macroeconomic reasons, including record-low interest rates, lack of other investments, and the fact that vetmed is fairly recession-proof, among others. Forbes pointed out that "in the last recession, the veterinary practice management business was flat to 1% down, compared to most other industries whose revenue was down by 10 to 50%."
Bottom line: if everyone wants to buy your practice, it's probably because it's valuable. 
Private equity firms' goal is to beat the average long-run and quarterly return of the stock market, which is approximately 7% percent per year. Overall, consolidated veterinary hospitals easily are meeting, and in many cases beating, that target. Returns of 20% or more are not uncommon. – Dr. Michael Dicks, leading veterinary economist, writing for VIN News
So if it's not about timing the market, what is the timing that really matters when it comes to selling your practice? It's probably more about the "timing" of your own life – your goals, your family, and how you want to spend your time.
Of course, if you're in your 60s or 70s and ready to retire, it can be the most logical thing to sell your practice. And if you don't have an associate or peer that you can sell to, some ethical corporate groups can offer significant multiples. But I'm seeing more and more DVMs selling their practice in their 40s, and all I can think is, 'What are you going to do now? And are you actually getting enough money to last the rest of your life?' In most cases, those DVMs would have been much better off holding their practice and continuing to generate income from it for years to come. – Dr. Michele Drake
Maximizing The Value of Your Practice Through EBITDA
Most practice valuations are done primarily on the EBITDA (Earnings Before Interest, Taxes, Depreciation, and Amortization – very similar to profit with some nuances). A valuation is typically a "multiple" of EBITDA. For example, a practice generating $2M in annual revenue with 10% EBITDA would have $200,000 in EBITDA. If that practice sold for "5X EBITDA" that would give a price of $1M.
You probably already knew that. But here's a mistake many owners make: thinking that if they want to increase the value of your practice, that it's all about increasing the total revenue. This can be discouraging, and it's usually "the hard way."
For ease of comparison with other practices, the profit margin is generally stated as a percentage, which is calculated by practice profits divided by gross revenue. The resulting percentage is the actual operating profit of the practice. Percentages above 18% are generally considered superior, 16% to 18% are excellent, 13% to 15% are good, 8% to 12% are fair, and less than 8% are poor. – Dr. Karen E. Felsted, CPA, MS, DVM, CVPM, CVA, writing in DVM360
If you owned the above practice valued at $1M and wanted to increase the value to $2M, if you didn't increase your 10% margins, you'd have to grow your revenues from $2M up to $4M. 
On the other hand, if you could increase your margins to 18%, you'd only need to increase your "top line" from $2M to a little over $2.2M.
So increasing your margins can make a tremendous difference – much more than simply increasing your top line. 
(VetPartners offers several resources around practice valuation that can help, including definitions of some of the common jargon you'll encounter along the way.)
How Do You Increase Your Margins / EBITDA?
We're going to dig deeper into this topic next week, including key areas where many practice owners waste money and where they often under-invest and prevent themselves from growing.
But for now, here's a powerful high-level perspective on the subject from Dr. Drake:
My first mentor taught me something that has made all the difference in my practice. He said, "Always run your practice like you might need to sell it in 6 months." To me, this means keeping the business healthy at all times. Don't let problems fester. Keep your books clean and up to date. Always be checking your percentage of revenue going to payroll, drugs and supplies, marketing, and overhead, and making sure the bottom line is healthy. And the same goes for keeping your culture strong, protecting your brand and reputation, and staying bonded to your clients. And the magic part is, if you run your practice like that, you'll never be 'forced' to sell – you can develop the exit strategy that's right for you. – Dr. Michele Drake
The Drake Center for Veterinary Care ranks among the top practices in the nation regarding margins and profitability, so these lessons have clearly worked for Dr. Drake. Many other top practices take a similar approach, and this strategy can work in your practice, too. 
Some independent owners and corporate groups believe that the route to increasing EBITDA is all about cutting costs. While this enters into it, it's not the complete solution. In many cases, investing more in key aspects of the business can make a huge impact, such as paying a little more for higher quality DVMs, leadership, and staff; or strengthening your brand and marketing to attract higher-quality clients.
Of course, in addition to investing in growth, you need to pay close attention to your costs and be willing to make cuts and adjustments to stay on track. Working closely with a qualified financial advisor or accountant who has experience in veterinary practices can really help here. There are also great peer mentoring opportunities available through groups such as VMG and TVC that have made a tremendous difference for practice leaders. You don't have to go it alone – set goals and connect with peers who are working toward those same goals, and you'll significantly increase your chances of success.
As Dr. Drake discussed, it's a valuable exercise to take a moment and think about how a potential acquirer would view your practice right at this moment:
Are your financial records fully up to date?
Do you "know your numbers" so you can practically recite them in your sleep? EBITDA, payroll percentage, drugs and supplies percentage, the average number of new clients per month, average first visit value, and so on?
Is your team stable, with minimal turnover? (Turnover is one of the biggest and most under-appreciated impacts on profitability)
Is your practice the "gem" of your community – the most profitable, biggest, best known, and most reputable in town?
If you run your practice in such a way that a potential acquirer could drop by anytime and be amazed and impressed, you'll put yourself in the best position.
If you do decide that the time is right to sell, you'll get the best possible value for the practice you've spent most of your life building.
And you may find that in doing all of the above – making your practice a great place to work, and a great place to bring a pet … improving your bottom line … strengthening your connections to your community – by doing all of this, you may find your practice is a joy to own, and an asset you'll want to hang onto for many years to come!
Want to learn more about making the most of your practice, bringing on expert employees, and improving profitability? Schedule a GeniusVets Demo!