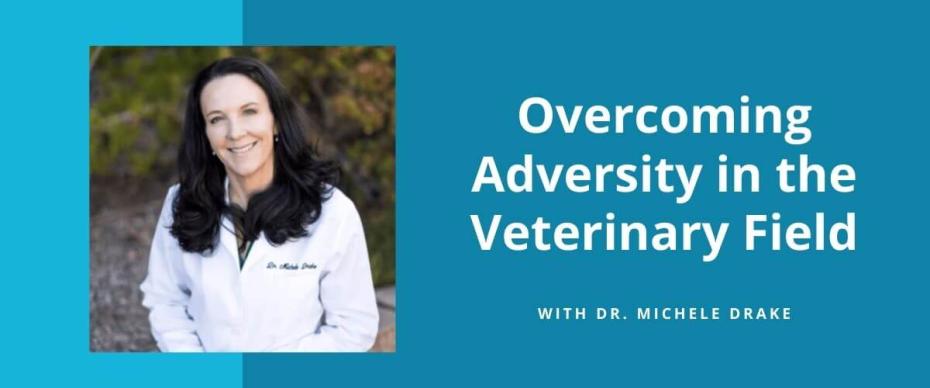 The veterinary industry is one of the strongest and most resilient professions in the world today. Covid-19 hit and knocked out entire corporations but, when you're in the business of saving animal lives, even a global pandemic can't keep you from that purpose and passion. Among these pet lifesavers, the independent practices — the underdogs by nature — were the scrappiest of them all. Now that we are (at least somewhat) on the other side of it, many veterinarians have taken stock of what they learned and how they were able to turn tragedy into victory by putting their clients, their staff, and their communities first, and outperforming their corporate competitors.
Recently, DMV360's Chief Veterinary Officer, Dr. Adam Christman, sat down with a panel of independent practice owners, including GeniusVets co-founder and Dr. Michele Drake. The topic "overcoming adversity" was both timely and the focus of the TVCRise event. If you're an independent practice owner who feels like you're being set up to fail, watch this. These women share concrete tips on how to outsmart big corporate and put pet owners first, while improving their businesses, and taking care of their staff as well as their own mental health.
The Mt. Everest of Obstacles - Training New Hires
When Dr. Christman asked each of these independent practice owners the most significant obstacle that they've overcome in the last year, they all agreed that their common nemesis was finding the time to train all their new hires. With the tremendous growth they all experienced over the last year, hiring new people was inevitable. But finding the time to get them up to the chaotic speed at which they were working was a significant task in and of itself. To boot, many of these new hires came with less experience than those they've hired in the past, as qualified veterinary staff is in much higher demand than the available supply.

As Dr. Drake noted:
"We've had a 30 percent growth since Covid...to be growing that much and hiring to meet that need, training has been a tremendous challenge for all of us."
Never one to back down from a challenge, however, Dr. Drake went on to note:
"This is a David vs. Goliath opportunity—independent practices have the upper hand and a much better chance of being successful in every arena. We all hear about the constant battles over finding techs and such, and we have to look at the reality. The veterinary industry has expanded between 10 to 30 percent. Any industry would have trouble with this, so it's time for us to swallow that bitter pill and realize that we must develop technical skills within the hospital. I have 4 RVTs at my hospital, and, yeah, I would hire more if I could find more, but they're not out there right now. This requires a lot more intensive training from our veterinarians to train those who have aspirations. As independents, there are so many things we can do to make our hospitals better places to work."

Tara McConkey, Owner and Practice Manager of Turner Animal Hospital, said that finding enough staff and, in particular, the vet tech shortage hit them hard. As she noted, 10 years ago, when they started their practice, they had no problem hiring, but it's a "totally different game now."
Owner and Hospital Administrator at Cats Only Veterinary Clinic, Andrea Lukuch, echoed their sentiments, saying, "We're drinking from a fire hose; finding the time to properly train our new hires is so, so hard."

How to Compete in a Dog-Eat-Dog Corporate World
As Dr. Christman noted, the bigger corporate practices inherently have a leg up in times like these. They have the financial backing to offer signing bonuses and other incentives to have applicants—especially recent graduates facing extensive loans—pie-eyed. So how do independent practices compete?
As Dr. Drake knows well, studies have shown that having a good company culture and job satisfaction are often more successful in retaining quality employees than financial incentives. As she notes:

"I sit down with all of our employees to discuss the 'why' of The Drake Center, the mission statement, and our core values. My manager knows that if they match our core values, we'll take that any day over experience. We also have what we call The Drake Difference—we talk about how we differentiate ourselves from other practices. We review our culture and mission statement every two years to ensure we have alignment in the hospital. Morale is so much better when everyone knows what we're doing and why we're doing it. One thing I can recommend to other doctors, owners, and team managers is to step outside the practice to do the work of identifying and clarifying the type of culture you aspire to, and mapping out how you are going to get there."
Tara and Andrea also noted that keeping employee morale up is crucial when everyone is working long hours, so they both implemented employee assistance programs (EAPs) at their practices. These programs help instill a work-life balance, and as Tara noted, they make sure their holiday hours are amenable to their employees.
Andrea made a very valid point in that not all perks are created equal.
Find out what your veterinary clinic employees want:
Pet benefits
Improved work-life balance
Better pay
More opportunities for CE
Fewer or perhaps more hours
As with everything else, this means having open lines of communication and regular check-ins to find out what is top of mind for your employees.
Roll With Emerging Technologies, or Get Rolled Over
One thing that stood out as lacking in the veterinary field during the pandemic was technology, as many of our GeniusVets webinar speakers (in particular Dr. Peter Weinstein) highlighted. Because veterinarians, and particularly independent veterinarians, are nothing if not resourceful, the option for curbside service was offered nearly immediately. The problem, however, is without technology to pair with it, curbside service was inevitably clunky.
Dr. Drake immediately saw the need to streamline this with technology, saying:
"We make sure everything we do supports our mission statement. I always try to look at things from our consumers' viewpoints. Curbside meant an increase in calls by 40 percent. We knew we had to do something. We got a bot within two weeks (Zingle) to virtually greet people when they arrived at The Drake Center. We always ask ourselves what our clients are experiencing, and they want fast, efficient, and superior veterinary care. Even now, we're changing our pet care system. It's a painful process, but we based this on information systems and being fast for our clients, keeping up with consumer needs, and being efficient enough for our staff. We also had to build an annex to our hospital to accommodate the amount of business we're doing."
Like Dr. Drake, Tara mentioned the need for updating their technology during the pandemic to keep things running smoothly, so both she and Andrea went with Weave, a two-way texting app. Tara said they also got an app for their clinic that made their receptionists' lives a lot easier. Not only that, but it includes a loyalty club, so their clients feel included, too.
Cultivating Trust With Millennial Pet Parents is a Must
Millennials get a bad rap for being picky, but, as Dr. Christman pointed out, they are eager, well-informed pet parents who want to be involved in the process, so engaging them is a must.
As Dr. Drake says of serving the Millennial population:
"Their [Millennials] expectation is that we will also be using tech tools—they want to be able to get info online and make appointments online, so marketing means you have to own the narrative or Chewy will do it for you. Have hundreds of articles. 'Why is my dog itchy?' If you search that, you'll see The Drake Center in the results. They also take their pets everywhere so those are the things we want to pay attention to. They're going to come to us and see that we have the high-tech tools that they expect."

As Andrea also said, "I love the Millennials. They are so educated and have great questions at visits. It's a partnership—we're inviting them to become a partner in their pet care. They want to be part of that conversation."
Tara echoed the same sentiments about Millennials' thirst for knowledge, so their practice has a pet care theme each month, and they deck out the front of the clinic with information boards and use the app. Also, when they get a new client, they thank them using the Punchbowl app.
Turning the Brutal Burden Into Better Business
When Dr. Christman asked the veterinarians how they've managed to succeed in the face of adversity over the past couple of years, Dr. Drake reminded everyone again that you own the narrative. Her 10 doctors are aligned on medications, protocols, and communication, and the front desk also responds to clients in a manner that reflects these standards.
As Andrea said, "Empowering your team is huge. Give them the power to help create growth. They are proud of the ideas they come up with. Allow them to make (not life-saving!) mistakes."
Along those same lines, Tara talked about the power of delegation. "We have leads on each team," she noted. "And they make decisions, which allows them to have more buy-in."
Dr. Drake also talked about the importance of communication and the hierarchy that exists when doing triage. Everyone has to be accountable for their actions and understand how the lines of communication filter throughout your departments. That means knowing who that problem should escalate to and how they should handle that. Again, Dr. Drake maintains that having an entrepreneurial operating system and a disciplined approach to problem solving and leadership are critical. And whether you use "rocks" or "leapfrogs," she notes that you need to have measurable goals for everyone in your practice. A book she recommended to help with this is Traction: Get a Grip On Your Business by Gino Wickman.
Find Ways to Stand Out Amongst Your Competitors With Niches and the Like
Creating niches in your practice is just one of the many helpful tips that Dr. Peter Weinstein has offered in our interviews with him, whether that's a brachycephalic-only practice, large dog-only practice, or another area of interest. Andrea noted that her practice offers one of only four feline-only residencies in the US, saying that they are "educating the next generation and then hopefully they will stay with us, as we are cultivating our practice." Now that more feline-only clinics are opening around Andrea's practice, she said that it's the little things they do that make a big difference, noting, "If you're only doing one thing different than the practice down the road, you're elevating your practice." Andrea also pointed that if you don't have an online store at this point, you will lose out to your competition.

Tara's practice distinguishes itself from those around it by having an entirely fear-free certified staff, cryotherapy, more dermatology and pain management services, and their own line of nutraceuticals.
Dr. Drake said that, although The Drake Center doesn't have any niches, per se, the biggest way they've differentiated themselves from their competition and big corporate is by finding a way to see a client that needs to be seen no matter what. With so many practices turning people away, she said this has been huge for them. "If you have a dog or cat that needs to be seen, we find a way," she went on to say.
Dr. Drake said that they "crushed" the corporate competition during Covid with this level of customer service. Whereas big corporate has policies like "every vaccine for every patient," independent practices have the upper hand by treating each patient on a case-by-case basis. This goes a long way in the eyes of many concerned pet parents in a time when money is as tight as time.
Are you an independent veterinary practice owner that also managed to thrive during Covid? Let us know how! If not, we can help you attract the right staff, establish a positive work culture, and increase profitability. Contact one of our Geniuses today!