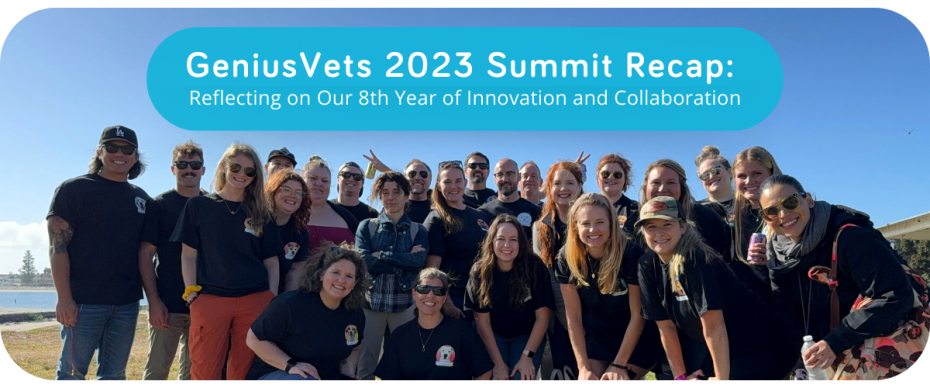 At GeniusVets, we truly value the rare occasions when our remote team can connect in a single location. Since 2016, it's been a tradition for us to come together annually. This year marked the 8th GeniusVets Summit, and we found ourselves gathering in the beautiful and sunny San Diego. That's right, the founders had no qualms about flying us all back to gather together in what's known as America's Finest City – and let me tell you, it, as always, was a brilliant idea.
During this two-day summit, the GeniusVets team engaged in a mix of idea-sharing, envisioning the company's future, and participating in some creative team-building challenges. Join us as we explore the 2023 GeniusVets' Summit, where we did everything from literal trust falls and deep discussions to roller coasters and dog kisses.

Day 1: A Refreshing Start with a Deep Dive into Ourselves
Work Hard
As we assembled for the first morning at the GeniusVets Summit, the air was filled with a palpable sense of excitement and fellowship. The event kicked off with an inspiring welcome message from our Co-Founder and CEO, Harley Orion. His words about our mission, values, growth, and goals set a powerful tone for the day. It was a vivid reminder of what GeniusVets stands for and the incredible journey we've embarked on together.
We then transitioned into a SWOT meeting, delving into the Strengths, Weaknesses, Opportunities, and Threats of various GeniusVets departments. This was a favorite among the entire crew. Breaking into groups, we all shared ideas and collaborated to plan the next steps and strategize the footwork of each objective. The experience was nothing short of refreshing and eye-opening. It was a testament to our collective creativity and our ability to navigate potential obstacles and opportunities as a unified team.
Play Hard
Post-lunch, we shifted gears and volunteered at The Animal Pad, an all-breed, non-profit dog rescue in San Diego. It was inspiring and heartwarming to see our team in a different light, using their skills to enhance these special pup's lives in a variety of ways. From cleaning duties throughout the facility inside and assisting with yard work and cleanup outside to giving the dogs some much-needed TLC, we were honored to have the time to give. Our medical team put their skills into action, sedating, bandaging, vaccinating, and aiding in hygiene for these beloved canines. This experience not only brought us closer but also reinforced our commitment to animal welfare.

Day 2: Gaining Deeper Insights and Celebrating Our Team
Business in the Front
The second day of the summit was equally enriching, starting with an engaging session led by Dr. Michele Drake. As the only veterinary marketing company with a DVM as part of our leadership, Dr. Drake's insights were invaluable. Her diverse experience as a DVM and clinic owner of a growing practice enriched our understanding of what clients need, want, and value.
After Dr. Drake's wisdom, the crew came together for "In My Shoes." This staff activity gave each staff member the opportunity to discuss their role, needs, and the unseen aspects of their work. It was a genuine experience, enabling us to understand and appreciate each person's unique value and contributions to GeniusVets. This session was all about supporting each other and celebrating our accomplishments. Definitely another fan favorite!
David Hall, GeniusVets Co-Founder, took the floor after this exercise to speak about the client's journey. His insights opened our eyes to how we can best support our clients through every step of marketing. Reflecting on the mission and heartbeat of GeniusVets, we were reminded of who we are and all that we can achieve together. The session ended on a high note, celebrating our team and the exciting future that lies ahead.

Party in the Back
As day two continued, our entourage broke into teams and took on four different escape rooms. Believe it or not, through tons of laughs, riddles, and teamwork, we were all successful in escaping! We had one night left with each other before packing our bags, boarding our flights, and getting back to our Zoom calls. We enjoyed our final hours together at the Bahia patio, where we couldn't help but raise our glasses to remember this one-of-a-kind opportunity.
The Final Recap
As the summit concluded, we left feeling more connected, inspired, and committed to our mission than ever before. These two days weren't just about meetings and discussions; they were about growing together as a team and reaffirming our dedication to excellence in veterinary marketing.
As the most trusted team in veterinary marketing, we understand how critical in-person interactions and bonding are for breaking through ceilings and creating alignment throughout the company. This is why our leadership team puts so much time and effort into making each and every GeniusVets Summit a personally and professionally rewarding experience for all of our team members. Now that we're all back home, answering emails and logging onto calls via webcams and home offices, we're eager to put the plans we've constructed at Summit into action and continue to provide our clients with the best veterinary marketing services and resources available. Here's to many more years of success and innovation at GeniusVets.