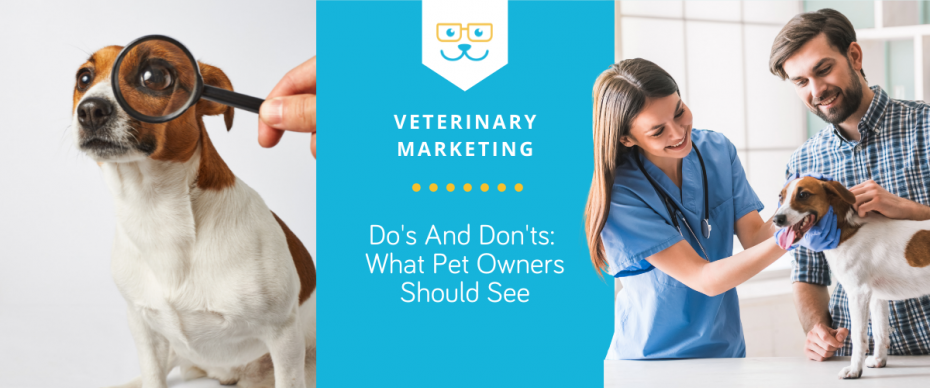 A potential new client is considering booking an appointment with your practice, but like most of us, they do a little browsing on the internet to get a better feel for your business. While searching, besides your website, many people will also browse your social profiles for a more behind the scenes look at your staff, culture, and expertise. In fact, "74% of consumers rely on social networks to guide purchase decisions." What will they see when they click on your vet practice's social profiles? If they find that another local practice has more helpful content, fun posts, and engaging interactions than your practice, they could be more likely to give your competition a call.
When a potential new client is checking out your social profile, you want them to move from considering you as their veterinarian, to actually booking an appointment. Let's take a look at the top 3 social platforms for veterinarians and break down what a potential new client should see (and what they shouldn't see) when they explore your pages. 
Facebook 
When it comes to posting on Facebook, there is no one size fits all process, but we have a list of do's and don'ts that will apply to any strategy.
Do This:
Take advantage of all the business information and tools this platform provides. Fill out your "About Us" section and profile with enough information about who you are and the services you provide. By sharing your story and giving insight into your culture, you're building trust via transparency and authenticity. Also, use your action button as a "Book Now" option that links to your appointment request form.
Use your cover photo as a Call-To-Action (CTA). Don't feel constrained here; just because your business is veterinary, you are not limited to pictures of puppies and kittens! You can promote products, celebrate Dental Health Month, remind pet owners about parasite prevention, and more. Use simple photo editors like Canva to add tips, recommendations, and action items as text overlays. And take advantage of the caption! Facebook allows you to treat a cover photo update just like any other post, so drive Facebook visitors to your website with a link in the post copy. 

Not That:
"Ghost" your followers by posting great content and then leaving. If you only post occasionally and ignore attempts to engage with you, local pet owners will lose interest, and they may even be offended.
Overuse hashtags. In the world of Facebook, hashtags really don't work as search and discovery tools, but they can still be fun, so definitely use them sparingly. Never use more than three, and definitely do not use them on all your posts.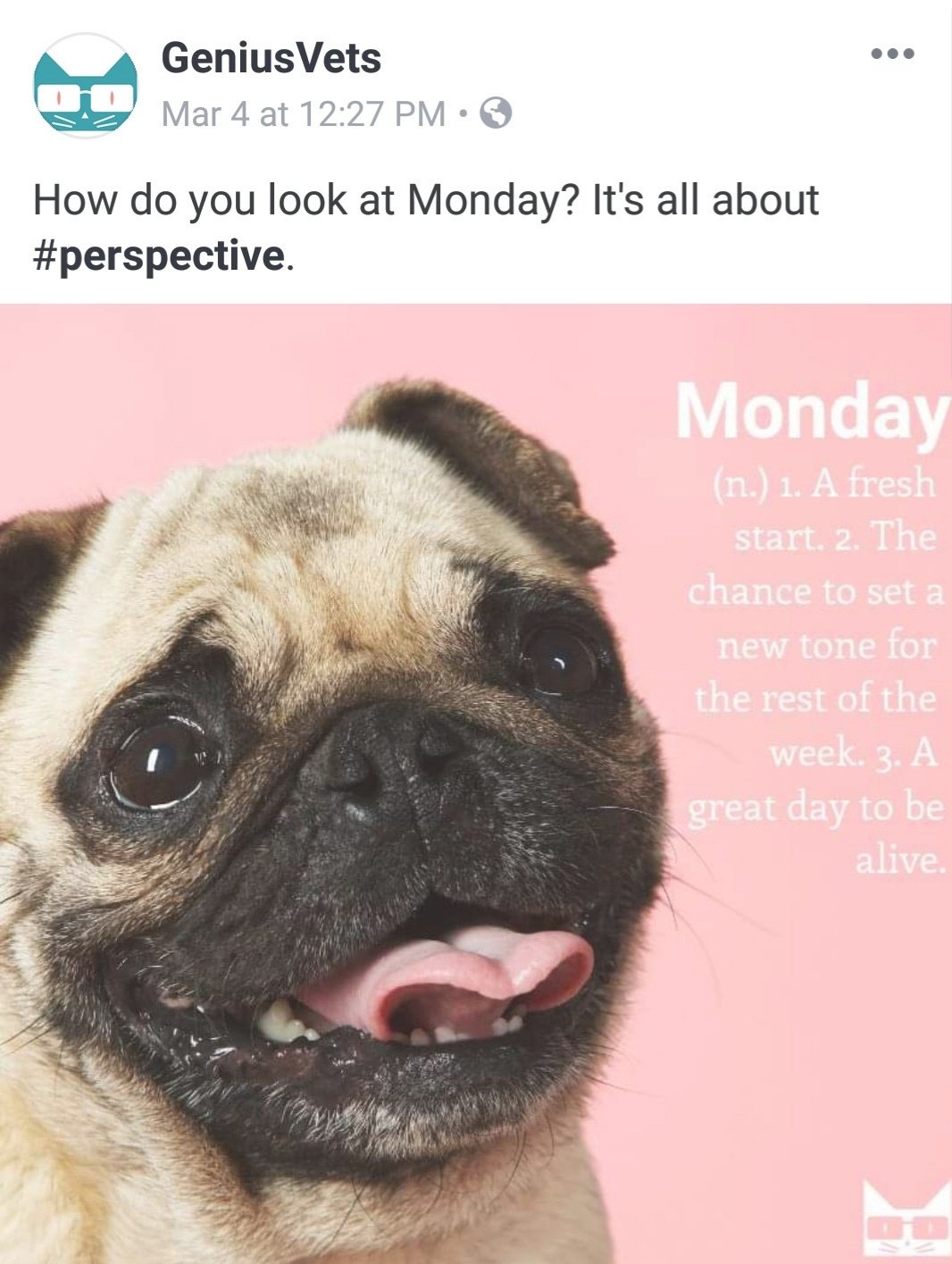 Leave pinned posts after their expiration date. Pinned posts are the first post people see when they come to your Facebook page, so always keep this relevant. Discontinued promotions or out-of-season holidays right at the top of your profile will be a big red flag to a local pet owner who was considering booking an appointment.
Twitter
Twitter can be such a fun addition to your veterinary practice's social media presence. It's fast-paced and direct, but you have to navigate carefully to avoid getting swept up in the breakneck and controversial news cycle.
Do this:
Tweet often! If you're just starting out, work on tweeting once per day. As you gain experience, shoot for a goal of three to five tweets daily as Twitter does move fast.
Pin a Tweet. This should be something engaging as this is the first tweet someone will see when they come to your account. Think about what is important at the time and be sure to include a link back to your website. You can encourage appointment booking by linking to your online appointment request form.
Be visual. Photos used in a Tweet have a higher chance of engagement, which can include clicks to your website. 
Provide educational content. Twitter should not be about selling. You're more likely to get local pet owners to consider your practice with educational tweets about your services, pet care tips, and products you support.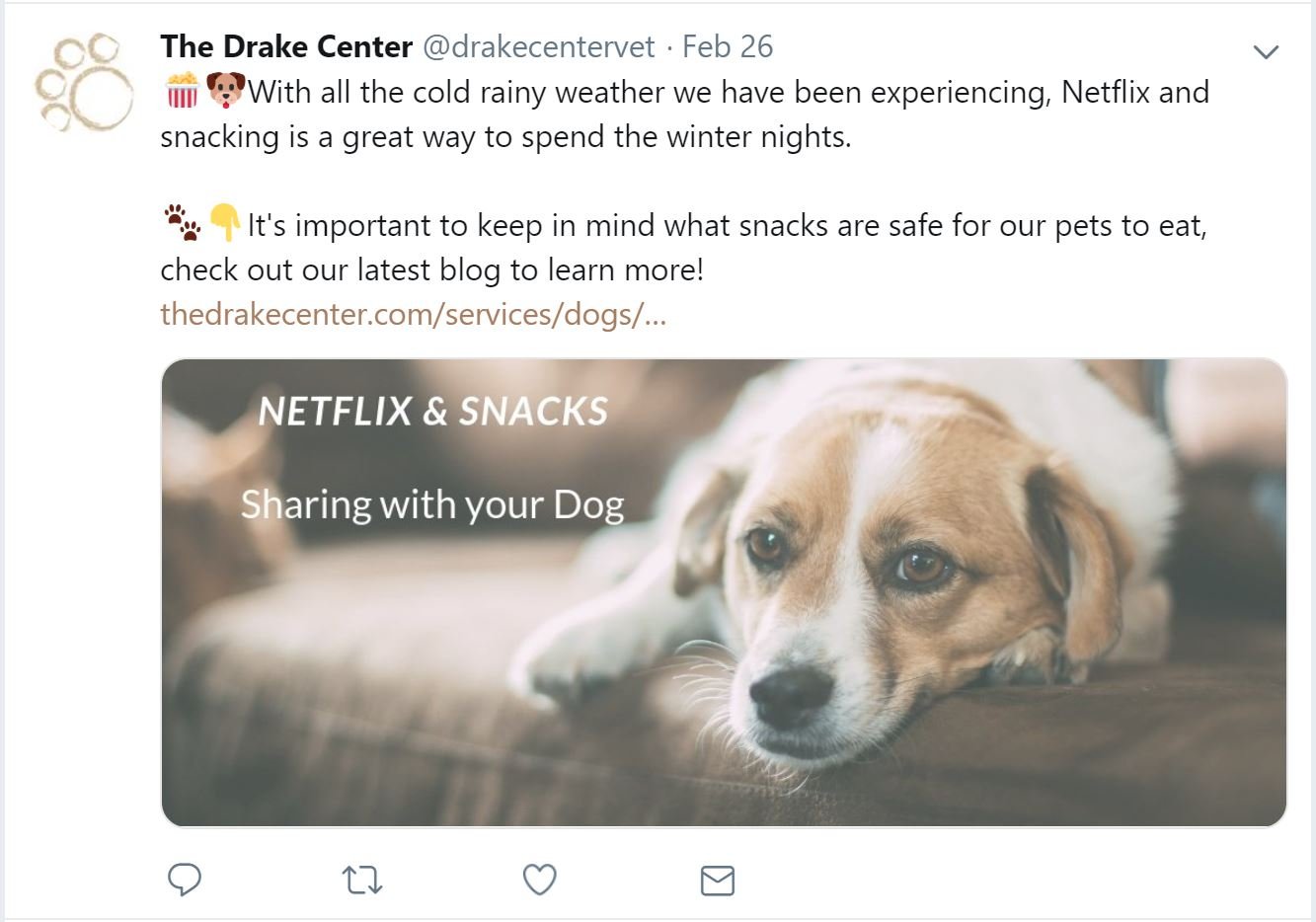 Retweet sometimes. Remember, it does not have to be all about you. The reality is that you are not the only expert out there, so don't be afraid to share good content from other reputable sources. This form of authenticity helps build trust.
Communicate with your cover photo. Just like on Facebook, include a CTA message. Take advantage of this to create opportunities for appointment bookings.
Not that:
Retweet only. Don't hide your voice and content by always sharing what others are saying. If you do retweet, consider using "quoted" tweets so that you can contribute your own perspective in the copy.
Tweet today, but not tomorrow. If you tweet infrequently, people will simply forget about you -- which is exactly the opposite of your goal of moving them through the Consideration Stage of the Customer Journey! Plan and schedule your content ahead of time to ensure frequency.
Overuse hashtags. Yes, these are everywhere! As you are limited to 280 characters within each tweet, having too many hashtags will drown out your actual messaging. Unlike on Facebook, on Twitter, it is okay to use a hashtag with each post, but keep them relevant, and use no more than five in a single tweet.
Give in to the urge to participate in political or controversial discussions. We all know that Twitter wars happen, but they should never happen because of your practice's commentary. Local pet owners will expect pet care tips, motivational quotes, and adorable photos from any practice that they would consider visiting. Don't confuse, annoy, or alienate them by jumping into unrelated debates.
Rely on your other social platforms to tweet for you. Automatically allowing your Facebook and Instagram posts on Twitter is not aesthetically pleasing, and it shows that you aren't using the medium the way it was intended. Pet owners will be less likely to contact a practice if they see a lack of commitment to interacting with them the way they would expect on social media.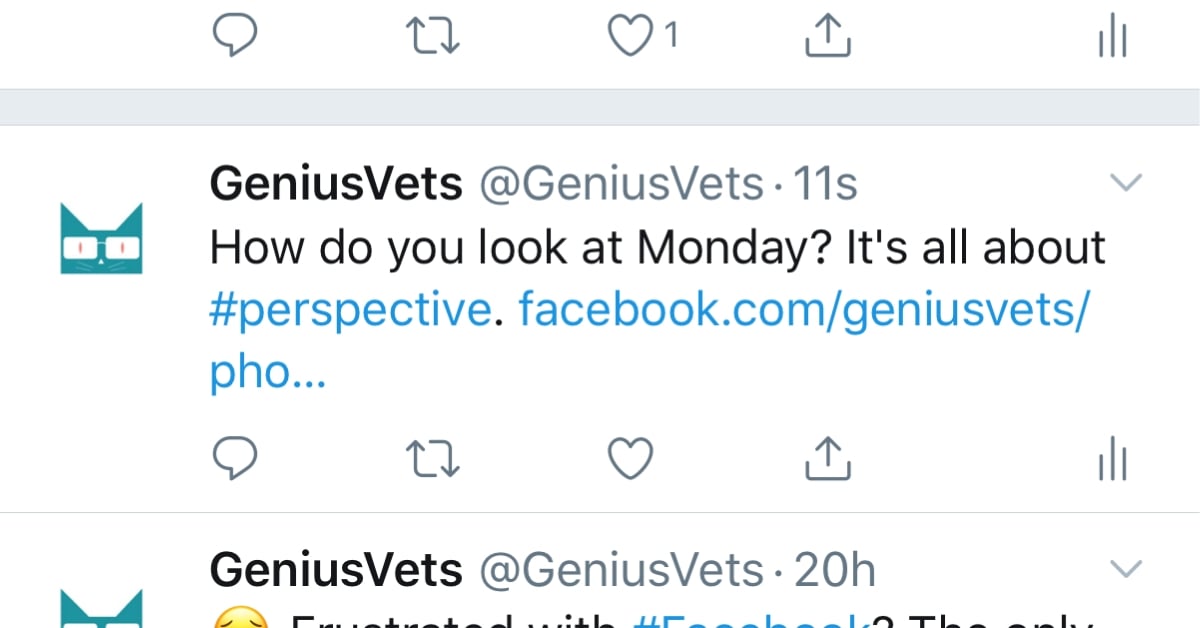 Instagram 
Out of all of the social media platforms, Instagram is definitely the most visual. When someone wants to learn more about your practice specifically, they'll visit your profile page. They are most likely going to look at your first 9 - 18 posts (since the grid appears in groupings of 3) and make a quick judgment about you. So what you show them through visuals and your bio is everything.
Do This: 
Set your account up as a business page (not personal). Unless you do this, you will not be able to set up your phone number, email, and directions as clickable buttons at the top of your page. On a business profile, you will also be able to indicate that you are a veterinarian.
Use the limited character count that you have in your bio very strategically. This is a great place to add your tag line (i.e. -- "Where pets are part of the family!"). Include something that sets you apart from the competition, and mention any new client offers that you may have. Entice visitors to click the link that you have in your bio. 
Leverage the only link that Instagram gives you (in your bio section). The best strategy for your Instagram link is to create a custom landing page on your website that has different buttons for pages on your website. This makes it easy for people to go from Instagram to a "menu" devoted to your blog, promotions, online appointment requests, and more.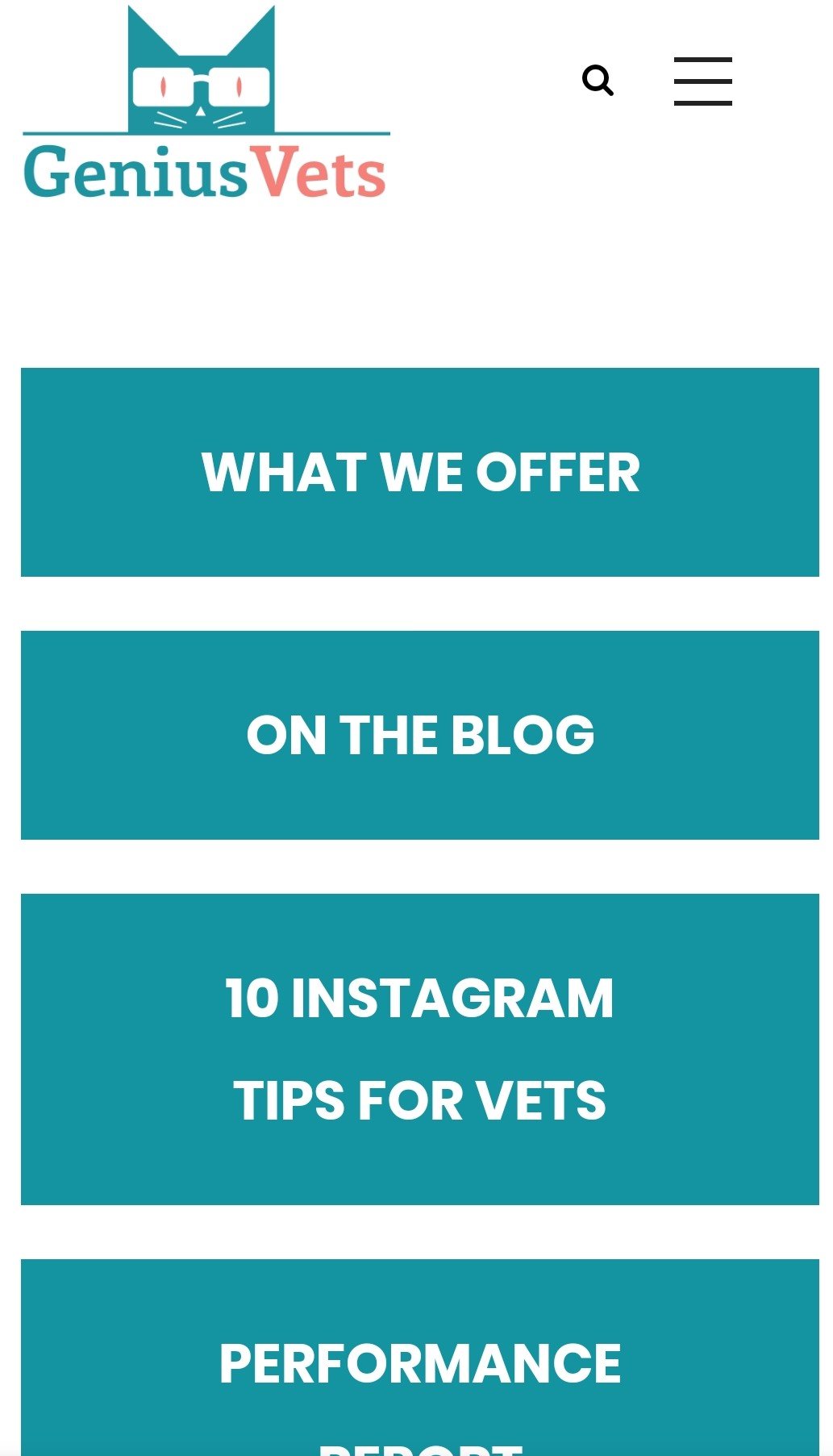 Create Instagram highlights. The highlight section of your IG page should be like a mini website on your page. Potential new clients should be able to go through them to learn more about your practice and the services that you offer. Consider adding sections like "On the Blog," "Our Doctors," "Staff Pets," and "Behind the Scenes." 
Post high-quality photos of your patients and staff to showcase your company culture and personality. This is the #1 way a new client is going to get to know you, feel more comfortable, and start to build a level of trust. 
Try to post once per day. Just like with the other social platforms we've covered, the goal is to keep local pet owners interested and engaged so that they consider you above your competition.
Not That:
Only posting stock images, memes, and infographics. It is okay to do this sparingly, but potential clients are looking at your social channels to get to know you. People have a Sherlock Holmes level detector when it comes to sniffing out a generic stock image. Plus, you have some of the most adorable, highly engaging content sitting in your hospital at this very moment. Use it to your advantage! Feature your patients, clients, and staff in your own photos taken from your phone. These will absolutely outperform a sea of stock photos.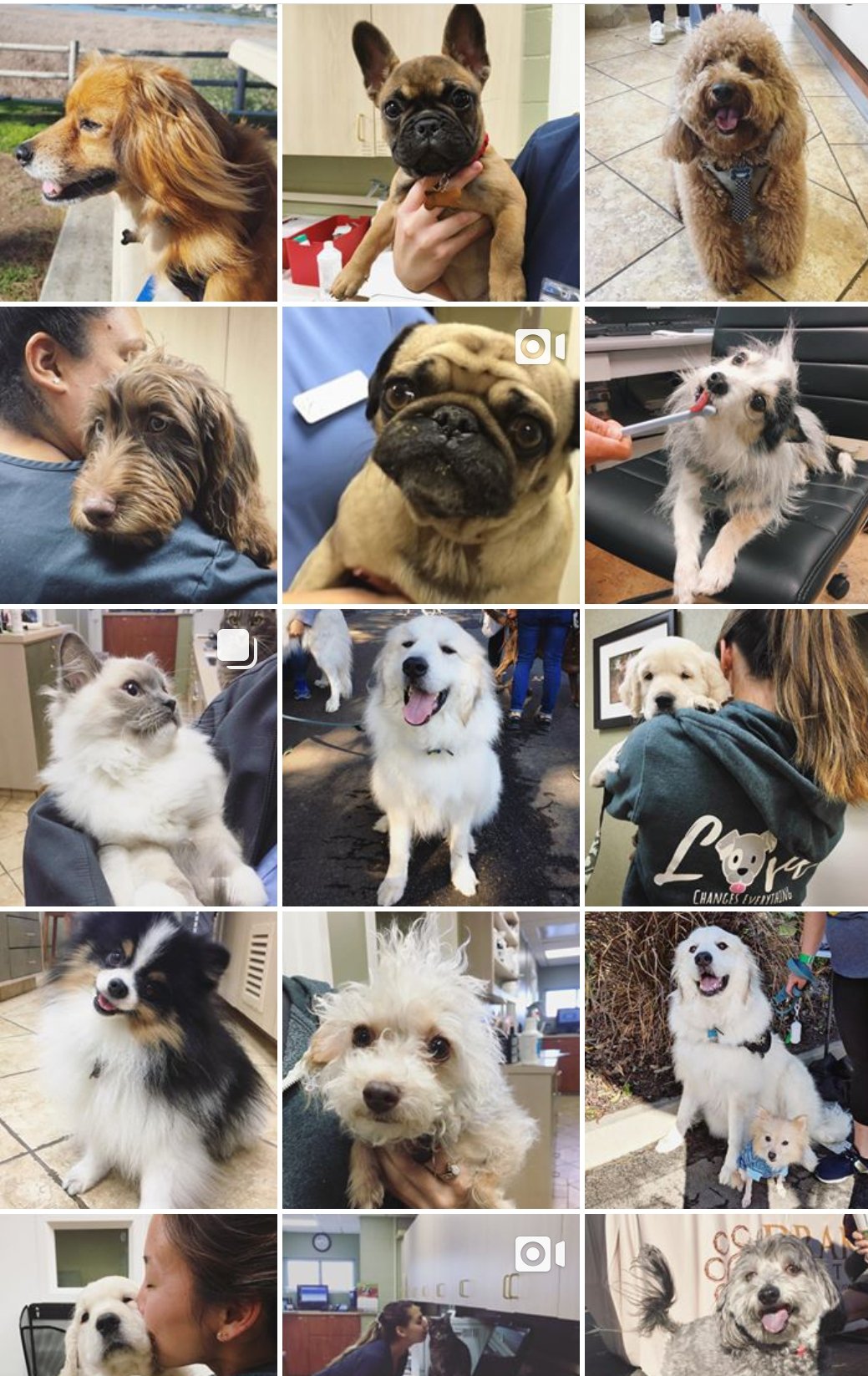 Fill your grid with surgery photos and other generally gross pics that you may find interesting as a medical professional. Your clients come to Instagram for pretty pictures and adorable kitties and puppies. Not sure if you should post a potentially yucky pic? Show a non-medical industry person the photo. If they wince in any way, it is a no-go. Save the surgery pics for perhaps a separate account to connect with other vet med professionals! 
When local pet owners are wading through their veterinary care provider options, they frequently turn to social media as they finalize their decisions. Once they click through to profile pages and business timelines, they are seriously considering where to schedule an appointment. Get them to click through to or call you by showcasing your personality, culture, and branding in the right ways on your business social media!
Want to dive deeper into leveraging your social media channels to increase your new client numbers? Contact us today to schedule a complimentary 30-minute consultation with one of our digital marketing experts!