Bio
Advanced Animal Care is her first job as a Veterinarian. She graduated Summa Cum Laude from Auburn. She received the President's Award during her clinical year as well as multiple academic scholarships in her earlier years of vet school. She also was inducted into the Phi Kappa Phi and Phi Zeta honor societies during vet school.
She loves her family and got married in October 2019! Her husband William is a paramedic at Madison County EMS and recently moved to Richmond from Auburn, AL. 
Her family is completed with two smooth-coated border collies Lexy (12 years old) and Cadi (7 months old). She has had both of them since they were puppies. Lexy was her agility dog when she was younger. Cadi was a vet school graduation gift from her family. 
In her spare time, she enjoys any outdoor activity. Hiking, camping (both with the collies as weather permits) and rock climbing are some of her favorites. She recently hiked 16 miles up and down Mt. Le Conte in the Great Smokey Mountains! She enjoys traveling and has been to 8 national parks so far (with hopes to visit them all). She also loves reading and playing board games with her friends.
Currently Caring for Pets At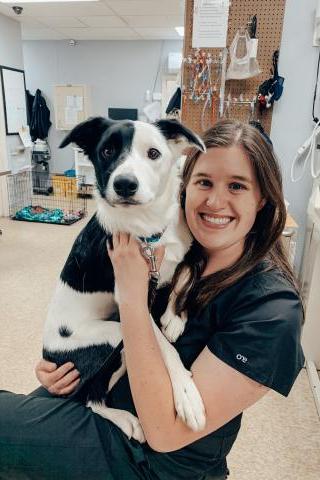 Connect with
Kristen Brewer DVM