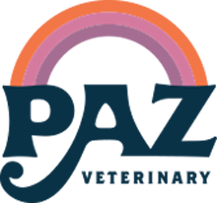 PAZ Veterinary - North
Welcome Message
We will research and implement whatever style or mode of medicine it takes to get your pet happy, healthy, and hanging out with you again. We're familiar with a vast line of therapies, from Chinese herbals to laser therapy and everything in between.
Mission
Our mission is to make you the best friend a pet can have, and the most informed guardian they could ever wish for. Sign up for our newsletter, follow us on social media, call us with questions, visit us regularly, and come hang out with us at our events. We're here as a resource for you in sickness and in health.
Services Offered

Dog Services

Cat Services
Location & Areas We Serve
History
Our story begins in 2011 when Dr. Nicholas Vaughan began providing excellent, concierge-style mobile veterinary services. We quickly became a practice in which clients were remembered, celebrated for being weird and fun, and most importantly, respected for what they wanted to achieve with wellness in their four-legged friends. Over the years, ATX pet parents fell in love with Dr. Vaughan and his personal, tailored approach to veterinary medicine. As word of mouth grew, so did we.
2014 marks the year that Corner Vet was born. In a charming, homey office on the east side, pet parents had a wonderful new place to bring their fur babies. Our clients quickly learned they not only receive excellent veterinary care from us, but great customer service from fun, friendly, hip ATX staff. After two straight years of being awarded Austin's Best Vet, we decided to open our second practice.
In May of 2017, we opened the doors of our beautiful second practice on South 1st, and rebranded to PAZ Veterinary. While the name and logos changed, our standard of care and customer service excellence have continued to far exceed clients' expectations. We're proudly a Texas family owned and operated business, and couldn't have asked for better love and support than what the ATX community has offered us. We're incredibly happy and excited to be a part of you and your pets' life journeys, and hope to keep your pets happy and healthy for years to come. PAZ "peace" to all!