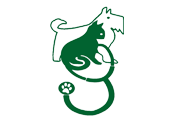 Cross Creek Animal Hospital
COVID-19 Information for
Cross Creek Animal Hospital
Cross Creek Animal Hospital is currently: Open and delivering curbside services
Welcome Message
At Cross Creek Animal Hospital, we believe in taking our time and providing each pet and owner with individual care and attention. This allows us to deliver the most precise and effective care possible. We offer modern medicine and state-of-the-art treatment options in an environment that is warm and inviting. We want to be a place you and your pet actually enjoy visiting; a place where friendly conversation and gentle, reassuring touches are the norm.
Mission
Cross Creek Animal Hospital provides high quality, compassionate veterinary care to serve your pet's medical and surgical needs. We are committed to treating our clients, patients and colleagues with honor, dignity and respect.
Services Offered

Dog Services
Dog Rehabilitation & Physical Therapy

Cat Services
Location & Areas We Serve
History
Dr. Reid is originally from Cedar Creek, Texas, where he grew up as the oldest of four siblings. He attended Texas A&M University to earn his degree in biomedical science, and obtained his Master's degree in public health at the University's School of Public Health. Next, Dr. Reid earned his Doctorate of Veterinary Medicine from the University of Minnesota's College of Veterinary Medicine.
After his schooling, Dr. Reid decided to serve his country as a member of the United States Army. He spent seven years on active duty as a Veterinary Corps Officer, and is currently a veterinarian in the U.S. Army Reserves! After his active-duty service, Dr. Reid entered into the world of private practice. He and his wifeCross Creek Animal Hospital's very own Dr. Shannon Poolepurchased the practice in September of 2014. Dr. Reid has been serving the pets and animal owners of the Fayetteville area ever since!