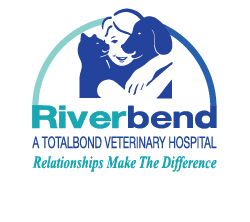 Riverbend Veterinary PetCare Hospital
COVID-19 Information for
Riverbend Veterinary PetCare Hospital
Riverbend Veterinary PetCare Hospital is currently: Open and delivering curbside services
Welcome Message
Welcome to Riverbend Veterinary PetCare Hospital!
We at Riverbend Veterinary PetCare Hospital in Mountain Island are here to ensure that your pet has access to the best care possible. Just 20 minutes away from downtown Charlotte, we are ready to deliver nothing but the best service to our client and patients. To us, you are like family.
Mission
Our love for animals is what drives us to deliver nothing but amazing compassion towards the animals we see everyday. We know how important the relationship is between human and pet, and we will do our best to ensure that your pets live long, healthy, and happy lives with you.
Services Offered

Dog Services

Cat Services