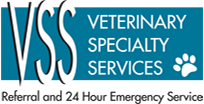 Veterinary Specialty Services - West
COVID-19 Information for
Veterinary Specialty Services - West
Veterinary Specialty Services - West is currently: Open and delivering curbside services
Welcome Message
Veterinary Specialty Services (VSS) is a multi-specialty, referral-only practice and after-hours emergency facility committed to providing advanced veterinary care for pets. Our highly qualified and board certified specialists work in collaboration with primary care veterinarians throughout the St. Louis metropolitan region, Missouri and its surrounding states to diagnose and treat challenging and often life-threatening pet health problems. We are located in Manchester and O'Fallon, MO.
Mission
Our mission is to provide expert, collaborative, compassionate care to sick and injured pets.
VSS has now grown to include multiple specialties in 7 disciplines including cardiology, critical care, internal medicine, neurology, oncology, radiology and surgery and continues to be a highly-regarded as an essential resource for pets in our community.
Services Offered

Dog Services
Dog Illnesses and Disease
Dog Rehabilitation and Physical Therapy

Cat Services
Cat Illnesses and Disease
Location & Areas We Serve
History
In 2008, VSS opened an after-hours emergency practice providing pet owners and distressed animals after hour urgent and critical care. The same collaborative principles apply to our emergency care, ensuring primary veterinarians and owners are involved in the choice of care for pets in an emergency situation.