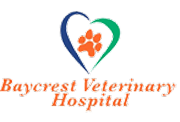 Baycrest Veterinary Hospital
COVID-19 Information for
Baycrest Veterinary Hospital
Baycrest Veterinary Hospital is currently: Available for reduced services
Welcome Message
Welcome to Baycrest Veterinary Hospital!
We don't always know where to turn when our pets aren't feeling well. Regardless of if you have a dog, cat, lizard or other animal companion, we treat every animal that walks through the door as if it was our own. Furry or not, Baycrest Veterinary Hospital, in St. Petersburg, Florida, is the the only clinic you'll ever need for quality, affordable, and compassionate animal care.
Mission
We pride ourselves on providing affordable and appropriate care for your furry friends!
Services Offered

Dog Services

Cat Services

Other Services