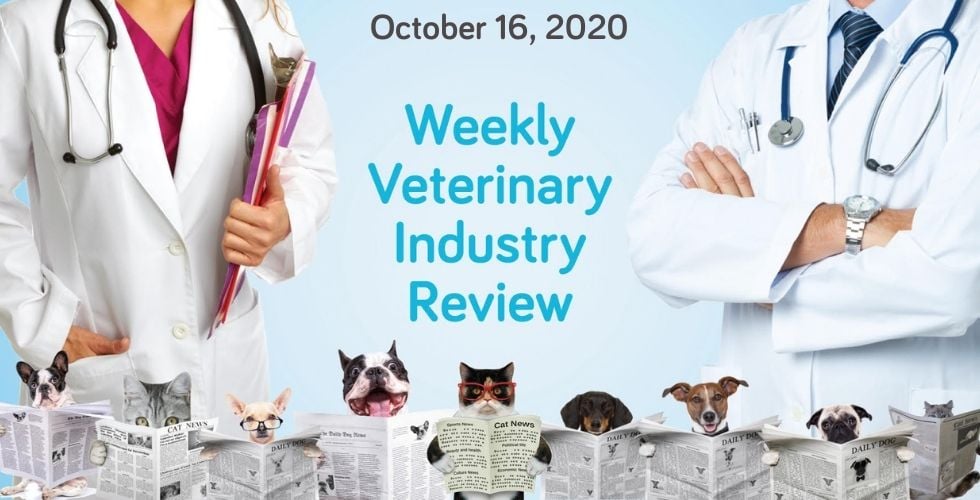 It's Friday, October 16th, 2020. Welcome to round 12 of the Weekly Veterinary Industry Review, brought to you by GeniusVets. This week we discuss the "unsung heroes" that are vet techs, the need for suicide "postvention", and ways to increase your online presence as well as to improve your client engagement. So let's get to it…
Veterinary Business News
Keeping you at the forefront of veterinary news regarding products, personnel, and conferences...
It's Vet Tech Week!
If you're in the field or even simply own a pet that you've taken to a veterinary clinic, you know that a vet clinic or animal hospital would not be able to function without vet techs, which is why it's so great that they have their own week dedicated to them (this week)!
To celebrate and recognize the profession of Veterinary Technicians, Dr. David Visser joined a local news anchor Zach Horner to talk about these people who play such pivotal roles in a veterinary practice.
Dr. Visser talked about how vet techs are the hands and feet of the practices as well as the "unsung heroes", taking on everything from phlebotomy and dental hygiene to radiology and emergency services as well as other advanced skills.
Dr. Visser also noted that vet techs can specialize in certain areas, which is something that is not likely well known outside the industry.
Make sure to visit our our GeniusVets Facebook page to get the details on our Vet Tech Giveaway for Vet Tech Week!
What are you doing for your vet techs this week? Let us know at [email protected]! 
How to Improve the Client Engagement Experience
A running theme in our weekly industry review has been stressed and angry clients and, especially during this pandemic, they are hard to avoid, but that doesn't mean veterinarians should stop trying to improve client engagement.
From the article: "Practice leaders often struggle to identify ways to improve client engagement and service. But before the client experience can be enhanced, you need to define the experiences you think your clients want and your team delivers. Then, you need to decide whether any problems rest with your hospital's systems or the people on your team." -Amanda Donnelly, DVM, MBA
The article mentions asking yourself three questions:

What makes the client experience exceptional?
What systems and protocols are needed?
And do you have the right people on your team?

It's interesting to note that the article refers to the premier training given to employees at Nordstrom and Ritz Carlton, as Dr. Peter Weinstein made the same parallel during his Webinar Wednesday episode—he noted that Ritz Carlson employees are given months of training before being in contact with clients while veterinary employees are thrown on the phone the first week if not the first day.
A Veterinary Nurse Shares Her Personal Experience With Burnout
Although this week is National Vet Tech Week, this article by Today's Veterinary Nurse focuses on the severe burnout that nurses in the veterinary field can experience.
The author, Emily Fullerton, is a nurse and noted how she had come to an alarming realization that she had lost the ability to truly feel for her clients and clients' pets: "I had lost sympathy for the animals and empathy for the owners. In fact, I remember one day at my previous job, a coworker was trying to explain that some clients in the lobby were very late for their consult, but still really wanted to be seen. She tried to pull on my heartstrings (as we all do in veterinary medicine) by saying, 'They are upset; their cat has cancer!'
The article gives concrete tips to combat burnout, including taking care of yourself and making yourself a priority, figuring out and practicing relaxation techniques, never underestimating the power of positive thinking, and being okay to talk about your feelings without shame.
How to Improve Your Online Presence
We came across this article about the need for veterinarians to have a strong online presence and, as this is our business, we made sure to take note.
From the article: "Your online presence is almost as important as your physical facility. Through your practice website, online reviews, and social media, your online presence should highlight what makes your clinic unique and demonstrate to existing and future customers how your practice will meet their pets' needs. And you need to do this with friendliness, consistency, and the human touch."
The article notes that your website shouldn't just look pretty but should be functional and user friendly, your online reputation should be rock solid, and your social media accounts should play a huge part in client engagement—ask us how we can help!
A Much Needed Discussion on Suicide "Postvention"
There are (thankfully!) a lot of discussions currently taking place about how to prevent suicides by veterinarians and other veterinary professionals but there isn't as much information on what's called "postvention".
From the article on this guide: "Published as part of National Suicide Prevention Month (September), After a Suicide: A Guide for Veterinary Workplaces offers 'postvention' strategies managers can implement within veterinary workspaces should an employee die by suicide."
The guide was developed by veterinary experts and features the following info: best practices on how to respond in the immediate aftermath, tips on working with the media and community, suggestions on memorializing employees without causing contagion, and information on how to help those in the workplace grieve.
Pet Business News
Valuable pet news for your clients and topical stories they will want to hear...
A Pet Food Recall to Share With Your Clients
From the article: "Sunshine Mills, Inc. is expanding its voluntary recall of certain pet food products that were made with corn that contained Aflatoxin at levels above FDA's activity levels. This is an expansion of the dog food recall initiated on September 2, 2020."
Aflatoxins are a family of toxins produced by certain fungi that are found in agriculture like corn, peanuts, cottonseed, and tree nuts.
Signs of aflatoxin toxicity in pets are as follows:

sluggishness
lethargy
inappetence
vomiting
a yellowish tint to the eyes or gums
diarrhea
In some cases, death

The affected Sunshine Mills products were distributed in retail stores in the U.S. but exported from Japan. 
Not-So-Human-Interest
Lighter pet stories to provide much-needed cheer in difficult times...
A Homeless Woman Shares Her Own Food to Keep a Sick Squirrel Alive
When Tabitha Aldrich, who has been homeless for eight years, saw a squirrel about to get hit by a car, she got the squirrel out of the street and brought him to Memorial Park in Downtown Columbia.
From the article: "'We tried to release him here at Memorial Park but he just kept on following us,' says Aldrich in an interview with WACH FOX 57. She shared what little food she had with the squirrel she named Rocky, loaded up some minutes on her phone, and called Laura Ross with Squirreltopia Wildlife Rescue."
Ross points out that they could have ignored the situation or even tried to get money from her but they didn't, and in fact called the next day to find out how the squirrel was doing.
Also from the article: "Wild baby animals are naturally afraid of us and do not try to come up to us unless something is wrong. So if they are walking up to us they are starving to death," Ross pointed out.
Ross has setup a GoFundMe for Aldrich hoping to raise funds to thank her for kindness to the squirrel, who they've dubbed "Rocky".
Have something newsworthy in the veterinary field? Reach out to us at [email protected] Enjoy our weekly veterinary industry review, coming to you each Friday afternoon.