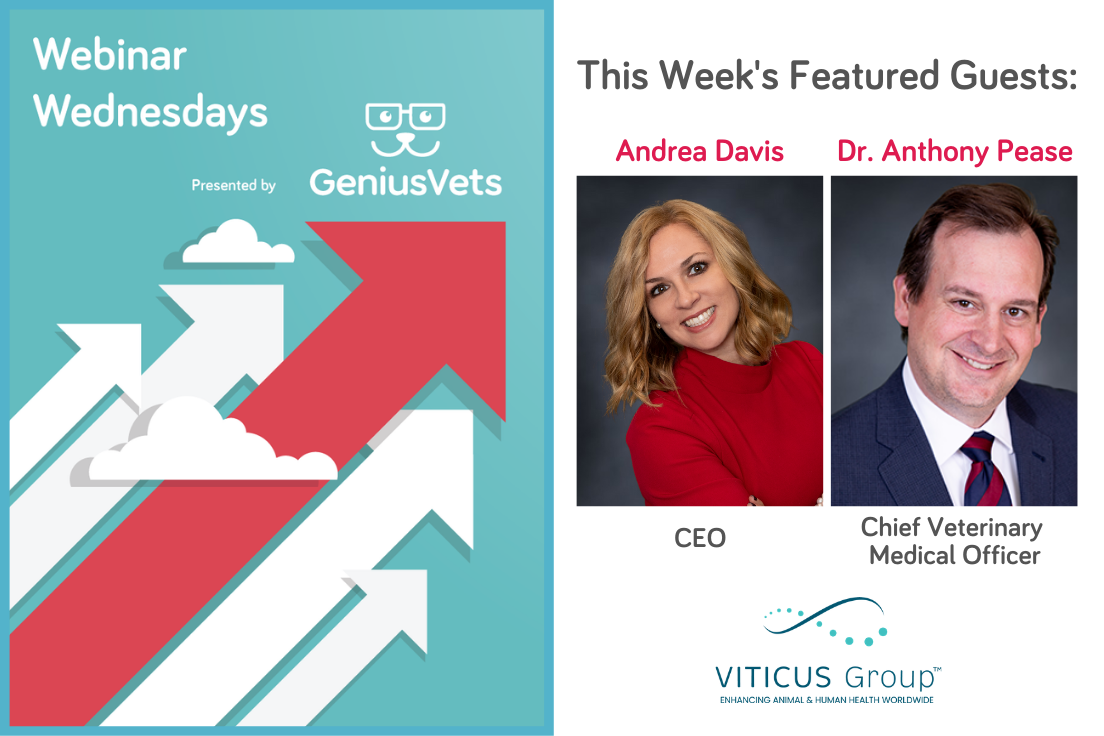 Hello, everyone, and welcome back to another Webinar Wednesday. I'm your host, David Hall, with GeniusVets. And today, I am just thrilled to be bringing you, two fantastic guests, from one of the most influential companies in the veterinary industry. We have joining us today, Andrea Davis, the Chief Executive Officer of Viticus Group, formerly known as WVC, and Dr. Anthony Pease, the chief veterinary officer.
Andrea Davis holds a Bachelor of Science in Healthcare Administration from Oregon State, a master's in Public Administration from UNLV. And she received her Lean Six Sigma green and black belts in 2016. Andrea graduated from the Las Vegas Chamber of Commerce Advanced Leadership Program in December 2019. She's also active with the American College of Healthcare Executives as a strong interest in mentoring future leaders.
Before becoming CEO of Viticus Group, she worked in the Southern Nevada health care community for the past 20 years. She spent more than 10 years working with hospitals, and business development, and executive-level roles. And during her time in hospital leadership, she held positions that included the COO at Desert Springs Hospital, CEO at Healthsouth Desert Canyon Rehab Hospital, and SVP of Operations and Ethics, and compliance officer at Southern Hills Hospital.
You've also spent several years in pharmaceutical biotech sales and managed care before stepping into your role as CEO of Viticus Group. Wow, that's an incredible ascent to the top of one of the most influential companies in the entire veterinary industry. I know you're an incredibly busy person. Andrea, thank you so much for taking the time to be with us today.
And next, I want to introduce Dr. Anthony Pease. Also, just an incredible bio here. So, Dr. Pease is Chief Veterinary Medical Officer at Viticus Group, graduated from Virginia, Maryland, and Regional College of Veterinary Medicine, obtaining his DVM and Master's of Veterinary Medicine. Then, did an internship at Large Animal Medicine and Surgery at Marion DuPont Equine Medical Center in Virginia.
Followed by small animal leadership affiliated veterinary specialists in Maitland, Florida. Dr. Pease did a residency in diagnostic imaging at Cornell University. And after completing the residency program, he was an assistant professor at North Carolina for four years, and a tenured associate professor at Michigan State University for nine years.
Dr. Pease has been president of the American College of Veterinary radiology, the North American editor of the Equine Veterinary Journal, and has lectured nationally, and internationally on diagnostic imaging with a focus on advanced imaging and ultrasound. So, that 20-research grants funded with 58 scientific papers published, and six book chapters.
Also, you somehow still find the time to play ice hockey as a goalie and train for triathlons. Dr. Pease, that's a seriously powerful bank of energy you're drawing from. Thank you so much for taking some time out of your busy schedule to meet with us today.
I've got to tell you, those are two of the most extensive bios that I've read here for Webinar Wednesdays, but you're just incredible individuals. As I said, I'm super excited to get the opportunity to interview you here today. And to talk a bit more about Viticus Group.
I'm going to start, Andrea, with a question for you. Everyone in the veterinary industry knows WVC very well. It's long been the biggest event in the veterinary industry. But recently, WVC became Viticus Group. I'd love it if you can take a couple of minutes to tell us more about Viticus Group.
Sure. So, I get so excited talking about Viticus Group, because it is such a cool and unique organization. We really have three components that make up the Viticus Group. So, the first is WVC, our annual conference. And I know everyone knows about our annual conference. It's something that everyone looks forward to, as do we.
The other component that I think we're going to talk a little bit more about today is our WVC Academy. We also have a huge component of our organization that makes up year-round training, hands-on training, and education. And the third part, which maybe a lot of people don't know, is we actually do a lot with the human health side of medicine.
And so, those are really the three components that make up the Viticus Group. And we decided to change our name. So, we still have WVC as our annual conference name, but it appeared a little bit confusing to call everything WVC. So, we are a 93-year-old nonprofit organization starting as the Western Veterinary Conference, and then WVC.
And we really wanted to find a name that would resonate with all sides of our business. And so, we came up with Viticus Group. So, Medicus means doctor in Latin, and vite means life. And so, we felt that Viticus Group is something that really represents who we are in our different areas of business.
What do you do on the human side?
So, what we're doing currently, we work a lot with the multiple device companies that are out there, and where they will bring in different surgeons to come, and utilize hands-on training to learn new procedures, to get better at different procedures. This is where they come so they learn these very technical skills.
So, before they're working on you, or your mom in the hospital, they learn how to do it in person at our site. We also have more things that are going to be coming out of the pipeline a little bit later this year. So, I do anticipate that our human side eventually will look somewhat like our animal side of the business, which is incredibly exciting.
A lot of people are familiar with our campus at Oquendo. We've actually doubled in size recently. So, in October last year, we purchased a second building. So, 70,000 square feet, approximately, at each of our campuses. So, we have over 140,000 square feet of medical meeting space, and hands-on training space, which makes us the largest freestanding animal and human hands-on training facilities in the world, which is very cool.
And we're right here in Las Vegas, just five minutes from McCarran Airport, and 10 minutes from the strip. So, it's amazing that we have all this right here in Las Vegas. So, to get to your question about our board or to the comment, we are so incredibly fortunate to have such a cool and diverse, and personally, a very supportive board.
We have 16 board members. Fifteen are part of the veterinary industry, and one is human health. And he's a bariatric and general surgeon. And this group, I say they're so diverse because of their background. So, the makeup of the 16 members, we have 13 that are veterinarians, two that are veterinary technicians, and one who's a human health surgeon.
And so, when you look across what their specialties are, it is so incredibly important for an organization like ours that represents the veterinary industry. We have expertise from small animal to large animal, to exotic, to avian, to business management experts, to people in the academic side of veterinary medicine, and in the industry as well. And I'm probably missing something in here, but we absolutely have this very diverse, incredibly smart, and well-respected board that is very involved and looks after our organization.
Talking about a diverse set of skills, one of the things that popped out to me in your bio that I haven't seen too often, but I'm intrigued by is that the Sigma Six. That sounds like a really cool program. I'm actually fairly interested in that. Is that something you really recommend? What did you get from that?
Oh, 100%. And so, it's something especially helpful in my roles when I was more in an operational role, being able to really look at efficiencies and whatnot. But I've certainly taken a lot of the skills I've learned from that training and applied it even in this organization coming from for-profit to nonprofit, and look at different efficiencies, and just being completely new with a different set of eyes. It helped me to look at things in a very efficient manner, I would say.
I skipped over what's normally my first question here, as we get rolling, is that you do so much in your day. What are some personal keys that you use to just approach your day, stay efficient, stay organized, get it done? Do you have specific morning routines or technology, or do you utilize your staff in a certain way that you think other people could benefit from hearing?
I would say My day starts the same way. I get the kids ready, out the door to school. Very fortunate. My kids are actually in school right now. So, I kept that routine going. I get my morning coffee, and that's how I start every single Monday through Friday day. So, that never changes, and I like that consistency.
I would say from just being able to manage things and do the best we can do, I'm so fortunate. I have an amazing team. And this has always been, what I love to do is have teams around me that I can build, work with, have a great culture. And I find that when you're surrounded with people that are so smart, like Dr. Pease, and other people within the organization.
You're able to delegate things and have things get done really well with other people's help. And so, that's always been my mantra is surround yourself with really smart people. And I'm fortunate enough to have that at Viticus Group, and that allows me to be able to work on what I need to do because I know that they're going to do an amazing job at everything else.
Dr. Pease, you do just a ton, have had an amazing career to this point. And again, you're sitting at the top of such an incredible organization. I know that just comes down to getting a lot done. So, what are your personal tricks? And what's your morning routine like? What are your personal habits that help you stay on track and accomplish so much?
I think that one of the fun things about this is I moved out to Las Vegas about three years ago. And so, being an East Coast guy, I've never actually been without bugs. And so, it is so nice that I wake up in the morning, I'll have a cup of coffee, I'll open up a door, and basically just be able to either go for maybe like a 10-minute walk, 15-minute walk, maybe a quick little run, just to get your blood flowing.
And honestly, the quiet. Basically, you get to just be inside yourself, and your mind, and think about the one thing that you want to accomplish during the day. And I would say that that's probably the biggest thing that I try to do is there's so much email, and everything like that that you can just eat away at your day. And you're just always just almost spinning this wheel that at the end of the day, you think I didn't really accomplish anything.
I try to pick one big thing that at the end of each day, I can look at, "Okay, I needed to accomplish this." And if I don't, then I say, "Okay, what did I do that didn't accomplish it so that you can move through." And as for technology, probably the biggest savior of my life is Microsoft, the calendar. Because to be honest, I totally forget lots of different meetings, and sometimes I just don't set that alert early enough.
So, it'll basically chime five minutes before meeting, and you're like, "Oh, I have that meeting." So, it does definitely help to try to use technology to keep yourself organized, and moving forward through. But if I have to say that there's one thing that I try to do, it's just, accomplish one thing in a day, and just slowly chip away every day.
Back to set back to WVC. Well, first of all, will WVC continue to be called WVC?
It will. So, the structure, if you think about it, Viticus Group is the overlying umbrella. And underneath that, we have our different service lines. So, WVC is our annual conference that we will continue to keep that branding for our annual conference. We have WVC Academy
, which is our year-round that we've talked about. And then, we have that whole human health side of the organization. So, we will never let go of WVC. That is very much who we are with our annual conference.
It's my understanding in light of the pandemic, and other considerations. The decision has been made to move the annual conference from early in the year to September. So, what were other considerations went into that change, and is that permanent?
Sure. So, everything was going on in the world. And we were watching very closely what was happening with other similar organizations and moving to virtual. We were very, very fortunate this year that we were able to have a very successful February conference. We had almost 16,000 people in attendance. It was our highest attendance ever. It was a very, very successful conference.
So, timing-wise, we got very fortunate. But as we started planning, and we plan, almost immediately that stops, and then we start planning for the next year. We started watching what was happening. And really, when that second wave started happening with the pandemic in different states. That's when we took a step back. And we're like, "You know what, we need to maybe consider other options."
And so, we did a lot of homework. We have information coming from a variety of different sources locally, from different travel sources. We were really trying to take a look at what people were anticipating the confidence level would be in quarter one of 2021. Would people be willing to travel? What was happening in the different industries where there's still a lot of travel bans for employees, and employers, and whatnot.
And so, as we took all of that information, we also sent out a pretty extensive survey to, I apologize, I can't remember the exact number of people that went to. But we ended up getting about 1,000 surveys back. And we asked what time of year would you be interested in having a conference in 2021? And it seemed overwhelmingly that people were interested in the latter half of the year.
At least, in terms of being competent that they would do some type of continuing education in person. So, we were very, very fortunate, we've reached out to our partner Mandalay Bay. That's where we host our event every year. And we said, "Do you have any other dates out there that we could switch for 2021 later in the year?" And they gave us a few options.
And then, they gave us the week of Labor Day. And so, that was just incredibly exciting for us. So, what had happened is that we decided we're going to change our dates for our annual conference from February to September 14th through the 16th, 2021. It immediately follows Labor Day weekend. From a planning perspective, we're going a little crazy here because I grew up in Vegas. I've been here since I was five. And so, when I think of what are the great months to be in Vegas, winter is always really great. March is great. And September and October are awesome here, too. We have warm weather during the day, we have the 70s and 80s at night. So, we're thinking, what can we do outside? What about the pool area, which is amazing at Mandalay Bay?
There're all these other options that we're going to be able to take advantage of with a September conference. So, we're super excited about that. We decided to change it just for 2021. Our next conference in 2022 actually is in March. So, we're going to have some really great conferences and some great years. But this was a response to what was going on with a pandemic and making this change.
And we're going to evaluate, and see how people like it in September. Who knows? But for now, this is where we're going. And we're just super excited about it.
I've interviewed from NAVC. We've interviewed people from DVM 360, in the fetch conferences, I've talked to people from all the conferences. A lot of adjustments, a lot of changes, a lot of scrambling to figure out in light of pandemic, and the future, and people are doing more virtual, but virtual, being very unproven for large events, but being interesting, but who knows. Are you going to be adding any virtual components, or beefing that up? And what does that look like?
I'm so glad you asked that, David. And we really are excited about what we're going to be doing in the virtual space. So, our September conference, it will be hybrid. So, we're going to offer a little bit of both. And we're hoping that this will give people opportunities. One, for the ones who just aren't able to travel, but love the continuing education we provide.
It'll give them an option to still be a part of our conference. And we're also excited about the people, the additional people, and the reach that it may have. So, we are going to have a hybrid conference. We also in February of 2021, we're going to have our first ever all-virtual summit. So, we're working through the details on that. So, I don't have a ton to share.
But I will tell you that we have a really smart group of people that are coming together, and working on something very, very cool in conjunction with some experts in the virtual space. So, we're excited about what we're going to be doing virtually.
You also have a lot of other offerings in addition to that annual conference. I want to get back to really exploring those. Dr. Pease, can you tell us more about the other lines of business, and the valuable opportunities that Viticus Group has available?
Absolutely, David, yeah. It's interesting because the hardest part is that when you get out of veterinary school, you've been surrounded by experts in the field, and everything is very hands-on, and you can really get involved. And then, all of a sudden, you get out of school, and it's like cold turkey. You pretty much go to work. And you never actually get to have those dedicated times of training, and mentorship. People try, but your day is really busy.
And so, what we at Viticus Group, and through the WVC Academy do is offer year-round, hands-on courses in laboratories like you see behind us, where we can actually bring in all of those experts into the fields. And we focus on the things that maybe you didn't get a lot of hands-on experience in venery school.
Because we work with university deans, we're working with industry partners to try to figure out exactly where some of these deficiencies are. When you think about recent graduates, or maybe you've been out of practice for a little while, and you want to start getting back into practice. Or maybe you're a practice manager trying to figure out what can I do to make my clinic go to that next level.
We offer dentistry courses. We offer endoscopy courses, orthopedic, and soft tissue surgery courses. So, you get this great hands-on experience and even imaging courses like ultrasound. So many students that I used to work with, would go out into the world, they were in radiology with me, we got to do the two weeks of ultrasound. They get out, and there's an ultrasound machine, and they're like, have at it.
And they're going, "Oh, I'd really like more information, I'd really like to be able to have more confidence." And that's what I always loved about WVC. I taught here for 10 years before taking the Chief Veterinary Medical role. And what I noticed is that light bulb effect that's just so amazing. Because you have these people now who have been out in practice, and they know what they don't know.
And they basically realize where their deficiencies are. And they come in, and they can really hone in on it. And so, for three days, with just an immersion of a course, they can all of a sudden walk out and have this instantly applicable knowledge that they were not able to do three days ago. And now, all of a sudden, they're much more efficient, they're much more confident.
And they're elevating their quality of medicine, which just basically, hits all the key features that every practice group really wants to do. And so, that's really one of the things that I think is probably the undiscovered country about WVC in the Viticus Group is that we are here year-round. And we're one of the only groups that offer this in a dedicated space. We're not in a hotel room. We're not actually in these makeshift rooms. We have a dedicated laboratory facility that basically is specialized to make sure you get the best quality experience you can.
And not to just doctors, right? You VTS, Veterinary Technician Specialties, and served other groups as well. Who are really your target groups with that? What are the ties with the professionals? You mentioned some of the specific courses. But it seemed to me that it goes beyond perhaps just the doctors in the hospital.
Absolutely. It's every veterinary professional as Andrea mentioned. It's also on the human health side. Basically, we are all about educating the medical profession. And what's really nice is the synergies between what we find with the human health side, and the veterinary side. But absolutely, we are so proud of our veterinary technician symposium.
And we're able to get 120 veterinary technicians to come in and have this dedicated time where they work with veterinary technician specialists. And they basically learn the skills that they need if they want to specialize in things like nutrition, or post-op pain management, or even surgical preparation. Things that are really near and dear to their heart.
And where we're really starting to focus is also on the synergies of how your veterinarian, and your veterinary technician, and even your practice management staff can all work together as a cohesive group to try to elevate medicine.
So, there are so many different opportunities that we're continuing to explore. And so, really, the biggest thing is to just keep an eye out. We do over 50 basically hands-on labs a year. And so, we are constantly having more and more opportunities for you to be part of.
I know that you guys are also doing community outreach stuff, the K9 Medical Group, The Animal Foundation. Tell us a little bit about that.
It's exactly right. And for those who don't realize what the clinical proficiency exam. We actually just finished it this week. The American Veterinary Medical Association has a foreign graduate program that if you graduate from a non-AVMA accredited school, in order to practice in the United States, not only do they have to take our national board exam. But they also have to do a clinical proficiency examination, where they spend three days in a facility. And we're only one of three in the country that does it. And we, by far, the ones that do the most of them, because we do at least 10 of these courses a year. Where we'll have veterinarians from all over the world, come here, and practice, and show us exactly how to work with small animals, large animals.
We have cows, we have horses, we have goats that come through here, that they have to work, and show their specialty. And then, they also have to do a routine over hysterectomy at the end of it to show that they have surgical, and anesthesia skills as well. So, it's a well-versed exam that we're so excited to work with the AVMA to make sure that we can bring that level of expertise.
And it's something we've been doing for over 10 years. And it is an amazing opportunity to be part of that profession. And then, as you said, what's really great is because we're doing all of this space, we get to work with local shelters. We work with the canine medic group, which is basically for first responders. They'll bring their dogs in, and we will practice medical procedures if the dog happens to get injured, or gets shot.
And so, we work with special forces groups, but also mostly community outreach because there are so many shelters, and rescue groups that need ovary hysterectomies, spays, neuters. And so, what we do is by working with them, we actually have a lot of local veterinarians that will come in and as a nonprofit, we will do free spays and neuters for them. And we will end up making sure that it all gets taken care of very well. So, it's a really great relationship between the community that we have. And that's what's really great about being in Las Vegas, which is an amazing city to doing it.
It's just super fun to see the background that you have going on there. 140,000 square feet, these are huge, enormous sprawling facilities here. Tell us a little bit more about that on-campus experience.
So, we are truly a one-stop-shop. We do it all. So, between our two facilities, and they very much mirror each other in terms of space. But I'm at the Oquendo Campus right now. And right behind me, you can see our auditorium. It holds 190 people. You can't see this, but we have screens set up in all of our rooms. We have several board rooms. We have areas for eating.
We have areas for surgery, you name it. We have space for everything. Our Eastern Campus, we even have a ballroom now that holds up to 600 people. So, between the two facilities, truly, an association or organization, they can do their whole event with us from morning to evening. And we're able to accommodate their needs. We do provide all meals or can provide all meals, transportation.
We have an amazing concierge team here. You name it, we provide it. When you walk in, everything is very COVID-friendly right now. So, everything is very labeled, and grab and go. But we have snacks and drinks, and you name it, it is here. And it's very exciting. We do work with gaming and non-gaming hotels that people are able to stay at if they're staying overnight. But outside of the hotels, we're certainly able to provide absolutely all the services anyone would need.
What are some of the other COVID safety measures that Viticus Group has put into place, both for your own facility as well as in consideration for future events?
So, I will tell you that our number one priority is the safety of our team, and also the clients that we serve. And so, everywhere in the organization, we're following the CDC and the Nevada guidelines. Everyone at all times wears masks, social distancing. You can see some of the ways that we've been able to manage that. And this goes throughout the whole organization.
If you go into our lobby, we've eliminated much of the seating. So, there's proper distancing. In our areas where there's eating, and in other events, everything is socially distanced. From the time you get on either one of our shuttles, or you walk in the door, we take temperatures. We have hand sanitizers everywhere. We even have team members that have labs that are going on. All they're doing is going around, and they're cleaning high-touch areas. Because I truly believe that it's not just about having all of these things in place but always been very consistent. So, when people come into our facilities, they see that we're following the rules that everyone is taking this very seriously. And so, they can feel very comfortable, and let other people know that when they come to the Viticus Group, we're going to make sure that we keep people safe.
So, do you have masks on-site or anything like that, but they need to be prepared in other ways, things they should know?
So, one thing that we've tried to do is let people know, ahead of time, especially with our self-generated courses, what the expectations and the Nevada State rules are. You can expect that you will have to social distance, and wear a mask, and wear a mask properly. So, one thing that was important to us is that we let people know that upfront, so that our team doesn't get in a strange situation when they see people not following the rules.
So, we try to set the expectations up front. And so far, that's been very helpful. From a business perspective, we've definitely seen a decline, as can be imagined, or I should say, not as many people from occupancy in our different courses. But what's been really great as every single month since June, when we started doing courses again, we're seeing more and more people come.
And so, I think the competence level is definitely improving. And it's even more important that we don't let down the guard. We continue to be very strict about our guidelines, and very in your face about what our safety guidelines are so, people feel comfortable.
What are the big goals? What's the vision, and the plans as we continue to ease back into the new normal? It's this new reality, this pace, and people are getting comfortable. They're climbing out of their holes, and they're getting back to business. So, what are the visions of moving forward into 2021? What are you looking forward to?
I think we've already talked about our summit, and our conference, and we're super excited about that. But I think what's really important, myself, and our entire team, is we're trying to be very realistic on what to expect in 2021. No one expects everything just to turn on like this. So, we anticipate that gradual increase.
And what I think we're going to do a little bit different. I think we already do a really good job, but we can do more is figuring out how we can work more with our partners in the industry to figure out how we can really share synergies, what we can do that's something that they need, and we can help provide those types of services, and really compliment them.
I think that for a long time, and this is natural, you get in the right of doing things the same way. But I think there's an opportunity for us to collaborate even more, and really figure out what people want, whether it's our clients directly, whether it's the different partners that we work with, and figure out where we can come in, and really be an important, and helpful partner to take us all back up to the next level.
Dr. Pease, what will be on your wish list at 2021? What are you looking forward to, and what would you like to see happen?
Well, it's really interesting, and exciting, because with all of, especially, the corporatization of veterinary medicine, and even just in general practice, like you were talking about, where efficiency is such a big key. What we really start looking at is actually trying to involve more of an entire clinic, or an entire group, so that that way, you can all of a sudden, create synergies amongst your entire model.
And I think that's going to be something that we really work on. We've always been an advertisement for a person. So, we always looked at the veterinarian, and said, "Hey, we're doing a course on TPLO. And we're just going, "If you want to do TPLOs, come to us." Now, we're reaching out and saying to all of our partners, "What is it that you find that you would love your doctors to know how to do? And why don't we create something for you?' As Andrea points out, we are a concierge service. But we're also a very support industry service. Being a radiologist, I know all about this. I don't do anything primary. I basically help everybody else figure out what's going on. And so, we're using that same model, and mindset to start looking at this holistically.
And start looking at it saying, "Well, what in a practice setting, it's great to teach somebody how to do a dental. But really, why don't we teach people how to incorporate dentistry into their practice? Why don't we start looking at it how we actually do as you were talking about, everything from receiving patients to working through all of the trouble spots that we're dealing with right now?"
Because right now, as you said, with a 40% increase, and especially emergency critical care being really hit hard, with a huge number of clients, which is great. Efficiency is going to be the big key and making sure that we focus on that. So, I would say that that is one of the things that are on my wish list is to basically realize that WVC, we have always been great at reaching out with partners. But now, we're going to really engage with them to make sure that we're not just providing a service for them, but we're actually working with them to provide the services that they truly need.
This consolidation is the biggest trend going on in veterinary care. Do you take a special approach to working specifically in supporting specific groups, and growing into that group? Do you have specific special opportunities for these growing groups? Because there's a lot of them out there, and they're gobbling up practices like crazy. So, do you have specific offerings, specials, and things like that that you can do specifically to tailor to those groups?
Well, it's funny, because it's not really specific to tailor to a corporate group, but more to tailor exactly what you're saying is to almost bring that group mindset to the individual clinics. And so, starting to like GeniusVet does so well. It's almost like banding together a lot of those individual practices and making them have a stronger buying power. AVMA does that as well.
And so, it's not just looking at the big companies like Mars is, and things of that nature. It's more about how can we be more efficient to basically provide these services? So, working with AAHA, working with AVMA. And looking at these global groups that are less corporate, if you will, but much more just for veterinary education is really where we're starting to go.
And again, one of the biggest things that we always have a challenge with is just getting the word out, and just trying to fill the seats, and making sure everybody knows. And that's where groups like GeniusVets works so well, in not necessarily creating a corporate structure per se, but almost having a corporate network, where you can end up having the power of the population.
And that's what we really are going to keep working on. So, yes, I would say that we are working on trying to create these efficiencies on our side as well, where we could have a course of 24 or 32 people. All of our courses are actually really small, even though we have large facilities. Because we want to make sure we get that personalized attention.
And we want to make sure that people are walking away with a great instructor-to-student experience. So, we don't just have one instructor come in for 30 people and say, "Okay, good luck." We are really focused on making sure that education that you get to spend time with this expert. You get to have that hands-on criterion that you can make sure that you feel really good about walking away with. But we really love partnering with people to get the word out so that we can bring it to the masses.
...
CATCH MORE CRUCIAL INDUSTRY INSIGHTS FROM VITICUS AT GENIUSVETS' THE UNBREAKABLE PROFESSION EVENT ON FRIDAY, NOVEMBER 6TH!
...
Are there any things that you're doing as an organization to look at that demand for staffing, and help people actually find people, or help people with specific skills once they've come, and they've heightened their skill in certain areas, they've made themselves more valuable to the market to help them potentially find opportunities to get themselves into possibly, a better position or a better fit?
It's an excellent question. Honestly, what we end up finding is that VTS is probably the best example of that or the Veterinary Technician Symposium. We do a lot more of the soft skills, as well as the hands-on skills. But we really try to teach them not just about what they're learning, but how do they go back into a practice that may be set in its ways, and actually try to implement that?
And what's really great is you get this panel, we use Veterinary Technician Symposium, we always say it's for vet techs, by vet techs. We, generally, all the instructors are seasoned veterinary technician professionals, and we have a panel discussion at the end, where they just say, "Okay, this is how you can help try to push the needle in your practice. This is how you can be the one that drives it."
Because as any veterinarian will tell you, it's the technicians that elevate the practice. They are the ones that we are really, really dependent on every day. And so, really, that's been our focus. And I have to say it's been one of the things that have been the most rewarding when I first got here. We have a huge number of veterinary technicians on full-time staff.
And it is amazing that we get to work with them every day. And they are our inspiration for the Veterinary Technician Symposium. We went from offering once a year to twice a year, mainly because we love doing it so much. And with all of the things that are being offered for veterinarians out there, there are so few things offered for veterinary technicians./
And so, we're even talking about with these facilities that we have, we're working with NAFTA, and looking at some of the technician specialty groups to say, "Why not have a really big conference where we could end up having a lot of the technicians come in, and do something for them?" And to really focusing on that idea of not just how do I do something, but how do I implement it? How do I make myself marketable? How do I help you? And I would say that at the end of every course, we do that too. Even for the veterinarians, we try to incorporate that, but it's funny. Having it as a standalone soft skill, where we say, "Okay, let's have a leadership course, or let's have a marketability course." The people that come to that are usually not the people that need it.
They're basically the ones that are already very well informed. And they're just pushing the envelope and saying, "How do I bring it to the masses?" And we want to make sure that we're giving it to the people that need it. So, we're starting to incorporate into all of our things. So, there's usually an hour or two that are dedicated to, "Okay, let's talk about now that you've learned the skill, how are you going to bring it back, because you're the one person in that clinic that's going to be excited by it."
So, it's almost like we're training a trainer, and trying to work through that aspect of things. But that's why it's also so exciting to start partnering with practice groups, and practice managers, because then, you get your Instant buy-in. And so, they come back, and they're jazzed, they're energized because they already put in this investment to learn. And now, they're going to invest the time to implement it, as well.
David: That's just brilliant. Brilliant the way that you've decided to incorporate that because, and you're so right. Some of these, what you're calling soft skills, they're the most needed things, but they're going to be the worst attended if you just put those out. And then, which is precisely why they're the most needed because people just ignore these little incredibly important facets./
We get this a lot, "Hey, we need to attract more doctors, we need to attract more doctors." But for instance, in the interview, I did with Dr. Peter Weinstein at the SCVMA. I know you know Peter. Great guy. When I asked him the question about staffing, one of his first points was, it's not the problem people think it is. The big problem is veterinarians doing work that isn't the stuff they should be doing. They should only be doing the doctor work, and they should be utilizing their techs, and utilizing their staff better. And they don't, they just do it all. They take it all on their own. And we actually have a problem, which sounds crazy because vet techs are in such high demand. And we definitely need more people as vet techs.
But there's a lot of them that leave the profession because they go in, and they get the skills, and they want to go use their skills, and they get into a position in a practice, where they're not allowed to utilize their skills. Where they're being used more as reception, or kennel staff as opposed to being used the way you go to a doctor's office as a human. And you barely see the doctor at all.
Doctor whizzes in, whizzes out, tells you a couple of things, in and out, and you spend most of the time with nurses and staff. And they do a tremendous amount and an incredible job. So, I think there's a ton there. And you're right, it's something that being with GeniusVets, we do marketing. And again, a huge thing that they need as a business. But it's not the thing that they're interested in or into.
So, trying to get them to sit down and just learn about that for a few hours, is it's tough to get them engaged initially. So, love that you're incorporating that, love that you're putting out resources that they can refer to when they get back in practice, and say, "Hey, it's not just me saying it. It's Viticus Group saying it. This comes from a really the highest level, you should listen to this." That is fantastic.
What I'd like to do is I'd like to ask you both to share just one big thing that you really want to make sure that everyone watching knows, and is going to remember about Viticus Group. Andrea, can we start with you?
Sure. So, I'm going to tie it all back into a big theme that you've heard is to check out our year-round courses. These courses will give different professionals the opportunity to bring an entirely new skill set, maybe service to their hospital, and be able to better serve their clients and the entire business. So, go to www.viticusgroup.org. And check out our year-round offerings. They're always changing, and they will take you to the next level.
And you, Dr. Pease?
Yeah. And honestly, even the www.wvc.org still works. It'll take you straight to us if you decide to come down through that. But I think the other thing that I would love for people to remember is that we are here to work with you. And so, as a practice manager, or if you're a veterinarian, and you're just like, "You know what I really would love," and just reach out to us.
We are so approachable and we are always looking for speakers. We are always looking for ideas, and innovations, and really trying to push the envelope. And we're the first people to admit that we don't know everything. It's like what you're talking about with GeniusVets. The reason we surround ourselves with great people is because we realize that one person trying to create everything isn't going to do it.
And so, making sure that everybody realizes we are here for you as a nonprofit educational organization, we're just trying to elevate medicine. And so, we follow trends, we talk with groups to try to figure out where they're struggling, but we would love to continue to grow that, and work with you as best we can.
So, we play this game, it helps me and helps all of our viewers here get to know each of you a little bit better as people because I think it's really important. I have this book of 3,000 would you rather questions. They're ridiculous. They're silly. But I'll flip through here, and randomly find a few questions, and ask you. That's the game. Anywhere you're at, what would you rather watch, the NFL or hockey?
Dr. Pease: Absolutely. I'm a hockey goalie. So, I love hockey. It's amazing. The Golden Knights have been amazing. And it's really one of the things that having our first sports team, major sports team here. And it's been amazing.
Would you rather, vacation in a tropical paradise with nothing to do, or a city with endless activities and attractions?
Andrea: City with endless attraction. I like to shop. Shop and going nowhere.
Dr. Pease: Yeah. I would actually choose a tropical vacation because I get to live in this beautiful town every day. And so, I get to shop, and do everything all the time. So, a vacation would be to get away from it, and have little less to do.
Would you rather eat dinner cooked by one of the world's most famous chefs, or see your favorite music artists perform?
Andrea: By a famous chef.
Dr. Pease: Especially like you said, when you come to the conference, or if you come to an academy course, I would definitely recommend taking a day or two, and really exploring. If you're a foodie, if you like entertainment, even if you like hiking and biking, there's so much to do in Vegas that it makes it just an outstanding all-around opportunity to come to visit.
Would you rather have better judgment or stronger intuition?
Andrea: Better judgment.
Dr. Pease: Yeah, better judgment.
As we get ready to sign off here, is there one last thing that you want to call people to do to go do right now, to be aware of, to start following? What's the one thing you should leave people with? Last thought.
I'll just remind www.viticusgroup.org, our website tells you everything, plus some. And we have a blog. We actually have various ideas for people. So, again, absolutely, please reach out to us. And don't forget about the annual conference in September. We were looking forward to seeing you then. And then, also, we'll have it again in 2022 IN March.
Brilliant people, making the veterinary profession better every day. I really appreciate your time in joining us here. This is David Hall with Webinar Wednesdays from GeniusVets. Remember, every single veterinary practice in the entire country, your practice included has a full-page feature at geniusvets.com. You may not even know that yet, but you do. We have a full page about your practice. So, go to geniusvets.com/start, there's a link in the chat, you'll get a little redirect to it, and find your practice. Make sure the information is correct. Claim it for free. And we'll give you a bunch of fun stuff too. We've got, well, just for claiming it, we'll send you some really nice stuff. And we'll send you cups, and stickers, and bags, and swag, and it's really fun.
It doesn't cost anything at all. So, check it out, geniusvets.com/start. And join us on November 6th, Friday, November 6th, where we are going to take the combined wisdom of all these brilliant people that we've been interviewing for the past 12 weeks, and we're going to put it out in one incredible day of information that you absolutely want to know.
We're going to be giving you the best advice, the best insights from the smartest people in the industry. So, watch for that, and sign up, and attend the day, full-day virtual event on Friday, November 6th, here with GeniusVets. Thanks so much, everybody. We'll talk to you, and see you soon.
CATCH MORE CRUCIAL INDUSTRY INSIGHTS FROM VITICUS AT GENIUSVETS' THE UNBREAKABLE PROFESSION EVENT ON FRIDAY, NOVEMBER 6TH!
Webinar Wednesdays