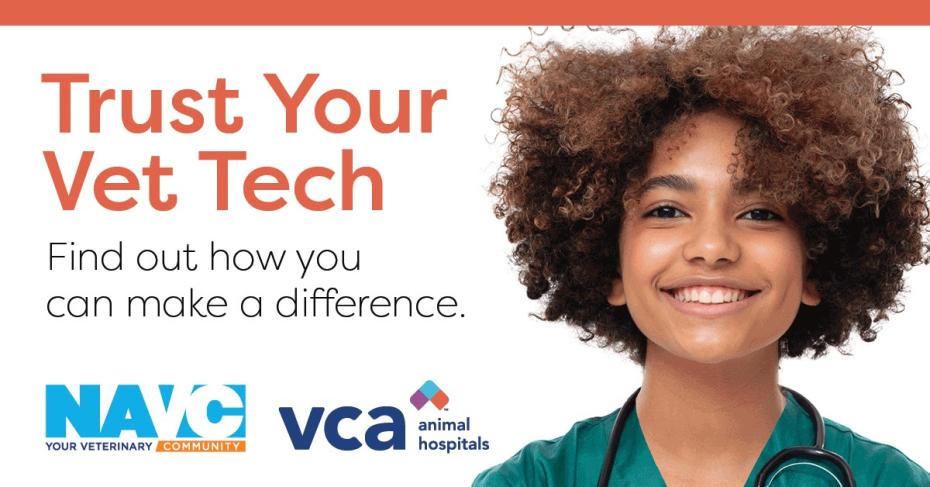 "Trust Your Vet Tech" Kicks off National Veterinary Technician Appreciation Week on October 16
ORLANDO, FL – October 16, 2023 – The North American Veterinary Community (NAVC), with support from VCA Animal Hospitals (VCA), today announced the launch of an international marketing campaign to raise awareness of and support for the critical, life-saving role veterinary nurses and technicians play in veterinary practices and in the overall healthcare of animals. This first-of-its-kind campaign will deliver educational and engaging materials to veterinary practices worldwide reaching thousands of pet owners with the goal of changing perceptions of veterinary nurses and technicians and fully utilizing their skills and education. "Trust Your Vet Tech" kicks off the week of October 16 in support of National Veterinary Technician Appreciation Week and builds on the NAVC's Veterinary Nurse/Technician Empowerment Campaign launched in 2021 to elevate and advance the role of veterinary nurses and technicians across the veterinary profession.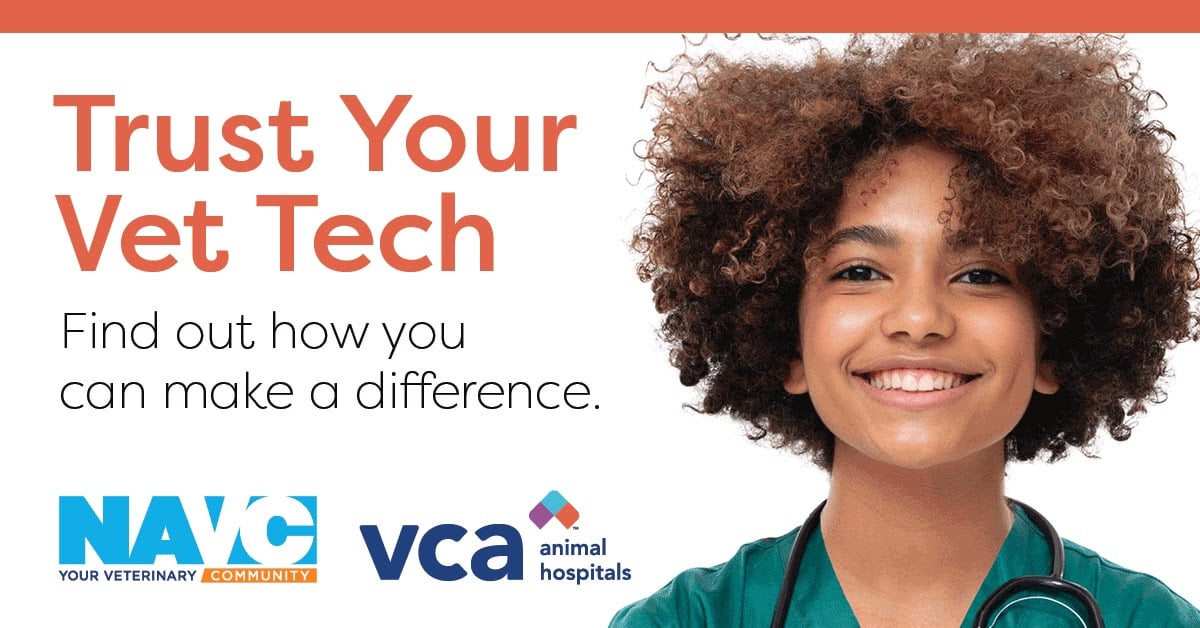 The "Trust Your Vet Tech" campaign will reach a global audience of more than 600,000 veterinary professionals and pet owners through thousands of veterinary clinics.
"While credentialed veterinary nurses and technicians are the veterinary equivalent of registered nurses in human medicine in terms of education and skills, an NAVC survey of pet owners nationwide found that most pet owners are unaware of the wide range of care veterinary nurses and technicians provide, from preventive medicine to life-saving and emergency care for animals of all kinds," said NAVC CEO Gene O'Neill. "Through this campaign, the NAVC intends to change perceptions among pet owners so they feel more confident having a qualified, credentialed veterinary nurse/technician care for their pets, using their full range of skills and education. We will also focus on educating practice team members so they rely more on these critical members of the team to perform at their full capacity. This will benefit pets, pet owners, and veterinary practices."
According to an NAVC survey of U.S. pet owners, nearly half (47%) did not know that the role of the credentialed veterinary nurse/technician includes performing medical tasks and procedures. The overwhelming majority, 73%, had the misunderstanding that their role was cleaning cages, removing animal waste, feeding or grooming pets – tasks generally performed by less experienced and non-credentialed staff. Sixty-three percent of pet owners do not know that credentialed veterinary nurses/technicians are the animal healthcare equivalent of registered nurses. Leveraging VCA Animal Hospitals national network of more than 1,000 veterinary hospitals and the NAVC's global network of 600,000 veterinary professionals, the "Trust Your Veterinary Technician" marketing campaign will reach thousands of pet owners nationwide through creative and informative materials that will be sent to clinics around the world. The campaign will focus on providing facts about the role and education of veterinary nurses and technicians including "5 Things You Didn't Know About Your Veterinary Technician:"
Veterinary nurses/technicians have an essential role in delivering care to pets, from assisting in surgeries to performing advanced procedures. They conduct medical tests, take tissue and blood samples, administer anesthesia, assist with surgeries and post-surgical monitoring, pain management, long-term chronic illness treatments, provide intensive care nursing and monitoring, and work with pet owners among other duties.
 
Showing compassion isn't the only thing veterinary technicians are good at – they are credentialed and formally trained to provide expert care for pets.
 
Credentialed veterinary nurses/technicians are highly educated; they must have advanced training and complete a national exam to become certified.
 
Credentialed veterinary nurses/technicians must pass rigorous exams such as the Veterinary Technician National Exam (VTNE). They often graduate from an AVMA-accredited AS or BS program. Once credentialed, veterinary nurses/technicians also complete ongoing continuing education requirements (CE).
 
To obtain the Veterinary Technician Specialist designation (VTS), applicants must devote a minimum of three years to one of 16 clinical areas of intense focus (emergency and critical care, anesthesia and analgesia, rehabilitation, dentistry, nutrition, internal medicine, cardiology, ophthalmology, among others) before becoming a candidate. This process also involves case logging, skills verification and a rigorous exam. The VTS must undergo board recertification every five years.
Key elements of the campaign include a downloadable "Toolkit for Change" designed to educate clients and practice team members about the crucial role veterinary nurses and technicians provide that can be displayed in clinics, shared on clinic websites, social media pages and on client handouts. The toolkit includes downloadable posters, social media posts, email graphics and a landing page dedicated to pet owners. The campaign will also include national advertising in NAVC trade publications and a digital advertising campaign.
About the NAVC
The North American Veterinary Community (NAVC) is a nonprofit organization dedicated to supporting and advancing veterinary professionals worldwide. The world's leading provider of veterinary continuing education, the NAVC delivers essential training, tools and resources for veterinary professionals to stay abreast of advances in animal medicine and provide the best medical care for animals everywhere. Through its commitment to innovation and excellence, the NAVC has developed a diverse portfolio of products and services, including: educational events, headlined by VMX, the world's largest, most comprehensive continuing education conference and launchpad for new products and innovations within the veterinary industry; a robust digital platform for virtual learning and engagement; the veterinary industry's largest and award-winning portfolio of trade publications; and an advocacy arm which unites the veterinary community and pet lovers. The NAVC was founded in 1982 and is headquartered in Orlando, FL. Since 2017, the NAVC has been recognized annually as one of the Top Workplaces by the Orlando Sentinel. To learn more about the NAVC's products and brands, visit https://navc.com/. To see our schedule of upcoming events, visit https://navc.com/calendar/.
About VCA Animal Hospitals
A leader in veterinary care, VCA Animal Hospitals is committed to caring for the future of veterinary medicine. We are a family of hometown animal hospitals determined to positively impact pets, people, and our communities. From primary care general practice to emergency, urgent and specialty care, VCA delivers world-class medicine to more than four million pets each year. Our national network of clinics and hospitals invest in cutting-edge tools, training and technology that enables our Associates to lead the industry today and into tomorrow. Among our talented 35,000 Associates are nearly 7,000 veterinarians – including about 500 who are board-certified specialists – nearly 4,000 credentialed technicians and over 10,000 veterinary assistants – all dedicated to giving pets the very best in medical care.
As part of the Mars Veterinary Health family of brands, VCA is committed to the Mars Petcare Purpose—A Better World for Pets™. To learn more about VCA, visit: www.vca.com.