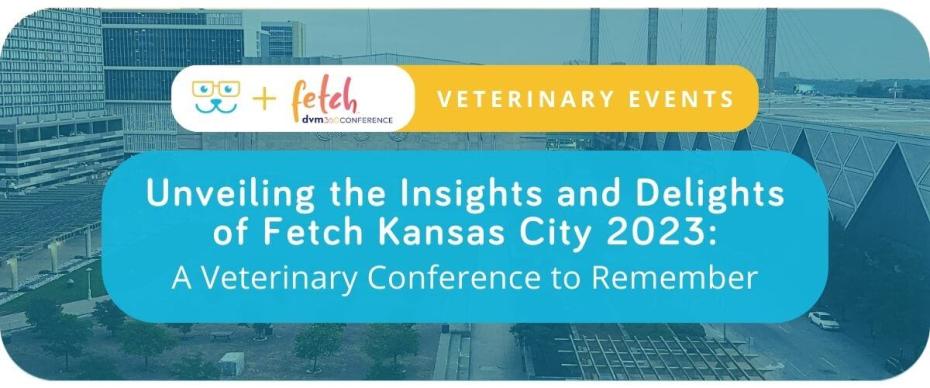 In the heart of Kansas City, veterinary professionals and enthusiasts congregated for an unforgettable experience at Fetch Kansas City 2023. With a plethora of enriching sessions, captivating discussions, and invaluable networking opportunities, this conference was a testament to the dedication and passion that drive the field of veterinary medicine forward. One highlight of the event was the presence of the GeniusVets Booth #427, where attendees could spin the wheel for great prizes, engage with experts, and share their insights. As the curtains drew on this exceptional event, it became evident that Fetch Kansas City 2023 had left an indelible mark on all who participated.
Exploring the Conference Landscape
Fetch Kansas City 2023 was a hub of knowledge, innovation, and collaboration. Attendees were treated to a comprehensive range of sessions, addressing topics spanning behavior, toxicology, dermatology, and surgery. The conference's holistic approach ensured that professionals across various specialties found something of interest to enrich their expertise.
Rise of Homesteading and Livestock Care
One fascinating trend discussed at the conference was the rise of homesteading and its impact on veterinary care. As more individuals embrace the joys of raising livestock such as chickens and goats, the need for specialized veterinary care becomes paramount. Attendees delved into sessions that provided insights into the unique challenges and opportunities associated with caring for these animals, highlighting the evolving role of veterinarians in catering to the diverse needs of their communities.

Empowering Practice Managers
Practice managers, the unsung heroes behind the scenes, found themselves in a wealth of sessions tailored to their needs. The emphasis on leadership skills and strategies for managing challenging clients and staff resonated deeply. The conference recognized that a practice's success isn't solely dependent on medical prowess but also on effective management and fostering a conducive work environment.
Navigating Challenges in Content Creation and Staffing
Among the vibrant discussions, a common thread emerged – the challenges faced by veterinary professionals in content creation and staffing. With the digital age demanding a strong online presence, the task of consistently producing quality content can be daunting. Many attendees acknowledged the importance of engaging social media posts and informative blogs but expressed uncertainty about where to acquire the skills needed for effective content creation. Additionally, staffing woes emerged as a recurring concern, prompting conversations about recruitment, retention, and cultivating a motivated team.

Unpacking Customer Service and Client Relations
One particularly memorable session was David Hall's talk on customer service, shedding light on a crucial yet often overlooked aspect of veterinary practice. Attendees eagerly posed questions about managing online reviews and navigating interactions with difficult clients. The insights shared during this session bridged the gap between exceptional medical care and the interpersonal skills needed to foster trust and loyalty among clients.
Beyond Education: Unwinding and Networking
Fetch Kansas City 2023 was more than a series of sessions; it was an immersive experience. Attendees relished the networking breaks, where refreshments and snacks provided the sustenance needed to refuel both body and mind. The exhibit hall's reception further encouraged mingling, accompanied by libations that added a touch of festivity to the occasion. Despite the sweltering heat, the dvm360's Fetch Kansas City BLOCK PARTY at Bar K provided a vibrant atmosphere for attendees to unwind and connect on the first night of the event.

Conclusion
Fetch Kansas City 2023 epitomized the dynamism of the veterinary field and its commitment to growth and innovation. With GeniusVets Booth #427 serving as a hub for insightful discussions, attendees shared their experiences and challenges, paving the way for collaborative solutions. The conference spotlighted the evolving landscape of veterinary care, from catering to the needs of homesteaders to honing leadership skills for practice managers. As the curtains closed on this exceptional event, participants departed with a renewed sense of purpose, armed with newfound knowledge and connections that would undoubtedly shape their journeys in veterinary medicine.
In a world where education and networking are paramount, Fetch Kansas City 2023 stood out as a cornerstone of excellence, reminding us all of the remarkable strides being made in veterinary care and the unwavering dedication of those who make it all possible.
If you stopped by the GeniusVets Booth and didn't get a chance to schedule a consultation, you can do it here.