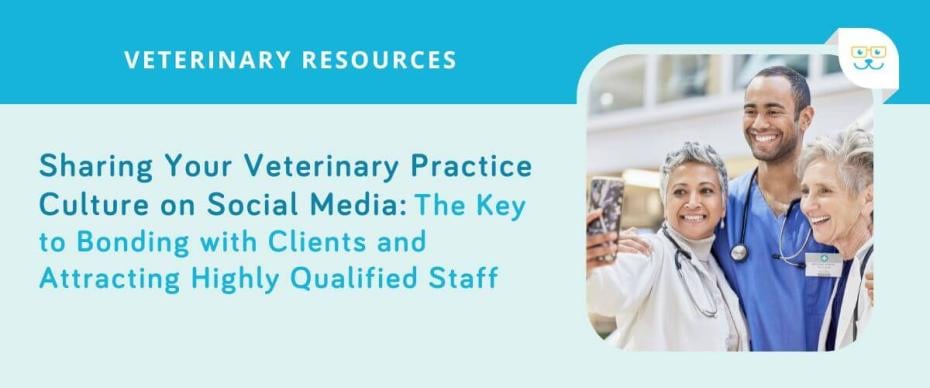 In today's digital age, social media has become an indispensable tool for businesses to connect with their audience. For veterinary practices, leveraging social media platforms offers a unique opportunity to engage with clients, strengthen relationships, and attract highly qualified staff. By sharing your practice's culture, values, and commitment to animal care, you can establish a strong bond with clients while positioning your practice as an appealing workplace for veterinary professionals. In this blog, we will explore the significance of sharing your veterinary practice culture on social media and provide a list of ideal content types to help you create an engaging online presence.



How to Building Trust and Bonding with Clients
Humanizing Your Practice: Sharing behind-the-scenes glimpses of your veterinary practice on social media humanizes your brand. It allows clients to see the passionate team behind the scenes and fosters a sense of familiarity and trust. Post pictures or short videos of your staff interacting with animals, showcasing their expertise, and highlighting their compassionate care.
Success Stories and Testimonials: Feature heartwarming success stories of the animals your practice has helped. Testimonials from satisfied clients who have experienced exceptional care at your practice can go a long way in building trust with potential clients. Encourage clients to share their stories and tag your practice in their posts, further amplifying your online presence.
Educational Content: Demonstrating your expertise and providing valuable information through educational content positions your practice as a reliable source of veterinary knowledge. Post informative articles, infographics, or short videos that address common pet care concerns, preventive measures, or advice for specific breeds. This showcases your dedication to animal welfare and positions your practice as a go-to resource for pet owners.
Community Involvement: Highlight your practice's involvement in community events, fundraisers, or pet adoption drives. By showcasing your commitment to the local community, you demonstrate that your practice is more than just a business—it's an active participant in promoting the wellbeing of animals and supporting the community.



Use Social Media for Attracting Highly Qualified Staff
Showcasing Workplace Culture: Sharing glimpses of your practice's work environment and the supportive culture you've cultivated can attract prospective staff who value a positive and collaborative workplace. Highlight team-building activities, staff achievements, or even share stories that exemplify your practice's commitment to a healthy work-life balance.
Do you want to make sure your culture is great, check out the GeniusVets Culture Workshop?
Staff Spotlights: Feature individual team members on your social media platforms to showcase their skills, experience, and passion for animal care. This recognizes their contributions and provides potential candidates with insights into the expertise and camaraderie within your practice.
Continuing Education and Professional Development: Share your practice's opportunities for staff to enhance their skills and pursue professional growth. This can include certifications, training programs, conferences, or mentorship initiatives. By highlighting your commitment to investing in your team's development, you attract highly qualified professionals seeking opportunities for advancement and skill-building.
Staff Member Testimonials: Encourage your staff to share their experiences working at your veterinary practice on social media. Genuine testimonials can be a powerful recruitment tool, as they provide an insider's perspective on your practice's culture, values, and the rewarding nature of the work.



What Specific Content You Will Want to Share
When it comes to sharing your veterinary practice culture on social media, there are various types of content that you can create to engage with your audience and attract qualified staff. Here are some examples:
Photos and Videos:
Behind-the-scenes glimpses of your practice
Staff interacting with animals
Demonstrations of veterinary procedures or treatments
Introducing new team members
Showcasing state-of-the-art equipment or facilities
Highlighting special events or celebrations at your practice
Success Stories and Testimonials:
Heartwarming stories of animals your practice has helped
Before-and-after photos of rescued or rehabilitated animals
Client testimonials sharing their positive experiences at your practice
Video interviews with satisfied clients and their pets
Educational Content:
Informative articles or blog posts about pet care tips
Infographics explaining common pet health issues or preventive measures
FAQs about specific breeds, vaccinations, or nutrition
Live or recorded Q&A sessions with your veterinary experts
Explainer videos on topics like dental care, parasite prevention, or senior pet care
Community Involvement:
Coverage of local community events related to animals or pet welfare
Promoting pet adoption drives or fundraisers
Collaborations with animal shelters or rescue organizations
Sharing success stories of adopted pets and their new families
Organizing or participating in educational workshops or pet health fairs
Staff Spotlights:
Introduce individual team members with their photos and short bios
Highlight their expertise, qualifications, and areas of specialization
Team member recognition for achievements or certifications
Behind-the-scenes profiles showcasing staff's daily routines or favorite aspects of their work
Staff interviews sharing their passion for veterinary care and dedication to animals
Continuing Education and Professional Development:
Announcements about training programs or workshops offered to staff
Sharing photos or updates from conferences or veterinary seminars
Highlighting certifications or advanced courses completed by your team members
Testimonials from staff members about the value of ongoing education
Showcasing how your practice supports career growth and mentorship opportunities
Remember, the key is to create a mix of content types that inform, educate, entertain, and engage your audience. Regularly sharing a variety of content can build a solid online presence, strengthen client relationships, and attract highly qualified staff to your veterinary practice.
 
In Conclusion
Sharing your veterinary practice culture on social media is a strategic move that can positively impact both your client relationships and recruitment efforts. By humanizing your practice, building trust, and engaging with clients through social media, you strengthen the bond and loyalty between your practice and pet owners. Additionally, showcasing your workplace culture and commitment to professional growth helps attract highly qualified staff who share your values and are eager to contribute to your practice's success. So, don't hesitate to leverage the power of social media to bring your veterinary practice to the forefront, making it a go-to destination for exceptional animal care and a sought-after workplace for talented veterinary professionals.