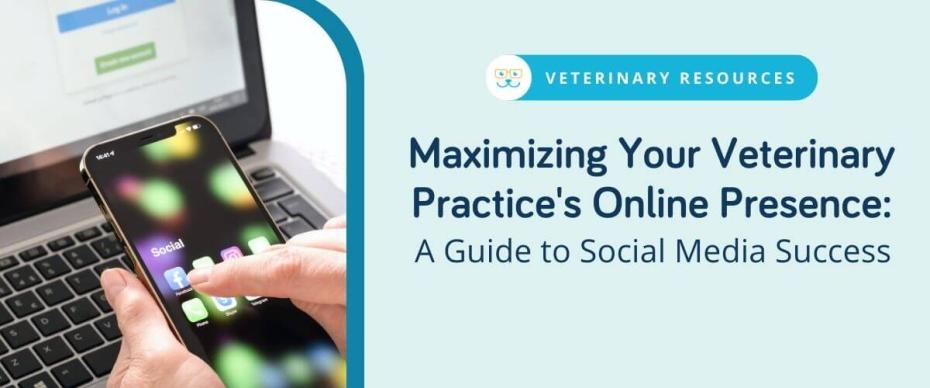 In today's digital age, potential clients often turn to the internet to evaluate veterinary practices before booking an appointment. Your social media presence plays a pivotal role in shaping their perception of your business. According to statistics, "74% of consumers rely on social networks to guide purchase decisions." So, it's crucial to ensure that your social profiles reflect your practice in the best light possible. In this updated guide, we'll explore the top three social platforms for veterinarians and provide tips on what to do and what to avoid.
Facebook
Do This:
Complete Your Profile: Utilize Facebook's business information tools to their fullest. Fill out your "About Us" section and profile with comprehensive details about your practice, services, and values. Transparency builds trust.
Use Your Cover Photo: Your cover photo can serve as a Call-To-Action (CTA). It doesn't have to be limited to cute pet photos; you can promote products, celebrate pet-related events, and include action items as text overlays.
Consistent Posting: Aim to post at least one piece of content daily, but avoid excessive posting, which can lead to follower fatigue.
Link Back to Your Website: Whenever possible, include links to your website in your posts. Share content related to your services, blog articles, staff bios, or any relevant web pages.
Engage with Followers: Respond to comments and private messages promptly to build trust and foster a sense of care for your clients.
Moderation: Maintain a spam-free environment on your page to preserve your practice's image.
Not That:
Inconsistent Engagement: Don't post content and then disappear. Consistency in engagement is vital to maintaining your audience's interest.
Overuse of Hashtags: On Facebook, hashtags are not effective for search and discovery. Use them sparingly, with a limit of three per post.
Outdated Pinned Posts: Keep your pinned posts relevant and remove expired promotions or outdated holiday greetings.

Instagram
Do This:
Use a Business Account: Set up your Instagram account as a business page to access valuable features such as clickable contact buttons.
Strategic Bio: Craft a compelling bio with your tagline, what sets you apart, and any new client offers. Encourage visitors to click the link in your bio and instruct them how to contact / where to find you.
Leverage Your Bio Link: Make the most of the link in your bio by creating a custom landing page with easy access to various sections of your website.
Create Highlights: Organize your Instagram highlights to provide insights into your practice, services, and culture. Consider sections like "On the Blog," "Our Doctors," and "Behind the Scenes."
Use Reels to Your Advantage: Short-form videos are highly engaging because they are easily shareable and genuine, making them 2.5 times more engaging than longer videos.
High-Quality Visuals: Post high-quality photos of your patients and staff to showcase your practice's personality and build trust.
Consistent Posting: Aim to post daily to keep local pet owners engaged and interested.
Use Hashtags Effectively: Use relevant and trending hashtags to increase the discoverability of your posts, but keep them limited to about 3 tags per post. Create a branded hashtag specific to your clinic.
Not That:
Stock Images Only: Avoid filling your grid with generic stock images. Showcase your practice's unique content, including real patients, clients, and staff.
Gross or Graphic Images: Refrain from posting surgery photos or other graphic content that may deter your audience. Keep Instagram appealing with cute pet pictures.
Don't Overdo Promotions: While promoting your services is essential, avoid excessive sales pitches. Mix in informative and engaging content.

Twitter
Do This:
Tweet Regularly: Start with one tweet per day and gradually increase to three to five tweets daily. Consistency is key, and Twitter's fast-paced nature rewards active users.
Pin a Tweet: Pin an engaging tweet to the top of your profile, including a link to your website or appointment request form.
Visual Content: Tweets with images have higher engagement rates. Use visuals to your advantage.
Educational Content: Focus on providing valuable information rather than selling. Share pet care tips, services, and product recommendations.
Retweet and Engage: Retweet content from reputable sources to establish authenticity and trust.
Utilize Cover Photo: Similar to Facebook, use your cover photo to display a CTA message and encourage appointment bookings.
Tweet About Local Events: Share information about pet-related events, workshops, or adoption days happening in your community.
Not That:
Over-Reliance on Retweets: Don't rely solely on retweets; contribute original content and perspectives to maintain your unique voice.
Inconsistent Tweeting: Infrequent tweeting can cause followers to forget about your practice. Plan and schedule content in advance for consistency.
Excessive Hashtags: While you can use hashtags in every tweet on Twitter, limit them to no more than five per tweet and ensure they remain relevant.
Controversial Discussions: Avoid engaging in political or controversial debates that could alienate potential clients.
Don't Spam Followers: Don't bombard your followers with repetitive or excessive promotional tweets. Mix in informative and engaging content.
LinkedIn
Do This:
Create a Professional Profile: Set up a detailed and professional LinkedIn profile for your veterinary practice, complete with a clear logo, a comprehensive description, and contact information.
Share Educational Content: Post informative articles, updates, and insights related to pet care, animal health, and the veterinary industry. Showcase your expertise.
Highlight Your Team: Share profiles and achievements of your veterinarians and staff members to showcase your practice's expertise and dedication.
Connect with Colleagues: Connect with other veterinarians, pet care professionals, and related businesses in your network to expand your reach.
Network and Attend Webinars: Attend veterinary webinars, conferences, and events to network with peers and stay updated on industry trends.

Not That:
Mix Personal and Professional: Keep your LinkedIn profile focused on your veterinary practice. Avoid sharing personal content unrelated to your business.
Be Overly Promotional: While it's important to promote your services, avoid excessive self-promotion. Provide value through educational content.
Ignore Connection Requests: Accept connection requests from relevant professionals and engage with their content as well.
Get Political or Controversial: Avoid discussing controversial topics or engaging in political debates on your professional LinkedIn profile.
Neglect Regular Updates: Maintain a consistent posting schedule to keep your audience engaged. Irregular updates can lead to decreased visibility.
Your social media profiles play a significant role in attracting new clients to your veterinary practice. By showcasing your practice's personality, culture, and branding in the right ways, you can turn potential clients into loyal patrons. Keep these tips in mind to make the most of your online presence.
Want to dive deeper into leveraging your social media channels to increase your new client numbers? Contact us today to schedule a demo with one of our digital marketing experts!