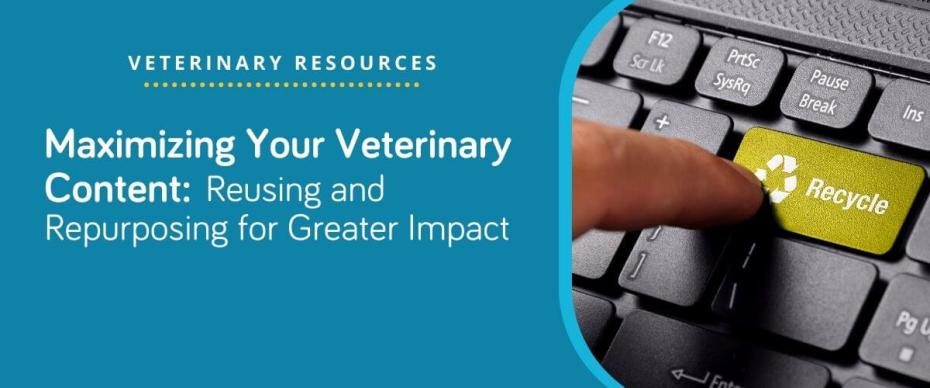 The previous blog post, "Enhancing Veterinary Services Content: A Guide for Your Practice's Website" discussed the importance of creating valuable veterinary services content. Now, we're going to take a deeper dive into a strategy that saves you time and maximizes your content's impact: reusing and repurposing. Let's explore how service pages can evolve into blogs, social media posts, and even take-home care sheets for new pet owners.
Service Pages into Blog Posts
Your service pages are a treasure trove of information. Don't let them gather digital dust after they've been published. Instead, use them as the foundation for engaging blog posts. Here's how:
Expand on Specific Topics: Take a section from a service page and turn it into a more detailed blog post. For example, if your "Dog Surgery" service page mentions spaying/neutering, create a blog post titled "The Benefits of Spaying and Neutering Your Dog." This provides more in-depth information and links back to your service page for those seeking more comprehensive details.
Case Studies: Share real-life examples of successful surgeries or treatments you've performed. Case studies can highlight your expertise and build trust among your audience.
FAQs: Frequently asked questions on your service pages can become separate blog posts, addressing common concerns pet owners may have.

Social Media Posts
Reusing content on social media is a fantastic way to reach a wider audience and keep your profiles active as a top resource of pet care information. Consider these strategies:
Visual Content: Convert key points from your service pages or blog posts into visually appealing graphics or infographics. These can be shared on platforms like Instagram, Pinterest, and Facebook.
Quotes: Extract compelling quotes from your content and create eye-catching images to share on social media. Inspirational and informative quotes can spark engagement and encourage sharing.
Reels and Stories: Adding a video with text overlay is a great way to utilize the copy from static graphics.
Mini Blogs: Create shorter versions of your blog posts as social media captions or LinkedIn articles. This allows you to share valuable information directly with your followers.

Take-Home Care Sheets for New Pet Owners
One innovative way to repurpose your content is by turning it into informative take-home care sheets. These can be given to new pet owners and downloaded on your website. For example:
Vaccination Schedule: Summarize the information from your "Dog Shots" service page into a handy vaccination schedule that new dog owners can reference.
Post-Surgery Care: Provide a step-by-step guide on how to care for a pet after surgery. This repurposed content can be immensely helpful for pet owners dealing with post-operative concerns.
Dental Care Tips: Transform your dental care service page content into a concise care sheet with tips on maintaining good oral hygiene for cats and dogs.
Emergency Contacts: Offer a printable sheet with emergency contact information and guidelines for when to seek urgent veterinary care.
The Benefits of Reusing and Repurposing Content
Time Efficiency: Repurposing content saves you time and effort. Instead of starting from scratch for every social media post or blog, you already have a foundation to work with.
Consistency: Maintaining a consistent online presence is crucial for audience engagement. By repurposing content, you can post regularly without the stress of constantly generating new ideas.
Versatility: Different people prefer different types of content. By repurposing your content into various formats, you cater to a broader audience.
SEO Benefits: Continuously linking back to your service pages from blog posts and social media content can improve your website's search engine ranking.

Conclusion
Your veterinary practice's content is a valuable resource that can be repurposed in multiple ways to reach and educate a wider audience. By transforming service pages into blogs, creating social media posts, and producing take-home care sheets, you save time and maximize your content's impact. This strategic approach will help your practice establish industry authority, engage your audience, and ultimately attract the ideal clients and staff.
Remember, content repurposing is an ongoing process. Regularly review your existing content to identify opportunities for reuse and ensure that your practice remains a trusted source of pet care information.
Unlocking the Potential of Your Content with GeniusVets
In the ever-evolving digital landscape, crafting top-notch content and consistently nurturing a thriving blog requires time and resources. Recognizing that not every practice has the bandwidth to dedicate to content development, GeniusVets provides an innovative solution.
Our tailored service pages and blogs are strategically designed to align with the most frequently searched questions and keywords within the pet care industry. By leveraging our resources, you can effortlessly draw in your ideal clients and talent while streamlining your content creation process. With GeniusVets as your partner by your side, you'll unlock the full potential of your online presence without the heavy investment of time and effort.