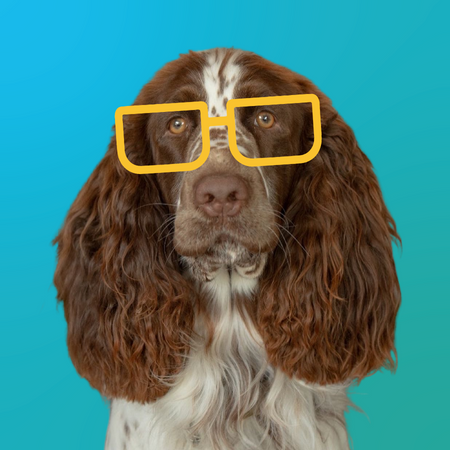 Contact Info
Share a few sentences about your professional background and what drew you to GeniusVets.
I majored in Communications Sciences in Mexico in 2003. I started working in Marketing and PR for Museums and Galleries and was an English and Arts teacher in private schools during the same period. My first job as Marketing Manager was at a museum, and we had absolutely no budget, so I started looking into Social Media and PR. That took me to ICUC, where I worked as a Social Media Content Specialist for over eight years with brands like Target, Topgolf, Keurig, Disney, Oreo, Motorola, etc. Right now, I work part-time for Cave Social as a Project Manager; I'm a contractor here at GeniusVets, and I own a dog-friendly restaurant in my hometown in Mexico. I do all the marketing, design, social media, photos, etc., even the storefront, which was a challenge, but I loved every second of it.
What drew me to GeniusVets, first of all, was the team. I happen to know Judy and Brandi from when I was working at ICUC, and I know the type of leaders they are, and I have great respect for them. Secondly, I adore dogs and pets, and a big part of my own business is educating myself and my customers on how to give our pets the best quality of life possible. I've found this impacts not only my little shop but the overall wellbeing and behavior of the community at large. I've been interested in joining GeniusVets ever since Brandi posted about it on her personal Facebook, and I've been doing my best to find a way to be a part of it for the last 3ish years. I'm super grateful to be here!
What do you love about your role? If you're new to the team, what drew you to this specific role?
As I mentioned, I was drawn to GeniusVets as a company when Brandi started posting about it on her personal Facebook account. I thought it was a company made in heaven just for me. Remote environment, leadership I know and respect, and PETS, and not just cute info about pets, useful and highly researched information about them, which I strive to keep learning about. This role is my first step in the company, and I waited so long that I'm deeply grateful to have it finally! Also, I found it's a perfect place for my project management/social media creation skills to grow.
Family Info
I'm single and have no human kids, lol.
Pet Info
I have 3 Springer Spaniels, Rigoletto, Tenchita, and Camelia, and one big baby born five weeks before the pandemic, my restaurant. It's named after Rigoletto, actually. Here's the link to our IG if you want to follow us and take a peek: https://www.instagram.com/miperritorigoletto//p>
Passions or hobbies outside of work
Honestly, Dogs. When I opened my restaurant, it was like, WHY DIDN'T I THINK ABOUT THIS BEFORE!? I LIVE for my dogs! Lol. Yoga, I have to keep myself young, and I have to keep those aches away. Art, obviously; I love being in a museum, even if I don't know the artists; it's just being around art and people who CREATE. I also love dancing, writing (I've been meaning to start my own blog), mental health, astrology, design, and music. I go from rock to orchestra in an hour, but it helps.
What's the best advice you've ever gotten?
What can I learn from this? What is this issue trying to teach me? One of my other leaders at ICUC taught me that, and she reminded me to ask myself those questions when facing a challenge I see no solution for.
Do you have any hidden/unique talents?
Gosh, I hope they're not that hidden, lol. I'm very creative; sometimes, I can't stop my brain. I just wish I could create everything I think about. I love to design and take and edit pictures. I have an excellent eye for decor and shopping. I also found out I'm very good at selling things I love and believe in, and I'm super flexible and adaptable, and I always try to find a way to figure it out. Also, I love debating peacefully, especially when there's something to learn and people don't know that about me.
What is one thing you've done that most people have likely never experienced?
It's a touchy subject because I realize there are SO MANY dogs who need a home, and I don't talk about it much, but it was kind of a grieving process for me: I took a 15-hour flight just to get a puppy from a breeder with verified healthy dogs. I suffered a lot before that with Springer Spaniels, and I just wanted them to STAY HEALTHY for the longest time possible.
What's a personal or professional accomplishment that you're really proud of?
I opened my own business five weeks before the pandemic and somehow survived. And I opened it in honor of the Springer Spaniel I lost right before getting Rigoletto, and I couldn't save him because he had many wrong diagnoses.
Have you had any funny animal encounters?
LOL, I think I have them every day at my shop.
On a Sunday morning, you'll find me…
At my restaurant greeting dogs and taking pictures, as that's the busiest day of the week; that's the one I never ever miss. The rest of the week, I'm happy and comfortable dropping by and checking in with my team.