Is it Possible to Rank Higher Than #1 in Google?
By Jake Byrnes, Marketing Optimization Specialist
Until recently, the only way to position your website above the number one ranked search result was to invest in Google AdWords Search ads, which allow you to pay to have your website show up at the top of the search engine results page (SERP) for specific keywords you define. However, with the ever-evolving search landscape and Google continually announcing new features to the SERPs, there are now more ways than ever to feature your website higher than the standard organic results. And get this – some are actually free!
How Can I Get my Veterinary Website to the Top of Google?
Since the inception of AdWords in 2001, Google has added many new features to the SERPs, including:
Rich Snippets – Adds a visual layer to an already existing result (ex: review stars)
Knowledge Graph – Data which appears as panels or boxes (ex: weather, celebrity knowledge panel), and…
Universal Results – Appear in addition to organic results (ex. Featured Snippets, Image results)
 
In this blog, we will be focusing on the Universal Result type called the Featured Snippet.
What is a Featured Snippet?
A featured snippet is a block of text that appears above the organic and paid search results that is meant to quickly answer a user's question directly on the SERP by pulling information from a website and displaying it front and center.
Example of a Featured Snippet from a GeniusVets Client
To illustrate what a Featured Snippet is and how it appears in the SERPs, let's take a look at what happens when I type the question "What is a dog blood test?" into Google.
 
As you can see below, Google is identifying my search query as a question, and is pulling an answer directly from our client's service page on laboratory blood tests for dogs. It is then taking this answer and displaying is as a block of content above all other pieces of content on that page.
Pretty cool, right? Now that you know what a Featured Snippet is and what it looks like, let's take a look at how they can affect your organic search traffic.
How do Featured Snippets Affect Your Organic Search Traffic?
As you may expect, the additional brand exposure that comes with Featured Snippets is almost guaranteed to come with growth in total website traffic as well.
 
So how has it affected The Drake Center's traffic? Let's take a look at some data!

 
In this example, not only did total Organic traffic increase by 40%, but Pageviews for this specific page increased by 104% and Entrances into the site from this page increased by 102%!
 
Here are two additional studies confirming what others are seeing when their sites hold the Featured Snippet spots:
Ben Goodsell reports that the click-through rate (CTR) on a featured page increased from two percent to eight percent once it's placed in an answer box, with revenue from organic traffic increasing by 677%.
Eric Enge highlights a 20–30% increase in traffic for ConfluentForms.com while they held the featured snippet for the query.
So how do you optimize your veterinary website for Featured Snippets? Let's take a look!

Optimizing Your Veterinary Website for Featured Snippets
According to a study done by Ahrefs, 99% of Featured Snippets come from pages that are already ranking on the first page (or top 10) in the organic listings. Knowing this, we'd recommend you start by checking your organic rankings to find keywords that your pages already rank on the first page for. This data can be found in your search query report in Google Search Console, which each GeniusVets client gets set up with immediately after site launch. Here is an example of one of these reports: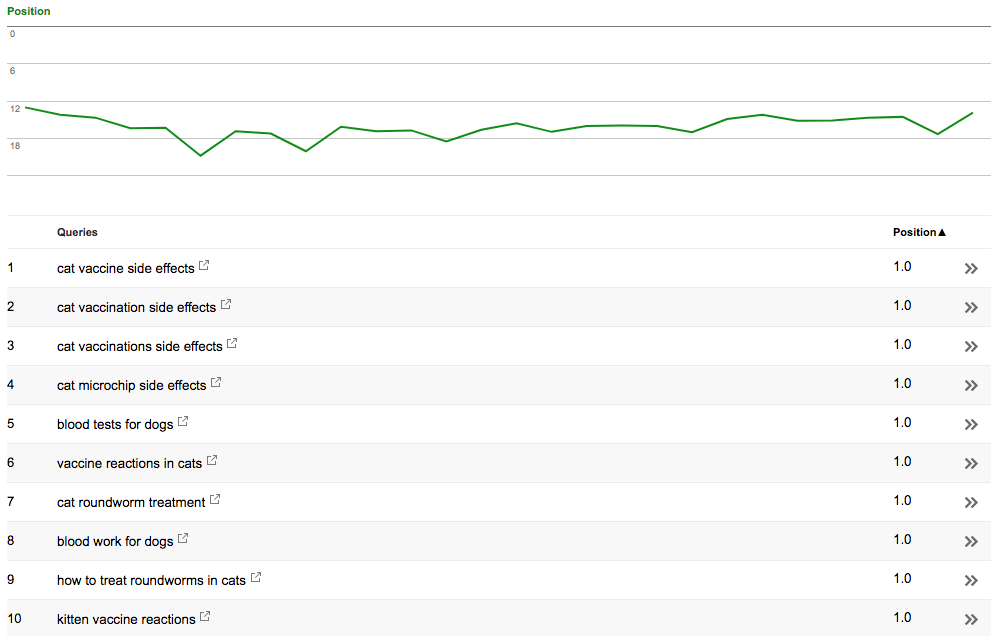 It is also important to note that Getstat claims that 70% of Featured Snippets come from sites that are actually ranked outside of the first organic position. So, don't just focus on keywords where you're ranked #1 overall. Go for those keywords where your pages are ranking a bit lower (positions 2-5). That way you have a chance to jump right over position #1 and head to the top of the SERP, increasing your brand visibility significantly.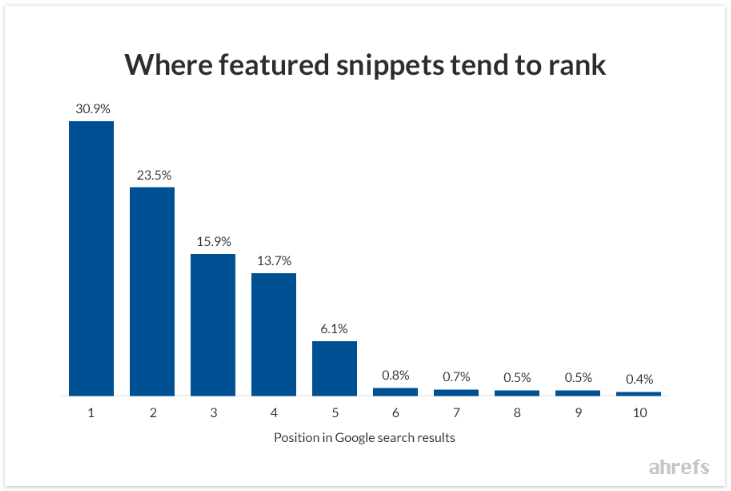 Now that you have your desired search phrase and page you'd like to be featured, there are a few things you can do to increase your chances of being chosen.
1: Make sure your article expands on the topic and answers many similar questions
Now that you've found your desired search term, do some keyword research to find out how people are searching for this topic. What questions are they asking? How are the top pages exploring the topic? To do this, start by typing the keyword into Google and combing through the results. Look through the top ranking pages and see what the most popular topics are. You can also check the bottom of the SERPs to see the top related searches.
2: Make the answers concise
Once you have enough questions to explore the topic in great detail, use these questions as headlines in your article, followed by concise answers in paragraph form. A study done by Moz found that the average length of a featured snippet is just 45 words, with the maximum being 97 words. So keep this in mind when writing those answers.
3: Use images
It's no secret that Featured Snippets with images are a lot more eye-catching than ones without. Unfortunately, there is no specific way to ensure that the main image of the article will be chosen as the image to accompany the Featured Snippet. As of this writing, it seems as though Google randomly pulls any image on the page to be used with the Featured Snippet. Therefore, it is essential that every image on your page be eye-catching, branded, and annotated well, so that no matter which one Google ends up featuring, it will look nice.
Ensuring Your Veterinary Website is SEO Friendly
By now we hope you understand how important it is to stay up to date with the newest Google SERP features and the ever-evolving landscape that is SEO. However, we know that as a veterinarian you're likely stretched pretty thin in running your practice as it is. How can we expect you to find time to sit down and continually expand and update your content? It would be almost impossible!
 
The good thing is you don't have to... just as long as you have someone that does! Whether it's a part-time marketing employee that works for your practice a couple days per week, or a full-service veterinary marketing partner like GeniusVets, staying up to date with the latest SEO trends is a very effective digital marketing strategy for veterinarians looking to increase their bottom line.
 
That is why every GeniusSite is built to deliver the best in search engine optimization. With our strategic guidance and comprehensive marketing services, veterinarians are finally reclaiming their rightful place as the best resource for pet care advice within their local communities.
 
Do you have more questions about our complete digital marketing platform and what it can do for your veterinary practice? Contact us!