GeniusReviews just got WAAAAY better!
By Jake Byrnes, Marketing Optimization Specialist & David Hall, Chief Strategist
We are pleased to announce the rollout of our new and improved GeniusReviews dashboard.
Since our inception, GeniusReviews has been an integral component of our GeniusVets veterinary marketing platform, allowing Veterinarians to monitor all their online reviews in one easy-to-use interface.
The updated dashboard combines all the features you loved in the original, along with some key new features displayed in a more powerful, simplified interface. This upgrade will be provided to all GeniusVets marketing clients at no additional cost as part of our ongoing platform upgrades and is based on recent trends we're seeing in reputation management and its effects on the customer journey.
Improving Your Online Reputation Management Services
Before we jump into some of the new features, take a look at these stats:
92% of consumers now read online reviews
88% of consumers incorporate reviews into their purchase decision
88% of consumers also trust reviews as much as personal recommendations from friends and family
63% of customers are more likely to make a purchase from a site which has user reviews
26% of consumers say it's important that a local business responds to its reviews
If a business resolves its issue quickly and efficiently, 95% of unhappy customers return back to the business
Source: Vendesta.com
Based on these numbers, it's obvious that online customer reviews are a big deal. They play a large role in shaping the digital portfolio of today's local businesses, including veterinary practices like yours.
And it's not just your reputation that's at stake. Online reviews also play large a role in how you appear in local search results, which can have a huge impact on your bottom line. Take a look at some of these factors, that when compared with your competitors, have been known to influence how and where your vet practice appears online:
Number of reviews
Frequency of reviews
Recentness of reviews
Average star rating of reviews
Response rate to reviews by the business
Online reviews play a critical role throughout the customer journey, yet many veterinary practices have failed to allocate the resources needed to manage reviews effectively. What does this mean? Opportunity! With so many of your competitors falling behind, our GeniusReviews system provides you with the tools you need to outperform your local competitors in just a fraction of the time.
More Power, Simplified Interface
Our updated GeniusReviews dashboard was designed to always respect the value of your time and attention, producing results becomes simple and easy. The new review dashboard helps you assess trends at a glance and makes sure your standards are being upheld everywhere you operate. Whether your business has one location or many of them, this powerful online review management tool makes it easy to discover which are performing as they should and which need improvement. Wherever customers might be talking about your brand, GeniusReviews makes sure that you'll know.
Compare Your Reviews to Your Direct Local Competitors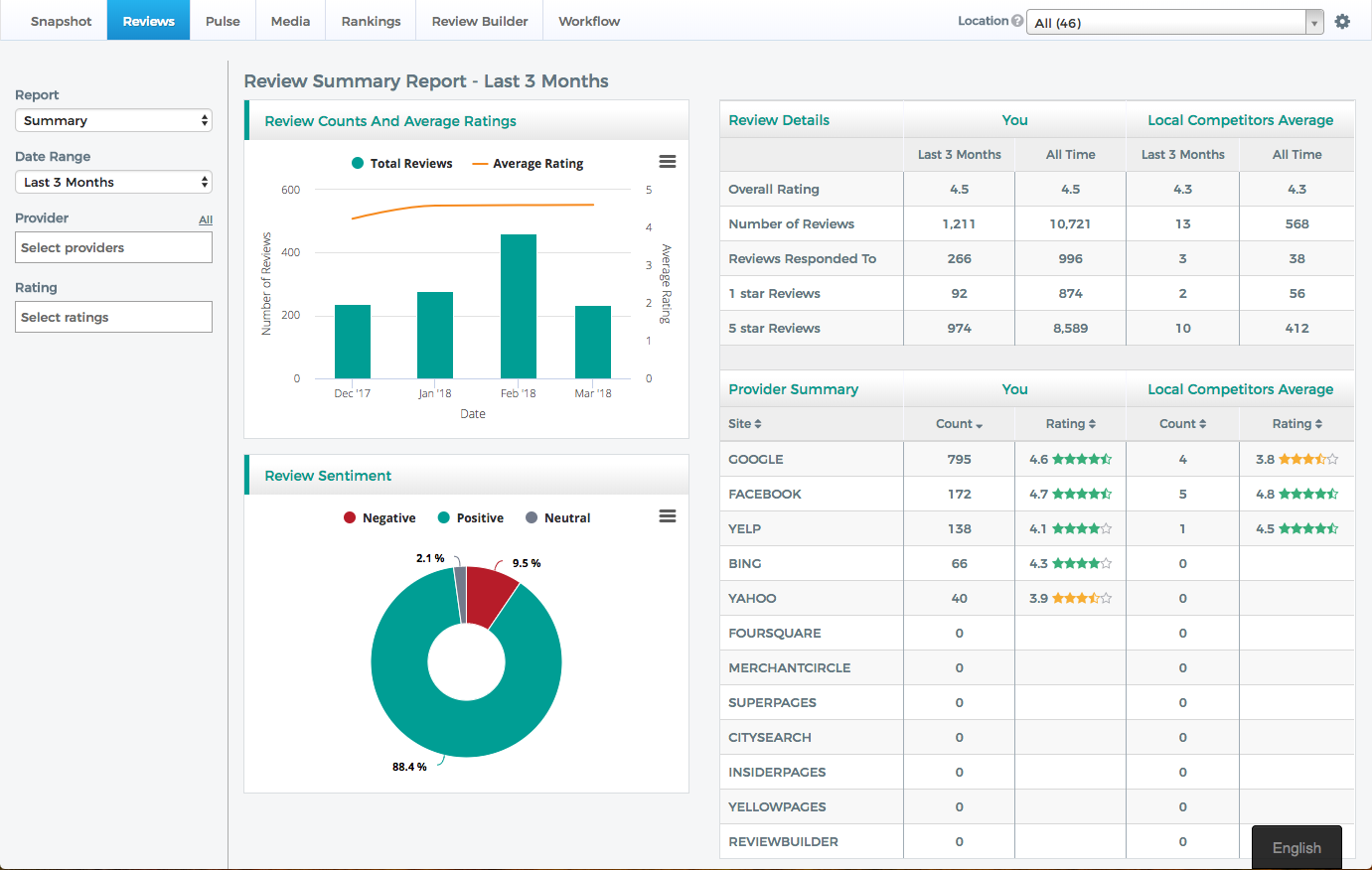 Keeping up with your reviews is a start, but knowing how you stack up against your competitors is even more valuable. Review benchmarking puts your locations head to head against the other veterinary practices in your service area. Learn what your competition is good at and glean actionable insights to help your practice perform at a higher level. Additionally, discover what drives customers to your practice over others in the service area and double down on your strengths.
Automated Sentiment Analysis
With the addition of sentiment analysis, we now have the ability to go beyond the star rating and automatically characterize reviews based on the nuanced judgements reflected in their write up. These assessments provide another window into how your customers are feeling about your services. Whether through site­-specific breakdowns or an overall summary, you can quickly get a feeling for local performance that goes beyond what review rating averages can tell.
Monitor Multiple Locations in One Dashboard
GeniusReviews now makes it easier than ever to monitor multiple locations in one dashboard.  When a problem crops up at a particular location, negative reviews can be the fastest and most direct way of finding out and figuring out how to trule resolve the issue within your practice.. Whether you just want  a quick glance at sentiment analysis reports and overall summaries or you would like to  drill down deeper, you are going to love the new GeniusReviews system!.
Your Veterinary Practice Deserves the Best Digital Marketing 
Why are feature and technology updates integral to the GeniusVets marketing system? Because the web is constantly evolving and changing – as are user expectations.
That's why with GeniusVets, updates keep coming to your marketing platform and GeniusSites– at no additional cost. Many of these updates are invisible but still vitally important – from security upgrades to performance enhancements and SEO improvements.
In short, your GeniusVets veterinary marketing platform is constantly becoming an even more useful tool in your mission to offer the very best in veterinary care and client service.
If you have any questions about what's new on GeniusReviews, please feel free to reach out to your Client Success Manager. And if you haven't yet begun your journey with our full digital marketing platform, be sure to contact us to learn more about our commitment to delivering brilliant veterinary marketing every day.