Veterinary Practice Culture and Staff Training: Aligning Your Team to Provide Great Client Service
By Michele Drake, DVM, Chief Veterinary Officer and Shannon Pecora, MA, Marketing Manager
Local pet owners can visit any practice for veterinary services, but they should choose yours for a very important reason: your staff. Every practice faces the same challenges of busy schedules, frustrating cases, and huge to-do lists. But it's the way that you and your employees handle those stresses that sets your clinic apart. A well-trained staff provides the same stellar client service on those crazy days as they do on the precious few easy-going days, and clients will certainly notice.
Consistent and continuous training will help all of your employees keep fine-tuning those client service skills, as well as reinforce the unique culture of your business. Prioritize these efforts to make every client and patient feel valued and appreciated during their appointments, and you'll see this pay off in strong, lasting client bonds. Let's look at some veterinary staff training elements that hold true across all practice cultures:
Starting off with the Right New Hires
Staffing, of course, begins with applications and the interview process. When the practice owner and practice manager are aligned regarding your culture, you'll be in agreement in seeking out veterinarians, receptionists, technicians, assistants, kennel attendants, and groomers who fit right into that culture. That initial fit will set you up for success, bringing in staffers who share your philosophies about interacting with people. Primarily considering work experience and skill mastery will help you fill empty positions. However, communication styles and career motivations are just as important to factor into hiring decisions to help you ensure that everyone on the team will work together for the best outcome of the practice.
The Practice Owner's Role in Onboarding New Staff Members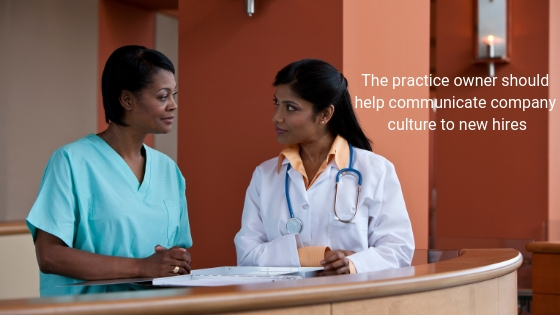 Customer service is the responsibility of every single person in the hospital, from the seasoned practice owner to the newly-hired assistant. To set this tone immediately, the practice owner should sit with any new staff member, regardless of their place in the practice. This should be an initial welcoming training session, during which the new hire can learn about the history of the practice, as well as the mission, culture, and values. This is NOT a "let's establish who is boss" conversation; rather, it is an early opportunity for the new employee to understand the origin and guiding principles of the practice - from the person who lays the groundwork. You're establishing the team connections, making it clear that everyone has a role in working toward the business's purpose and mission. 
Training and Mentorship for New Employees
Thorough training is tough for any small business. While there are outside resources available for general skills training, most of any in-depth program needs to be built by your own leadership. And you certainly need an organized training manual, but you'll need to make space to update that manual whenever industry or practice developments warrant a change. Putting policies in writing is what truly makes them "official."
In addition to self-paced or independent learning, mentorship is so valuable in communicating both daily duties and overall culture. Identify your strongest trainers so that new employees can shadow them for four to six weeks before receiving their own, individual shifts on your schedule. The mentor will model appropriate behavior during client visits, demonstrating the language, recommendations, and standards of practice that should be common to everyone on staff. This person will also answer questions, offer clarifications, and help the new hire practice in role play scenarios.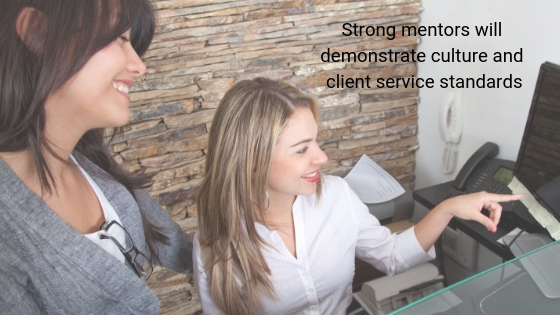 It is absolutely vital to follow up to see how that guidance and mentorship developed. Without asking for gossip, solicit feedback from the new employee's team members. Have they seen that this person's client interactions are consistent with your culture? Also, use your call tracking system to listen to recorded phone calls. What messaging is this person delivering to your clients? Compare a "slow" day with a busy day: does this person take a calm approach to client interactions, even during stressful times? Assess whether your new trainee's behavior builds client confidence during appointments and interactions, leading to repeat visits and strong client bonding. Again, this is vital to the health and growth of your veterinary business.
Client Service Training is not Just for New Hires
The practice owner must always make it clear that everyone has a part in creating great client experiences. Think of customer service as you would any other continuing education. It is just that: education that continues. Regular staff meetings are generally the perfect setting because you can likely devote 30 minutes each month to this, with your entire staff in attendance.
Specific topics will depend on your clinic and your experiences. Some tactics to consider:
A customer experience that didn't go well - Brainstorm some "alternate endings," considering different ways to handle a situation like this, leading to an improved outcome
A customer experience that went just fine - Even if the patient and client were not unhappy, could you say that they were truly "wowed"? What could be some next steps to turn a satisfied client into an ecstatic client? How could you inspire this pet owner to share a positive review or refer a friend to you?
The patient's perspective - Consider what pets experience coming through your hospital, from sights, to smells, to sounds; from treatment to discharge.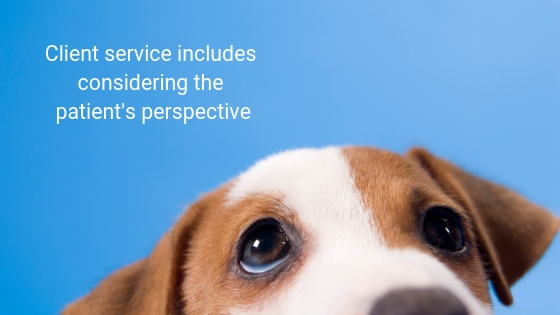 Online or in-person, always evaluate your client interactions to see how you can better serve them. Inspire them to make that initial appointment with you, and then inspire them to keep coming back!
Don't Let Poor Culture Fits Interfere with Great Customer Service
If someone is not aligning well with your culture, you need to immediately correct that. This includes any staff member, even a doctor. If someone is not aligned with your culture, leadership should meet with them to assess why this is the case. Is there a misunderstanding? Was there a gap in training? Work together to get on the same page.
Unfortunately, there are instances when a bad culture fit cannot be overcome. Perhaps once this person got to know your company culture well, they found that it simply doesn't mesh with their natural way of delivering care and client service. Maybe they just don't want to work within your practice's mission and vision. In these cases, your leadership should make the decision to let that staff member go. If you leave someone on your team who runs counter to your standards of client service delivery, you run the risk of confusing your clientele. They won't necessarily know what to expect at any given visit, and they'll be less likely to return for repeat visits. This, then, demoralizes the rest of your team, as well as devalues any messaging you've worked to establish in your practice.
No matter what your title, if you're on a veterinary practice team, you play a role in client service. All employees are responsible for knowing the intricacies of their roles, but the practice owner will set the overall standards for culture and mission. Without those general standards, and without each person knowing exactly where to fit, customer service will suffer. But with a strong training program in place, clients will reap the benefits of your team's solidarity and consistency. And local pet owners can tell the difference between an unaligned staff and a unified team!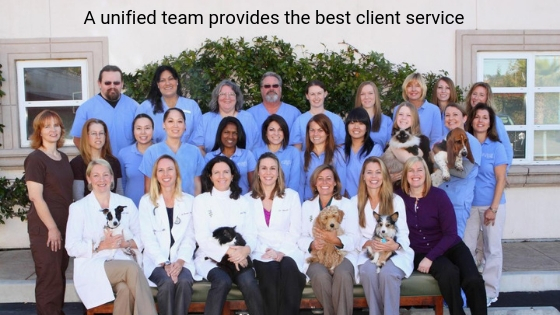 To learn more about how to steer your team with consistent messaging, a strong brand, and an established foundational culture, enroll in GeniusVets Academy! You can earn RACE-approved credits while you discover proven, evidence-based strategies to grow your independent veterinary practice.