Online Reviews & Directory Listings: The Secret Formula Veterinarians Can Use To Supercharge Local SEO

By David Hall, Chief Strategist
Over the past 20 years, the way that pet owners find, evaluate, select, and engage with their veterinarian has completely changed. Twenty years ago, if a pet owner had a question related to the health of their pet, they called their local veterinarian and asked. Today, over 90% of pet owners turn to Dr. Google first. They ask Google pet health questions; they search for local veterinarians; they use search results and online reviews to compare local veterinarians. Along the way, as they are typing different keywords into Google and clicking "search", the vast majority of those search results contain a feature called the "Google Local Pack".
The Local Pack features a map with pins that indicate the physical location of local service businesses that seem to be strongly relevant to whatever is being searched for. Google considers the field of "Veterinary Care" to be a "Highly Localized Service Business," and therefore any related keyword searches will typically trigger that local pack in the results. The Local Pack will typically show up at the top of the results, and the result is a huge boost in business for veterinary practices that can earn the top result in the Local Pack list.
Not only does this local pack give searchers your address and contact information, but it also puts your client reviews front and center and gives a link to your website, helping pet owners quickly compare and contrast your practice with your local competitors. This is one of the biggest opportunities for you to increase your visibility to local pet owners and give your veterinary practice a huge advantage in earning the business of your future clients. In this article, we will help you understand the high-level strategy, the step by step tactics, and the tremendous benefit of optimizing your local directory listings to dominate Google's local pack listings in your area.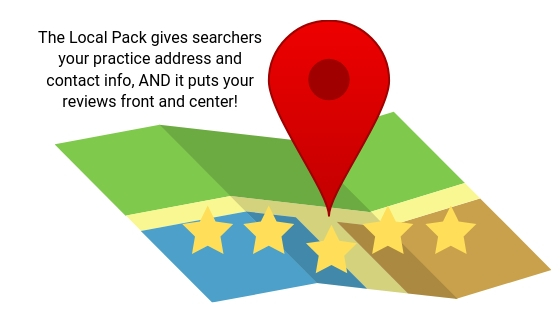 What is an "Online Business Directory," and How Does it Impact Your Veterinary Hospital?
The easiest way to understand what an online business directory is would be to think of an online version of the old printed yellow pages. Online business directories will list the name, location, and contact information for your business, along with a host of other information, such as introductory or "about us" text, images, video, hours, accepted payment methods, links to your website, and client reviews. The information-rich nature of these directory profiles gives your clients and prospective clients a valuable tool for evaluating your practice, comparing your practice to other local veterinary practices, and leaving you feedback about their experience as a client. So, these online business directory listings play a vital role in the journey your customers go through in discovering, evaluating, and engaging with your pet hospital. This means that there is an incredible opportunity here, one that can make a significant difference for your veterinary practice. With a relatively small investment of time and resources and a great step-by-step strategy to follow, your veterinary practice can quickly start getting more calls, more appointments, and better client relationships.
What is the "Consideration Stage" of the Customer Journey?
Every single veterinary practice client must go through a journey that consists of 5 different stages:
Awareness - They discover their pet needs health care, and they must find local veterinary options


Consideration - Evaluating your veterinary practice and comparing you to your local competitors


Appointment - Scheduling an appointment and having the entire in-practice experience


Retention - Coming back time and time again throughout the life of their pet


Advocacy - Leaving reviews, engaging on social networks, referring their friends
The directory optimization strategies that we are reviewing in this article can impact your clients in every single stage of that journey. However, the most significant impact of directory optimization is the difference it can make in the consideration phase of the customer journey, while a prospective client is evaluating your practice and considering whether they will entrust the life and health of their pet to you, or your competitor down the street. This is where you earn new clients, and there is an absolute river of new clients flowing right past your door that are swept up in the currents of Google search results. Let's talk about how you can dip your cup in this never-ending stream of local pet owners that need your services.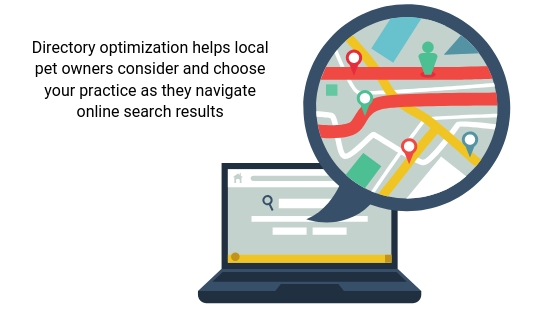 When Local Pet Owners Turn to Google
There are 6 different categories (types) of keyword searches that local pet owners typically use when they turn to Google for information. Let's take a quick look at each category, the types of keywords included in that category, and how to best position your veterinary practice to earn a new client.
Questions related to pet care: The vast majority of all Google searches related to the veterinary industry consist of pet owners attempting to do some research related to a question they have about the health of their pet.

I suspect my dog may have fleas/ticks. What should I do?
How effective is microchipping in cats?
What should I do if I find a lump or bump on my dog?

"Local Veterinarian" & related keywords: Once pet owners have come to the conclusion that they need to schedule a veterinary appointment, but they do not yet have a go-to veterinarian, these are the types of keywords that indicate they are looking for local veterinarians to choose from.

Local Veterinarians
Veterinarian Near Me
Veterinarian in [city name]

Branded Keyword Searches: These types of searches indicate that they are looking for information from or about a specific veterinary practice. When Google sees that people in your local area are starting to conduct more veterinary care related searches that also include the name of your specific practice, that is a strong signal that people in your area are showing a preference for seeing results from your practice and your overall performance in Google search results can see a nice boost.

[Veterinary Practice Name] in [city]
[Veterinary Practice Name] vaccinations
[Veterinary Practice Name] wellness plans

Investigative Keyword Searches: These are the types of terms that indicate that someone is doing their due diligence to decide if they will entrust you with the health of their pet.

reviews for [Veterinary Practice Name]
[Veterinary Practice Name] doctors
[Veterinary Practice Name] cost for [service]

Comparative Keyword Searches: These are the types of terms that indicate someone is comparing your services to one or more of your local competitors.

[Veterinary Practice Name] vs [Veterinary Practice Name]
best veterinarian near me
top rated veterinarians near me

Appointment Setting Keyword Searches: These are the type of transaction-focused search terms that indicate someone is trying to engage your practice.

schedule a veterinary appointment
[Veterinary Practice Name] phone number
[Veterinary Practice Name] email address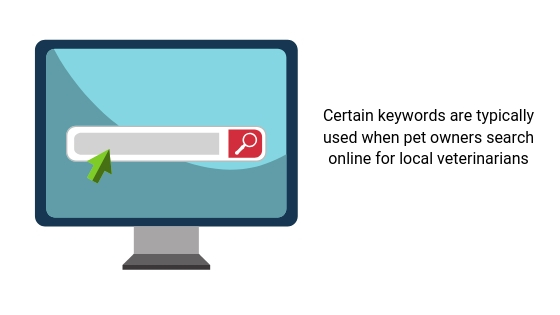 How Your Directory Profiles Have a Huge Impact on Google Search Results
When someone turns to Google to search for veterinary-related terms, Google knows that, because veterinary care is a medical field, it is critically important that advice comes from an expert. There is a preference among most searchers for an introduction to an expert that they can realistically work with. In the highly localized service industry of veterinary care, this means that people would prefer to find a local veterinarian. That is why so many veterinary-related searches will trigger the Google Local Pack. Therefore, getting your listing to the top of the Google Local Pack in your area should be at the top of your marketing to-do list.
Top 8 Factors Affecting Your Position in the "Google Local Pack"
Google uses algorithms to automatically and instantaneously deliver search results. This is as true for the Google Local Pack as it is for other features of Google search. Therefore, if you want your veterinary practice to come out on top, you should start by trying to understand what factors Google's algorithm uses to determine those results, and then do your best to perform well among those factors. While Google's Local Pack algorithm takes a large number of factors into consideration, they break down into 8 different categories. Let's take a look at each of those categories and what some of the individual factors are within each category:
Google My Business Signals: These are signals that come directly from the Google My Business listing for the business. (Proximity: meaning how close the business is to the actual physical location of the person who is searching, categories that have been assigned to the business, keyword in business title, etc.) 25.12%*
Link Signals: These signals come from links from around the internet that point to the business website and the businesses directory listings (Inbound anchor text, linking domain authority, linking domain quantity, etc.) 16.53%
Review Signals: These factors consider the existing reviews for the business from around the web: (Review quantity, review velocity, review diversity, etc.) 15.44%
On-Page Signals: These factors consider the on-page SEO factors for pages on the company website. (Presence of NAP, keywords in titles, domain authority, etc.) 13.82%
Citation Signals: These signals consider the quantity, quality, and consistency of the business directory listings for the business from many directories across the internet. (IYP/aggregator NAP consistency, citation volume, etc.) 10.82%
Behavioral Signals: These factors look at online visitor engagement metrics to judge the experience visitors have on your website. (Click-through rate, mobile clicks to call, check-ins, etc.) 9.56%
Personalization: These factors take the history, location, settings, and past engagement of each specific user into consideration.  5.88%
Social Signals: These are factors that come from social networks to signal the involvement of the business and engagement of its fans and followers on social networks. (Google engagement, Facebook engagement, Twitter engagement, etc.) 2.82%
* The % estimates of Google Local Pack ranking factors listed above come from a 2018 Moz study: 2018 Local Search Ranking Factors.
Ignoring Your Directory Listings Can Have a Very Negative Impact on Prospective Clients
By this point, or perhaps after the first few sentences in this article, the typical veterinary practice owner may be saying, "This sounds like a ton of work, do we really have to do this?" and the answer to that question is a resounding YES!
Let's consider for a moment, what would happen if your practice chose to sit this one out and just not participate in this whole business listing directory and client review situation? Well, the first point is that this is going to go on whether you like it or not, whether you participate or not. However, if you are not participating, then the whole thing is far more likely to go downhill and have significant and very negative consequences for your veterinary practice.
There are so many directories, and there is no "opt-out" where you can demand that your business isn't listed. If you do successfully get a directory to remove your business listing, it can easily be resubmitted to the directory by anyone and would likely get re-added automatically by one of the big data aggregators out there. This is sort of like how celebrities cannot opt-out of press coverage. Your business is open to the public, and it is going to show up in public forums, including online business directories.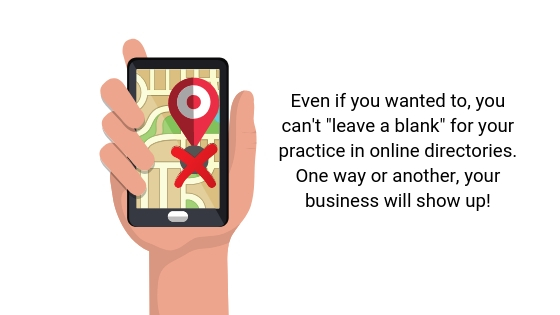 If you do not claim your listings, then your competitors, disgruntled ex-employees, unhappy clients, or anyone else could go ahead and claim your listings and make any edits to your profile they want. At that point, if you want to re-claim your listing, it's going to be 10 times more work than if you would have just claimed your listing to begin with.
Also, if the information listed in your directory profile is out-of-date, inaccurate, or incomplete, it can damage your performance in Google search results across the board, which reduces your overall visibility to local pet owners.
If your profile info is inaccurate or incomplete, then it can drive away customers who feel like you may not have your act together as a company.
Finally, if you are not monitoring and responding to your online reviews, it sends a strong signal that you either do not care or that you don't have good relationships with your clients. If you have nice reviews that go unresponded to, it just comes across as uncaring…but if you have bad reviews that go unanswered, it tells people that the complaint is probably legitimate and you're not going to do anything about it.
With those things in mind, it is pretty easy to see why failing to participate is an absolutely terrible option. So, let's take a look at the things that you can do to participate and use business directory listings to drive great results for your veterinary hospital.
The Secret Formula for Supercharging Your "Local SEO"
In this section, we are going to lift the veil on the set of strategies and tactics that you can use to maximize the incredible opportunity that directory listing optimization can provide your business.
Start with a list of the top directories where you can keep notes on the status of your profiles: This is just a process point, but you will be dealing with lots of data and a list of profiles that have to be set up correctly, monitored, and kept up to date. So, start with a list.
Remove duplicate listings: Duplicate listings are when your business is listed multiple times in the same online directory. This is one of the most detrimental things that can happen because it causes confusion among both clients and Google by presenting different information and splitting reviews between different profiles. Therefore, the first thing you need to do at each network is find out if your business is already listed, and if it already has multiple listings, then you will have to contact the site through their contact form, give them the URLs for each of the listings, tell them which one(s) you want removed, and then prove that you have the right to take control of the listings.
Claim your listings: If a directory already has your business listed, then you will need to claim your listing. Typically there will be a button on an unclaimed listing saying something like "Claim This Listing" or "If This Your Business, Click Here". If there is no button like that, then it might mean that the listing has already been claimed. It is possible that it was claimed by a former employee or someone else, in which case you may need to reach out to the site administrator and ask to gain control over the listing.
Complete every available field of the profile: Once you have control over the listing, simply make sure that you are fully filling out every available field.
Be perfectly consistent: One of the most important aspects of directory optimization is ensuring that the name, address, and phone number (NAP) listed on your directory listings is the EXACT SAME across every single directory. Any differences in the NAP info from one directory to another will cause Google to lose confidence in the legitimacy of your business information, and your business will perform worse in Google search results.
Getting the text right: Use text to share your mission & values while listing your services and linking back to the services pages and blog of your website.
Add photos and video: Include photos of the outside of your building and signage to ensure that people will recognize your location. Also include photos of the interior, your staff, and happy clients to show off the awesome culture of your practice. If the listing gives you the ability to upload a video, make a welcoming introductory video and upload it.

Add the right categories: Part of filling out your profile will be choosing which categories your business belongs to. Here are some of the top categories for Veterinary Practices to use: Veterinary Care, Veterinarians & Clinics, Veterinary Clinics & Hospitals, Veterinarian, Pet Services
Use a local phone number: A big part of "local SEO" is proving to Google that your business is truly local to a specific area. A local phone number reinforces this localization and also lets clients know that your practice is in their area.
List multiple locations separately: If your practice is part of a larger network of veterinary practices, such as a corporate entity with many locations, it is vitally important that each location has its own listing in every directory. Directory listings are location specific.
Encourage client reviews: Once your profile is fully set up, it is time to start generating fantastic client reviews! Try to get at least 100 reviews and a 4.5 star average in the top few networks, and then at least 10 reviews and a 4.5 star average in the smaller networks. If you ever fall below a 4 star review average in any network, consider that an all-hands-on-deck emergency and start asking for great reviews from happy clients ASAP. However, it is important to note that Yelp has created a policy making it against their guidelines for you to specifically ask clients for Yelp reviews or for you to provide links to your Yelp profile. Instead, encourage people to "check-in" to your business on Yelp while they are at your practice. Yelp will follow up with an email to that person and ask for a review. Also, reviews thta follow these steps will not be subject to Yelp's review filter.
Monitor and respond to all reviews: Once your directory listing is all set up and you are starting to generate reviews, it is critically important that you monitor and respond to all reviews in a timely manner. Responding to good reviews is polite and gracious and solidifies good client relationships. However, if your practice receives a negative review, you should first reach out to the reviewer via phone to try and improve their experience and resolve the matter. If you are able to resolve the matter amicably, then ask the client to update the review to reflect that your relationship is in a better place…and at that point you can respond to the review to let people who read that negative review know that you and the owner are back on good terms. However, if you cannot resolve the situation amicably, then at that point respond to the negative review in a way that will let future clients know that you take your client relationships seriously, you reached out and made an offer to rectify the matter and the client refused, but the offer is still open because you care about each and every one of your clients. This way people who read the negative review will feel that you seem nice, and it will mitigate the negative impact of the review.
Keep listings up to date and fresh: Did you update your hours? Update them in your directory listings. Do you have new photos? Add them every once in a while to keep your directory profiles fresh.
Link to your directory listings: Remember to link from your website to your top directory listings, except for Yelp because they have decided that type of linking is against their guidelines. However, link to your Google Maps listing, Facebook, etc.
Which Directories are Important?
Doing This All Yourself vs. Outsourcing This Task to Professionals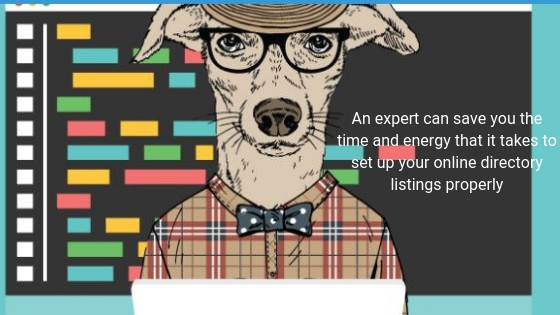 At this point you should have realized two very important things. First, directory optimization is important, and it can have a very significant impact on the success and client relationships for your veterinary practice. Second, there is a lot of work that goes into getting this right.
So, if you would like to ensure that your veterinary practice is enjoying the immense benefits that directory optimization can provide, you are now faced with two options. Either you or someone on your staff can set aside about 30 hours of work getting all of this set up, or you can outsource this job to the experts at GeniusVets who can set it all up for you for a fraction of what it would cost for you to do it on your own.
Let our team of experts do it for you. Contact GeniusVets today and start giving your veterinary practice the visibility it deserves!