The Marketing Strategy that is Helping Independent Veterinarians Outperform Larger Corporate Chains
By David Hall, Chief Strategist
What is marketing? If you go back just a couple decades, most veterinarians considered marketing to be unethical. Even today, most veterinarians have a real distaste for marketing. Mention the word "promotions" to a veterinarian and they will almost certainly think you're talking about the advertisement of discounted services. In truth those are very antiquated ideas. They are examples of bad marketing, and they have been very harmful to the veterinary industry.
So, if advertising discounts constitutes bad marketing, what is good marketing?
Good marketing almost always:
Starts with identifying what information your target clients are looking for. 
Considers how your target clients behave, and what resources they use when looking for information.
Offers informative, valuable, and intriguing information; addresses the client's needs; authentically represents your business; and begins to build a bond with the client.
Makes your messaging and information easy to find through the resources the client is most likely to use.
Effectively convinces the client to take additional action, such as calling for an appointment.
Providing pet-care information to pet owners is an absolutely critical part of the value proposition of a veterinary practice. It is the first step in attracting a new client, and it is a powerful tool in keeping your clients coming back. Unfortunately, most veterinarians have not kept up with changes in consumer behavior and have largely lost their position as the go-to pet care information resource.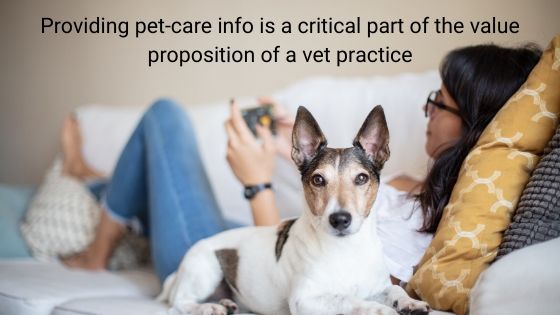 Twenty years ago, if a pet owner had a question about their pet, they called a local veterinarian. This conversation gave the veterinary practice an opportunity to gain the trust of the pet owner, schedule an appointment, and build a new client relationship. 
Today, if a pet owner has a question, they turn to Google. They type in their pet care question and click "search." Google's search algorithm uses hundreds of factors to decide which webpages seem to provide the best information. The user clicks on one of the search results, and that website now has a chance to influence that user's decision making. Then, the user continues their research on social networks, review websites, and comparing their options, all of it happening online before ever picking up the phone to schedule an appointment. 
Consumers today rely on digital information channels to help them make decisions, and this presents veterinarians with a tremendous opportunity. 
There is incredible value in doing a great job to support local pet owners in every step of this modern customer journey. And, the veterinary practices who get this right will be the ones to withstand consolidation and pressure from large corporate competitors. Great marketing can ensure that your veterinary practice is thriving for years to come.
That's the good news.
So, what's the bad news?
Having an effective online presence isn't as simple as putting together a YellowPages ad used to be. It's not a one and done type effort. You can't just set it and forget it. There isn't any "one thing" that you can just "try and see if it works."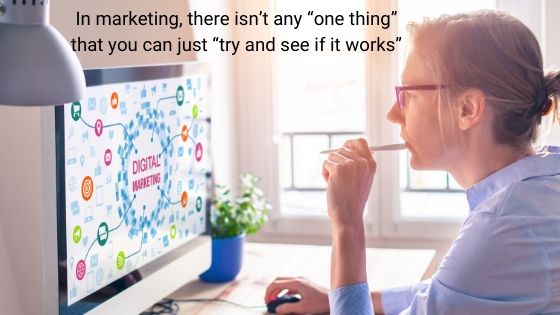 The nature of an online presence is multi-faceted and interconnected. It requires a series of components, all working together… sort of like a car engine. If someone gave you a brand new Lamborghini engine, but it was missing a critical component (like a fuel injector), then the fact that it's one of the best engines ever built won't matter; it isn't going to run. The same holds true with digital marketing. Also, just like car engines have some components that are critical to starting up and running, and other optional add-on components that can boost performance, in digital marketing there are some components that have proven to be foundational to producing results, and other options that can be added to boost performance.
What is critical for your veterinary practice is making sure that you at least have the core, foundational components in place to start seeing results. Then you can add those optional, performance-boosting features later. At GeniusVets, we call this the "Digital Marketing Machine," and we have thoroughly proven that the results it produces are outstanding!
What Types of Results Does the Digital Marketing Machine Produce?
Recently, a large and well respected veterinary advisory organization, with over 1,000 member veterinary practices, heard from some of their members that GeniusVets was delivering very good results. They asked us to provide some stats on the results our Digital Marketing Machine had produced for their members who had worked with us. 
Up to this point we have only worked with 18 of their member veterinary practices. But our digital marketing machine has produced:
An average of 329% increase in traffic to their websites, with the top performer achieving a 1,230% increase. 
An average of 529% increase in traffic specifically from Google organic search results, with the top performer achieving a 3,135% increase.
An average of 222% increase in phone calls, with the top performer seeing a 523% increase.
An average of 7,805% increase in the number of keywords they are ranking for in Google search results… and an average of 9,232 keywords ranking in Google search results. With a top performer ranking for 66,578 different keywords. (A "keyword" is whatever someone types into Google before clicking "search." It can be a few words, a phrase, or even a whole question).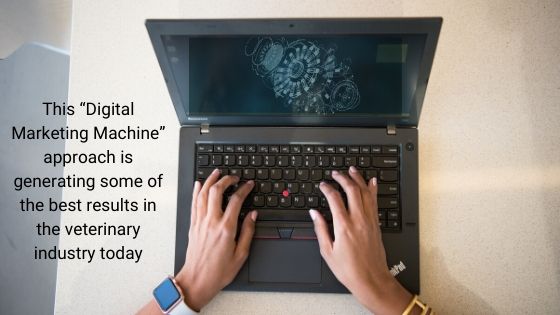 This "Digital Marketing Machine" approach is generating some of the best results in the veterinary industry today, and once these foundational strategies are in place, they become simple to use and powerful tools for authentically representing your veterinary practice as the go-to pet health experts for pet owners in the areas you serve.
What are the Components of the Digital Marketing Machine?
There are eight different components in the Digital Marketing Machine. To start, you'll want to understand what each of these is in order to build your machine.
1. SEO - This acronym stands for Search Engine Optimization. It is the practice of getting your website to the top of Google search results, and your strategy here must be guided by a specialist with a deep understanding of the factors that Google uses to create their search results. The truth is, most web developers know very little about SEO, and unfortunately, web developers lie when it comes to this topic because all clients request it, but very few understand it. The only way you can really discern whether an agency is able to deliver valuable SEO is to ask them to show you the results they have produced for their clients. The question you should ask is "Can you show me how many keywords your clients are ranking for on page 1 of Google results?" SEO encompasses many technical factors about how your website is built, and if your website is developed without these factors built-in, you will always be hindered from achieving great results. But, SEO also encompasses the content that exists on your website as well as nearly every aspect of your online presence that exists elsewhere on the web outside of your website. Check out our comprehensive list of Google Ranking Factors and SEO recommendations here!
"Since starting to work with Genius Vets our Organic traffic on our website is up 100%, Unique traffic is up 114% and our Total website visits are up 92%." - Dr. Stephanie Beardsley, DVM, DACVS. CEO of Central Texas Veterinary Specialty and Emergency Hospital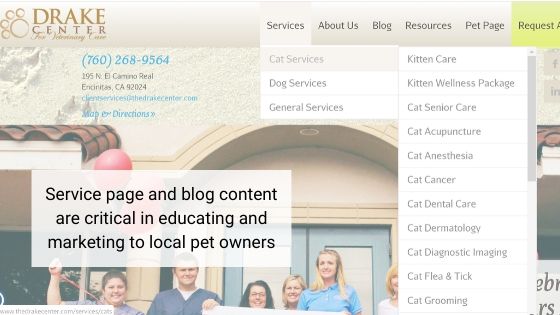 2. Service Pages and Blogs - Every single service that your veterinary practice offers should have its own "service page" that provides in-depth information on that topic. Once you have a great service page, then it is important to periodically publish a blog that goes into some depth on a related sub-topic. This begins to turn your website into a great information resource on the topic, and Google will begin to reward you with better, higher rankings in search results and send more people to your site. This can be very easy to do, or difficult, and the difference comes down to understanding what information pet owners are actually looking for online and having great processes to create the content quickly.  Read more about how content attracts local pet owners here.
"The GeniusVets content programs make it easy to provide our clients with consistent and valuable information. We choose the topics and content we want and are providing our clients with the information they need." - Dr. Matt Demey, Owner of Seven Hills Veterinary Hospital

3. Social Networks - Social media usage is one of the most popular online activities with 79% of the population in the US having a social networking profile. As one of the most powerful and cost-effective channels for getting your messaging in front of new people and staying in contact (top of mind) with existing clients, social media helps you build and maintain relationships with local pet owners, even when they aren't in immediate need of your services. Check out how social media keeps you top of mind for pet owners in your community.
"The GeniusVets social platform has made life so much easier for us." - Bob Connelly, Owner, Willard Veterinary Clinic

4. PPC - Pay-Per-Click advertising is similar to traditional media advertising in that you have to pay to get your message in front of people. However, it is vastly better than traditional media ads in that you can target your ads to only display to people who meet very specific criteria such as physical location, interests, what they type into search engines, or whether they have ever visited a specific website. Also, you only pay if they actually click on your ad and visit your website. Also, unlike traditional media ads, with PPC you can track exactly what pages on your website they visited and what actions they take, such as calling or filling out a form. A properly set up and well managed PPC campaign can guarantee strong return on investment. Learn more about the types of ads, platforms, targeting options, and other must-know points before you start running PPC campaigns.
"GeniusVets improved our Google Ads… they track real stats and numbers that can demonstrate results." - Dr. Patrick Choyce, Owner of All Pets Animal Hospital

5. Referrals - Word-of-mouth has always been a powerful and cost-effective form of marketing, and social networks have become an incredibly powerful platform for your clients to introduce their friends and family to your veterinary practice. The key is giving your clients a great reason to share a post that involves your practice. The right types of posts, contests, or lobby and exam room signage can set off a viral social burst in your local community, resulting in a nice bump in new client calls. Of course, there are numerous additional channels and strategies that can leverage client goodwill and give your business a boost from referrals, and you can find a few great referral program ideas here.

6. Directories - Online business listing directories are websites that list the name, address, phone number, and more for your business. Examples include sites like Yelp, Google Maps, Local Pages, CitySearch, and more. While there are thousands of these types of sites online, roughly 50 of them are quite important for the online presence of a veterinary practice. All of them offer free profiles, and there are some very specific ways they should be set up to support your SEO, as well as provide a consistent presence for clients who are looking for your practice online. Check out our SEO infographic with valuable tips for maximizing your online directory presence; go here!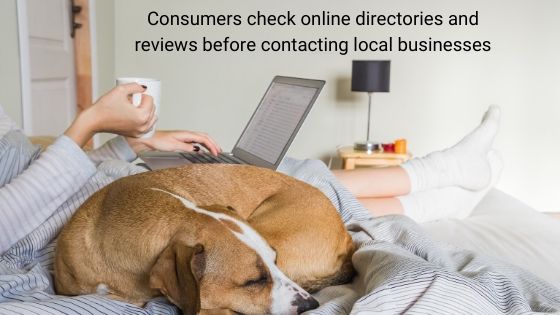 7. Reviews - While online reviews are one aspect of the internet that most business owners despise, 88% of consumers check online reviews before contacting a local service business. The fact is, online reviews are an extremely important part of the reputation for a veterinary practice, and they are something that you cannot afford to ignore. Your clients are letting others know what they think of your business in online review forums, and you need to be actively involved. You need to highlight the good, address the bad, and be on the lookout for the ugly. Click for our tips for checking and responding to online reviews.
"GeniusVets.com makes monitoring and responding to reviews easy as possible. Over the past 3 months we have collected 124 reviews while our local competitors have averaged just 5." - Dr. Mark Fox, Owner of Rau Animal Hospital

8. Analytics and Reporting - Perhaps the most important component of online marketing, analytics reports allow you to easily see exactly what results are being delivered by your online marketing efforts. Once set up correctly you can quickly see what's working and what isn't and use that information to make adjustments to your marketing strategies. Over time this feedback loop virtually guarantees that your efforts will continuously improve. GeniusVets can analyze the data to help you identify where you are AND help you see improvements month over month and year over year. 

Let the Digital Marketing Machine Go to Work for You!
In a recent study using third-party tools, it was discovered that GeniusVets clients get more traffic to their website than the clients of the next 10 veterinary marketing agencies combined. 
"The GeniusVets marketing platform was a little overwhelming at first, with such a vast amount of content, but now I can't imagine managing our marketing without it. Once I learned how to use it, it was quite simple. I love that alerts are sent to my email and everything is in one central place." - Janine Gilbert, Marketing Director of Metairie Small Animal Hospital
If you are curious to find out how your current marketing compares to industry averages and where it may have room for improvement, request your custom Veterinary Marketing Health Exam with a digital marketing expert here!