Make Your Veterinary Office Lobby Less "Waiting," and More "Welcoming"
By Michele Drake, DVM, Chief Veterinary Officer and Shannon Pecora, MA, Marketing Manager
In a veterinary waiting room, the last thing you want your clients to think about is...well...waiting! Sure, they were committed enough to keep this appointment, but that doesn't necessarily mean that they're bonded to your practice, especially if this is their first visit. Make the first real-life impression of your clinic a great one by making the most of the time before the appointment starts. From front door to exam room door, you can build and strengthen client bonds with a few considerations.
Big Welcomes, Even in Small Spaces
Some practices have large, beautiful front lobby areas. Others, of course, have a rather tight space between the front door and the front desk. And either way, there is a lot of business going through that space.
Regardless of the size of your facility, as soon as a pet owner walks through the door, the most important thing is that they are greeted immediately. Your receptionists or client service coordinators should make eye contact and warmly and authentically welcome each person who enters. Before anything else, each pet owner should know that your staff is glad they're here and that they'll be taken care of. Even if the receptionist is on the phone or working with another client, she can make eye contact and smile to acknowledge when someone enters the practice. Ultimately, if a client does not feel acknowledged, they will simply feel ignored.
There is also the art of paying close attention. Part of receptionist training is honing the skills to know who needs what kind of help. The best front lobby setup will give your staff a view into the parking lot so that they'll know right away if a client is coming in with small children, multiple cat carriers, and/or a large dog. In these cases, your staff needs to extend hospitality beyond the front lobby; they'll actually head out to the parking lot to help a client get in the door. Take this a step further: train your staff not to ask what someone needs help with; instead, they should graciously say, "Let me help you." The receptionist will hold a carrier, take a leash, open the door, and help the client get situated -- all automatically.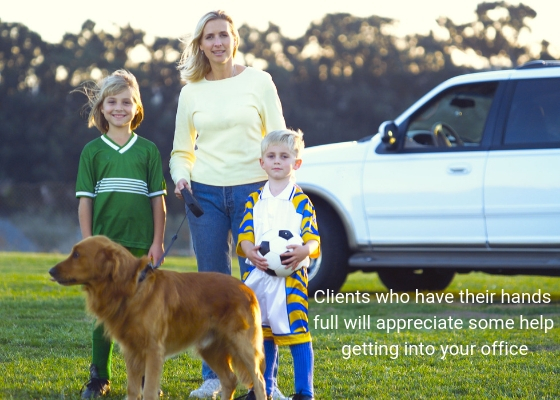 Sometimes the Lobby is "Just for Passing Through"
Any pet owner may appreciate being shown directly into an exam room, regardless of the size and features of the front lobby. But there are some cases in which this is a necessity.
Keeping Cats Calm
Make special note of how your waiting area can affect sensitive pets like cats. You may have a cats-only exam room, but even if you don't, it should be standard practice to maintain at least one clean, open room as appointments cycle through. Pet owners with cats should be ushered directly into that private space. This will minimize stress for cats who may be fearful of dogs or upset by unfamiliar noises.
Emotional Office Visits
You may not know new clients the same way that you know beloved bonded clients, but high-stress appointments will affect them no differently. Your receptionists should be aware of the appointment schedule and keep tabs on when to expect a potentially emotional client. Prioritize quality of life discussions and euthanasias, and give these patients and clients the private space of a closed exam room. Even well-meaning comments and encouragement from other clients may be difficult for them to take at this time, so let them have their own, quiet space.
Avoid a Paperwork Predicament
There is one built-in task for new clients that can distract from any wait time: New Client Paperwork. While you should provide online forms for pet owners to fill out ahead of time and at their convenience, some people won't do so. When a new client needs to complete paperwork, let them do it inside of an exam room. They can set down a carrier or let go of a leash in a safe space where the pet can get comfortable and relax. Then the pet owner has both hands free to take care of the paperwork, and even think about questions they may have while filling it out.
An important marketing note: take this opportunity to ask, specifically, where this new client found out about your practice. This is more than asking, "Did you see us online?" Find out if a neighbor recommended you. Or, perhaps this pet owner Googled a symptom and found your blog in the search results. In this way, the waiting room experience can help you gauge which marketing efforts are actually bringing these new clients into your office.
In The Room Where it (Waiting) Happens
Direct exam room entry is not always an option, and of course, the front lobby is generally where clients will wait ahead of their appointments. Depending on the size and setup of this space, you'll have several options for creating a pleasant and engaging experience. While there may be no single magic formula for the "perfect veterinary office waiting room," there are important points to consider before you choose your lobby's general features:
Noise - relaxing music or informative videos are good, but overwhelming noisiness is not.
Decor - tasteful -- even branded -- paint colors and art are nice, but clashing color schemes are not pleasant.
Information - posters and flyers can help convey vital information for local pet owners, but your whole lobby should not become a crowded bulletin board.
Retail - provide useful products for pet health care, but your lobby should not be easily confused with a pet shop -- or worse, a garage sale.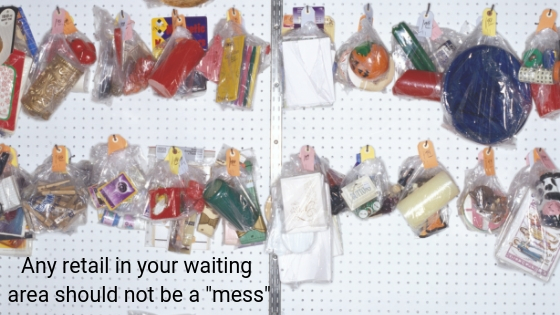 Then, drill down to consider the pros and cons of these specific features:
A television - You may show videos from your practice, or even tune to animal-related or children's television. Note that you cannot control televised commercials that may not be appropriate or "on-brand," and you should maintain a reasonable volume.
A radio - Paying for a satellite service may be safer for quality control, but a broadcast classical or easy-listening station may please your clientele. You have to be savvy about these tastes, however, and as with a television, be careful with the noise level.
Flyers, pamphlets, and handouts - Whether for upcoming events, new preventive care recommendations, or missing pets, some of this informative material will inevitably be on display in your waiting area. Notice that word "some"; if you have too much paper in your lobby, the messages will drown each other out, and your practice could end up looking messy.
Retail - You want to ensure that pet owners follow your recommendations for pet toothpaste, hypoallergenic treats, and more, but you don't have to put all of your inventory on display. Be thoughtful about what will be visually appealing and what will actually sell. If you don't have the space, then establish consistent standards for what your staff members should say when asked about pet products and retail stores.
Refreshments - Both people and pets will appreciate access to fresh water. Even if you don't leave water bottles or bowls sitting out, your receptionists should be able to offer these, particularly on hot days. Snacks are entirely dependent on whether you have a clean, clear display space. A jar of dog treats on the front desk is pretty easy, but freshly baked cookies for pet owners are an entirely different matter. Instead of providing items that require preparation or could be dangerous to pets, if snacks are important to your culture and set up, consider individually wrapped items like crackers or dried fruits.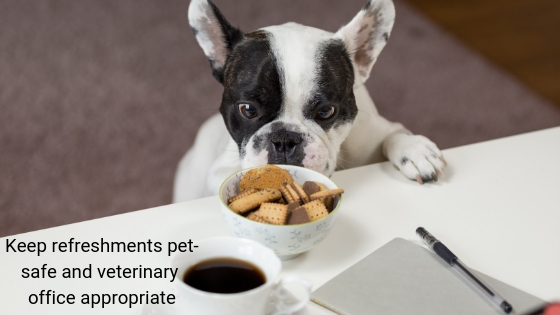 Wifi - Who doesn't want to scroll through Instagram or Twitter to pass a bit of time? You can make it easier for pet owners to browse social media -- and follow your business pages -- by providing free wifi. Know your limitations, however. If your staff computers and client cell phones would all need to run off the same router, the lag may lead to more frustration than follows.
Cleanliness, of course
It should go without saying that cleanliness and fragrance are of the utmost importance. Part of high-quality veterinary care is maintaining clean, orderly appearances. It's entirely natural to have a strong negative reaction to mess and bad odors, and you can help make sure that your clients have just the opposite reaction at your clinic! Better that they really don't notice any sort of odor at all so that they can focus on the great client service you'll provide. So keep it clean!
When You're Running Behind
Even with the perfect balance of decor, pleasant chit-chat with the receptionists, and maybe even a visit from the clinic cat, waiting is still waiting. The "simple" thing, then, is always to run exactly on time! But realistically, no one has complete control over a medical schedule, and studies show that clients do expect to wait nearly 15 minutes for appointments. Any longer, however, and they can become irritated.
That means, if an emergency or other issue does throw your schedule off, even just a bit, you should provide updates. Without giving away private information about other pets and families, your receptionists can honestly say that your team is taking care of a medical emergency. Your staff training can also include standards for how to shift your team to pick up when others fall behind, as well as when it may be appropriate to offer a new appointment time over a long wait.
And here is where all the above-mentioned tactics can come into play. Because "unoccupied time feels longer than occupied time," even if your staff is on schedule, you can create a great waiting room experience that seems to take no time at all if your staff is caring and attentive. Open the door for a mom with her kids, scratch her dog's chin, and tell them you're happy to see them. Then, a comfy chair in a clean lobby with a pamphlet about changes to expect in a senior pet can all make a few minutes of wait time fly right by.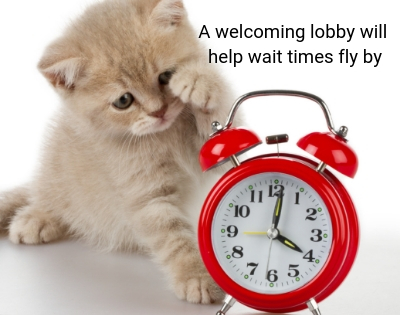 A veterinary office front lobby could include a small front desk or oversized chairs, soft classical music or photos from local fundraisers, dental chews for sale or free training treat samples. But no matter how much they vary, every single front lobby should convey a sense of warmth. If your receptionists greet each pet owner with a caring attitude, that will build trust. Be attentive and considerate of their time and their pet's needs, and you'll be welcoming them into your lobby again and again, as bonded clients and patients. 
You can learn more about being warm and welcoming to pet owners, both in your practice and online. Contact us for a FREE marketing consultation with one of our GeniusVets experts!