How Veterinary Receptionists Turn First-Time Callers into Lifetime Clients
By Michele Drake, DVM, Chief Veterinary Officer and Shannon Pecora, MA, Marketing Manager
Phone calls may be considered the lifeblood of a veterinary practice. The majority of appointment, medication refill, and other requests will come via your phone lines. Often, receptionists will speak to clients -- and potential clients -- more than any other member of your team. Phone inquiries are the perfect opportunity to build and reinforce strong bonds, and that all starts with an amazing first impression.
If a local pet owner found your practice in a Google search, on social media, or on a review site and made the decision to give you a call to learn more, jump on that chance to wow them and make them feel like they made the right choice. Let's look at what your veterinary reception team can do to turn phone inquiries into scheduled appointments.
Set the Tone Before the Phone Rings
The tone of the practice is set by leadership, particularly the practice owner. From the top down, the practice owner and management must demonstrate and train all staff members to be warm and welcoming to anyone. Most importantly the receptionists who create the first impression over the phone, must understand that new clients are a treasure and they are vital to the growth of your business.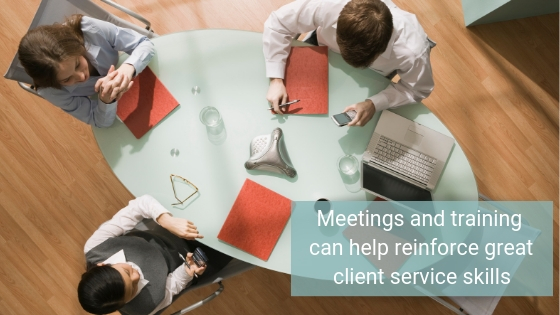 In fact, every member of your staff plays a role in this. Training and reinforcing your practice culture should be constant because nearly everyone will have client interaction at some point. Team meetings and one-on-one sessions can help you ensure that your staff can represent your mission and philosophy. For receptionists, you'll likely have four to six weeks of intensive training for a new hire, but training will continue for the duration of a career. Receptionists are front and center for local pet owners, and they should always work to take their client service skills to the next level.
"Thank you for calling our practice. How can we help you today?"
When a local pet owner calls your practice, they have moved beyond simply being aware of you, and now they're considering your clinic for their pet's health care needs. Therefore, it is vital for those who man your front desk to answer each call with a tone of gratitude. They also need to show interest in both the caller and the pet. Consider this as you create SOPs for phone etiquette in your practice. For example, smile when you answer the phone. Believe it or not, a smile can be "heard" over the phone!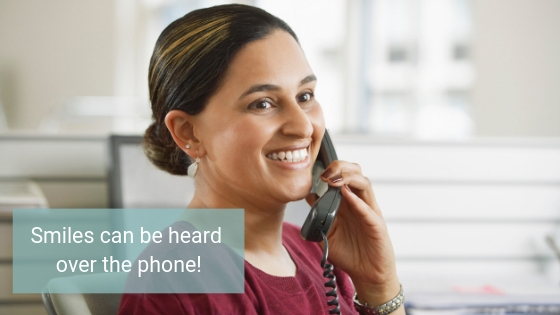 An additional tactic is to get the caller's and pet's names quickly. Using their names in the call immediately creates a personalized experience, and shows that your practice can really focus on them. Also asking questions about them, even as simple as, "Could you tell me a little more about your dog?" will encourage positive conversation. People love to talk about their pets, and open-ended questions will usually get them to provide their pet's age, breed, health status, and more without making it feel like they're being "grilled." Even if their pet is sick and they're worried when they call you, a comforting phone call will make them feel that they made the right choice in calling your practice. Validating that choice is hugely important for taking them to the next step of actually scheduling an appointment.
What Makes Pet Owners Pick up the Phone?
There may be days when you feel like your practice's phones aren't ringing quite enough, and there may be days when it feels like they won't stop! And of course, you have all sorts of callers, from vendors to specialists, from longtime clients scheduling follow up visits to (hopefully) lots of new clients seeking information about your services.
Understanding some common reasons that potential new clients call your clinic will help you set some standards for handling their requests:
A new pet - If someone is a first-time pet owner, they'll have lots of questions and uncertainty. Once they decide that your practice is worth contacting, be willing to listen to their concerns. Show them that you're interested in giving their new pet a lifetime of good health to enjoy with their family. Treat them with patience and goodwill over the phone to start building a foundation of trust.
Just moved to your area - These folks are used to the care their pets received at their previous vet, and they would not be seeking a new practice if they hadn't moved. During these phone calls, these pet owners need reassurance. You'll take the history with their previous veterinary team into consideration. Your doctors will carefully review medical records to maintain treatment for chronic conditions and preventive care schedules. You want them to feel like their pet's health care will not be interrupted, even with a move.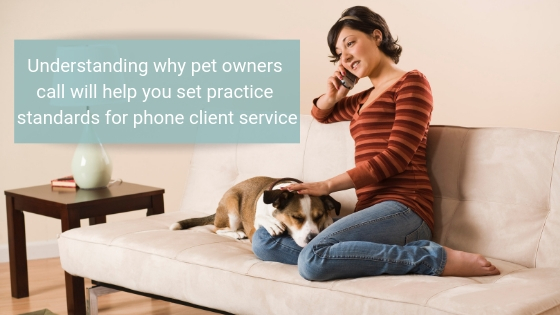 Price shopping - Of course, these callers care deeply for their beloved pets, but they want to be sure that they're getting the best deal on professional services. Focus on the value of coming in to see your doctors and staff. For example, assure them that your medical staff will spend a tremendous amount of time with them during an initial visit. Each medical recommendation will be tailored to them and their pet, including for breed, age, and lifestyle. An emphasis on value, such as individualized care, can help your reception staff turn a phone price shopper into a client.
If services like surgery or dentistry cost a bit more at your practice, is it because those services are higher-end? Do you know that your anesthesia monitoring far surpasses your local competitors? Are your doctors more experienced and proficient in the surgical suite? While there is no reason to bad mouth other local practices, there is plenty of reason to feel confident in describing your value to a phone price shopper. If the depth of care that your staff offers is priceless, then you can feel good about providing your services to even the most financially conscious pet owners. 
Second opinions - Always assume that other veterinarians have done a great job. Sure, you're happy to offer a second opinion, but you'll be respectful of your colleagues. You will never throw anybody under the bus!
Your receptionist should ask questions to get an understanding of the client and what they're actually looking for, and she should focus on the importance of getting previous medical records sent to your practice. This helps cement a commitment to an appointment, but it also gives the medical staff some important insight. Quite often, pet owners are just confused, or things didn't start off on the right foot at another hospital. Maybe trust wasn't built at the other practice. But no negative opinion of another veterinarian's work will be part of the conversation. Your receptionist is just glad that this person reached out to you, and she is going to keep this phone call bright and positive. 
Keeping Phone Conversations Productive
If you've ever heard (or said yourself!) that the receptionists might have the most difficult job in a veterinary hospital, much of that has to do with these phone calls. No matter how busy the office is that day, no matter which beloved pet has just been euthanized, no matter how many puppies have had accidents in the lobby, the receptionists must be enthusiastic every time your phone rings. You never know when a potential new client might be willing to reach out, and they all need to feel an initial welcome.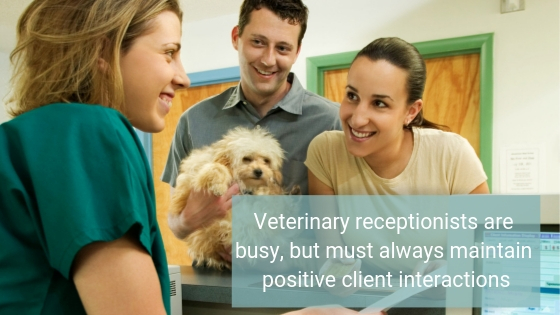 Receptionists should never be defensive about anything, whether that's your pricing, your culture, or even the caller's own poor attitude. One of the most important skills is being able to redirect conversations that may be going in the wrong direction, turning misunderstandings or complaints into opportunities to learn and clarify. Always return to the fact that you're there to be of service and provide good care. If callers understand that, it goes a long way in defusing any sort of problems that may come up on the phone.
Additionally, receptionists are not there to be medical professionals. They're professional in what they do, but they cannot diagnose illnesses or prescribe treatments and medications. Some callers may try to get these sorts of details during an initial phone call, but your receptionists should be able to balance being firm with being polite in saying, "I will help your pet get the care that he needs, the appointment times you need, or the medication refills that you need. But when it comes to diagnosing and prescribing, we'll leave that to the doctors."
Call tracking can help out here. Yes, call tracking is designed to let you identify the source of your inbound calls (your website, Google ads, and more), as well as the comparative numbers of new and repeat callers. But don't forget that phone calls are recorded! Spot check each of your client service representatives on a regular basis by listening to randomly-selected recordings. This isn't just checking up on them. Hearing these calls will hold your staff and your practice at large accountable for:
Etiquette
Helpfulness
Consistent messaging
Appropriate advice vs. appointment scheduling
Quality service, even with difficult callers
The training opportunities with call tracking recordings are golden! Has management set the right expectations? Do your receptionists understand their roles in the practice mission? Look at your new client conversion rate. Are your receptionists turning as many first-time callers as possible into new clients with scheduled appointments? Listen to and track those phone calls to learn from what went wrong, cultivate tactics that work well, and ensure that your practice's telephones are tools to boost your business!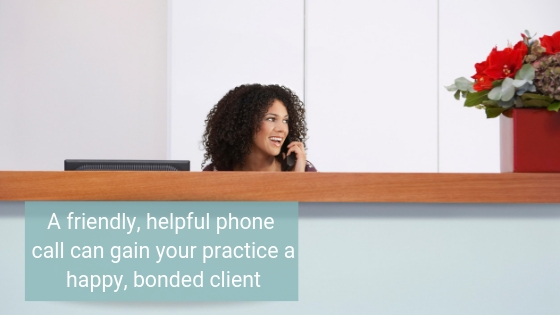 Ultimately, phone calls from potential clients should end up in scheduled appointments. This is why great phone skills and customer service are foundational to your business's growth. If a local pet owner takes the initiative to dial your number, reward them with a positive experience and confidence in their decision -- and reward your practice with a happy new client!
If you'd like to chat with us over the phone, give us a call at (877) 679-7710. You can also reach out and request a FREE consultation from one of our veterinary marketing experts right here. Thank you for contacting GeniusVets! How can we help you today?!