How Veterinary Practices Can Use Social Media to Raise Awareness in Their Local Area
By Gabrielle Seltzer, Social Media Manager
with Shannon Pecora, MA, Marketing Manager
The majority of Americans use social networks to make connections -- both personal and business connections. It naturally follows that word of mouth recommendations for local businesses are often digital, on these social platforms rather than face-to-face. On social, your messages can even reach the friends and followers of anyone who likes, comments on, or shares your posts. By knowing which strategies to use on social media, you will be able to build local awareness for your veterinary hospital. 
Organic Social Media to Build Awareness 
In this section, we will be focusing on organic social media impressions and engagement. Organic simply means that you did not pay to have your message shown to anyone. Another term you may hear is "earned media," rather than "paid." You earn those free impressions (or eyeballs) on your posts by creating engaging, high-quality content.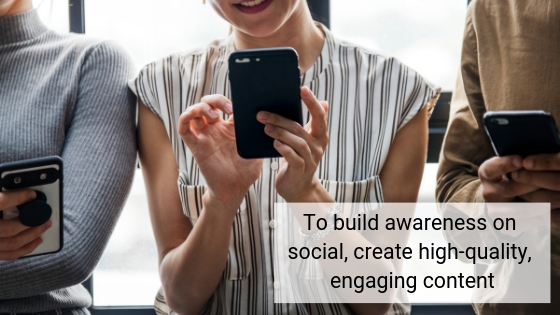 The goal when focusing on creating content that will build brand awareness is for your posts to get shared. Although people's friends may see if they engaged by liking or commenting, sharing is a huge qualifier that they found your content incredibly valuable. 
Of course, people who live outside of your target area, or who may not be pet owners will also see your posts. However, a large portion of people's social network tends to live in the same area that they do. Also, one huge benefit of marketing in the pet industry is that you can almost guarantee a large percentage of people in your local area are indeed pet owners and, therefore, would be in need of your services. As far as the local people who see your posts and do not own pets, by positioning yourself as a local staple in your community, they will be aware of your practice and hopefully keep you in mind should they ever adopt a pet in the future.
When it comes to creating valuable, organic, shareable content, you always want to be thinking about how you can serve your audience. You have merely seconds to capture their attention, and if you're not serving them, they are likely to keep on scrolling. There are 3 magical categories that tend to compel people to stop scrolling, see what you have to say, and engage with your post. Let's break it down:
#1 Educate
Educating your audience about pet health topics is a great way to give value to your followers, at zero cost to them. Not only is a more educated pet parent a better client, but they are also more likely to trust in your services and recommendations. When it comes to creating educational content for social, we recommend:
When pet owners find the information you present valuable to them, they feel compelled to share the same information with their friends and family, thus creating awareness for your brand. For example, you may create a timely infographic about common springtime hazards for dogs. If you post this at the beginning of spring, many dog owners will share it, in hopes of helping someone avoid an emergency situation.
When creating infographics, always make sure to add your branding and contact information to your graphic. It is not uncommon for people to save a social media post as an image file and post it on their own timeline. In the event that this happens, you will still have credit for creating the graphic, as well as increased brand awareness on social media. For more detailed information about why you should create infographics as part of your vet practices content strategy, go here. 
#2 Inspire
The second social content category is inspirational. We all want to believe that good still exists in the world, and the stories that warm the heart are prime candidates for getting shared on social media. Try to look at cases or things going on in your hospital the way a journalist would. Where is the story? Is it sharing the picture and information of a lost pet that came into your practice? Is it the foster kittens that your technician is nursing back to health in hopes of getting them adopted? Is it an extraordinary case where one of your doctors went beyond the call of duty to either help or save an animal? Or could it be showing the work you do for local charities in your community?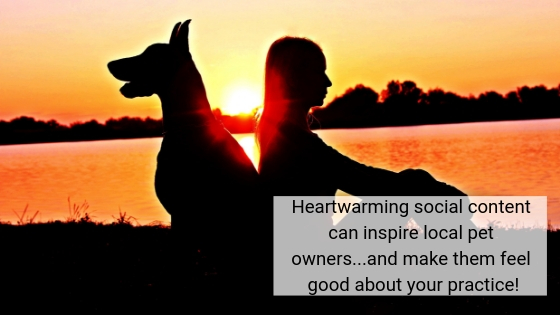 These types of stories are PR GOLD because they showcase the caring and compassionate nature of your company culture and staff. If you tell the story with humility, people are likely to share it on social media, because they want to share those heartwarming feelings with the ones they love. 
At The Drake Center, I was able to help out a dog in need in just this way. One of our clients passed away just before Christmas one year, and his dog was taken to the local humane society. Because this dog was a beloved patient, one of our doctors worked with the shelter to highlight his story and get him adopted into his new furever home. We chose to create a video social post to spread the word about this pup in need. This format also allowed us to showcase the love, passion, and pure emotion we bring to the care we provide to our clients and patients, and it was easily the most shared, viewed, and commented on video on The Drake Center's Facebook page. We had clients sharing the video in their own posts with captions such as, "Why I love The Drake Center for Veterinary Care." While the purpose of this video was initially to help an adoptable pet, it also became a perfect example of word-of-mouth marketing that increased brand awareness on social media. 
#3 Entertain 
Let's be honest, entertainment is probably one of the biggest reasons we are on social media to begin with. Plus, cats and dogs are arguably the most popular type of content on social media, so use that to your advantage! From memes, to jokes, to a goofy video of your staff doing the next viral social media challenge, people love to share content they think will make others laugh or smile in hopes of brightening their day. 
Bonus tip: Mix it up!
Don't limit your posts to just one type! Some of the most engaging and shareable posts fall into more than just one of these categories. 
For example: Try to find a funny meme that will also tie into a service that you offer, and add a link back to your website so people can learn more about the topic. This way, when your joke gets shared, so does your website URL! You will be entertaining local pet owners, and also educating them at the same time. 
Paid Social Media to Build Awareness 
The hard truth is, on average, your social media posts are only organically being seen by 3-5% of your following. This is where a paid strategy comes into play. People now spend an average of 142 minutes every single day scrolling their social media accounts. This creates a prime opportunity for social media marketers. By dedicating a portion of your marketing budget to social media ads, you can create awareness of your practice in more potential clients in your local area. 
The Importance of Setting Your Target Audience
Facebook makes it easy to target local pet owners in the area that you service. Set the location parameters of your paid placement to people who reside in the specific area that you service. We recommend setting this to a maximum 10-mile radius around your vet practice. This way, you'll only pay for people in your local area to see your ad or post. It's important to note that, because of organic engagement algorithms, Facebook may show your posts to users outside of the parameters. However, this is not a paid placement, so don't worry about it!  
Setting Interests and Behaviors to Target Pet Owners 
Different social platforms give you different options for setting up targeted audiences to receive advertisements, but the premise is generally the same: you choose from lists of interests and very basic demographics. Think about the characteristics of your existing clientele, along with the characteristics of your ideal clients. For many social platforms, adding these target options to your ad audience is as easy as searching for the terms and clicking them. Though all of these platforms update their options pretty frequently (and unfortunately, without notice), some of the most common pet owner options may be:
Pet owner
Puppies
Kittens
Cats
Dogs
Pet adoption/rescue groups
Pet stores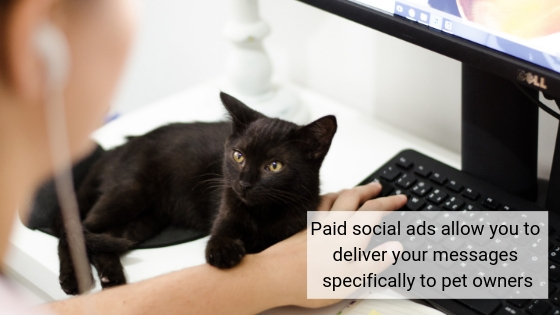 You'll also find demographics related to family and lifestyle. If much of your client base includes families with children, these options could be great for you. Or, are you looking for dog owners who frequent dog parks or hiking trails? Check out demographics related to outdoor activities.
It's important to note that you won't find many targeting options that point directly to income, race, or other personal and sensitive details. This protects user privacy and prohibits some negatively prejudiced targeting. The good news is that pet-related demographics are pretty innocuous, and it doesn't look like those will be going away!
Reaching Potential New Clients who "Look Like" Your Existing Clients
Your collection of current client emails can be an advertising powerhouse, too. Social advertising platforms will allow you to upload these emails and automatically cross-reference those addresses with existing platform users. This can benefit you in two ways:
If enough of those email addresses match existing user accounts, you can choose to deliver ads directly to them.
And more importantly for creating awareness for your practice, the social platforms can identify the demographics for the accounts associated with those emails. Then, you can create a Look-Alike Audience of other platform users who have similar interests. This is based on user activity on the platform, so while it may not perfectly match up with real-life behaviors and demographics, it keeps this targeting from being invasive and encroaching on people's real, private lives.
To further protect the privacy of those whose emails or look-alike interests you target, the ad platforms will NEVER allow you to match up profiles, one-for-one, with your emails. You won't ever see the actual user accounts that you target. Instead, you'll just see general demographic groupings.
Basic Types of Paid Social Media Placements
Boosted Post: Boosting a social post that you published to your page is a great way to have more people see the posts that you created. You can set your target audience to only people that follow you, your followers and their friends, or a custom audience that you create. For instance, you might use your local target audience from above to increase awareness.
Page Likes: "Like" ads promote your page and create a like button to entice people to click it to follow your page. Make sure you give local pet owners a reason they should like your page. 
Local Interest: Local interest ads are meant to focus on a specific target area to drive actions. For example, you can add a button to your local interest ad that calls viewers to get directions, call now, send a message, or learn more. 
Leads: Lead ads allow you to create a form on Facebook that is shown to a paid audience. This strategy works best if you clearly communicate why it's valuable for them to share their information with your business. 
Social media use is so widespread that it is one of the best avenues for building awareness for your veterinary practice. If you can join and inspire social conversations, then local pet owners are sure to learn who you are -- and then start considering your practice when their pets need care.
Find out which Facebook posts types will help you join those conversations and build brand awareness with our FREE guide: 5 Facebook Post Types That Work For Veterinarians!