Conversations with Happy Clients: Online Reviews are the New Word-of-Mouth Marketing
By Dennis Tran and Judy Brown, Client Success Coaches
You have probably heard at some point in your veterinary career that responding to negative reviews is a good business tactic. It allows you to take control of the narrative, manage your reputation, and maybe most importantly, allows you the opportunity to turn around a disgruntled consumer and rebuild a relationship. However, because of all the time and energy it can seem to take to reply to a negative review, businesses often overlook the positive reviews. Why should you respond if customers are happy? Why do they need your attention? 
General Benefits of Positive Reviews
Positive reviews make you feel good. They let you and your staff know that you're doing a great job, and they make you feel appreciated! Boost morale and improve your culture by ensuring your team knows that clients notice their hard work.
But why, specifically, are positive reviews good for your business?
Positive reviews help bond a client to your practice. If someone is willing to publicly state their affinity for your practice with a glowing review, psychologically that solidifies how they feel about you and makes it significantly more likely that they will also talk to friends and neighbors about their positive experience with your practice. In turn, your acknowledgment and appreciation of their review will make sure that they feel appreciated, giving them the warm pat on the back that they deserve for publicly going to bat for you.
Keep reading for more specifics about retaining your clients with positive reviews!
Positive Reviews are Marketing Assets
When a positive review gets submitted online, there are numerous ways to use it to your advantage besides just increasing your average star rating. You can post it as a testimonial on your website, and if you collect enough, you can dedicate an entire webpage to just positive testimonials. You can also share them on your social media accounts. You can even use them in both online and print ads. Be creative!
Reviews, Responses, and the (Digital) Public Face of Your Veterinary Business 
If a veterinary client takes the time to post their good experiences with you, you can validate them by acknowledging and thanking them. Responding to reviews humanizes the business by showing the clients that their opinions matter to the business and that they are valued. As a result, trust is built between the client and business, and client retention improves.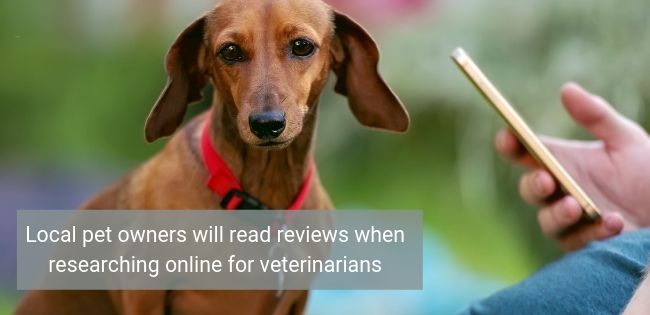 These interactions also increase the visibility of your business for potential clients. When local pet owners research veterinarians, they will actually read online reviews, along with the responses from the business. Of course, they'll be more likely to trust you when they see that your current clients have deemed you trustworthy. Research shows that 78% of clients revealed that they trust online reviews as much as personal recommendations. Plus, 30% of potential clients determined that business responses and engagement is a key factor in their decision making when selecting a service.
The bottom line here: be sure to thank positive reviewers publicly!
Not sure how to respond to reviews? Check out our blog on review responses: "Stop, Look, and Listen - Veterinarians Should Check and Respond to Online Reviews"
Positive Reviews Factor into Online Search Results
From an SEO standpoint, diversifying your reviews across multiple review platforms greatly improves your search ranking, especially local search ranking. When Google ranks a business, it not only looks at the number of reviews but also the consistency and level of activity (including your responses to those reviews).
That means you should check for and answer reviews on as many platforms as you can. Beyond Yelp and Google, think about Facebook, Angie's List, and Foursquare, just to name a few.
Encourage Positive Reviews…The Right Way
Many veterinary marketers ask, "How can I encourage our existing clients to advocate for us by leaving positive reviews?"
Encourage your happy clients to advocate for you online with these tips:
Ask at the right moment. Be aware and look for that positive moment, such as a chatty, upbeat appointment checkout. Keep in mind that 70% of clients are likely to follow through with a review when asked so don't be shy!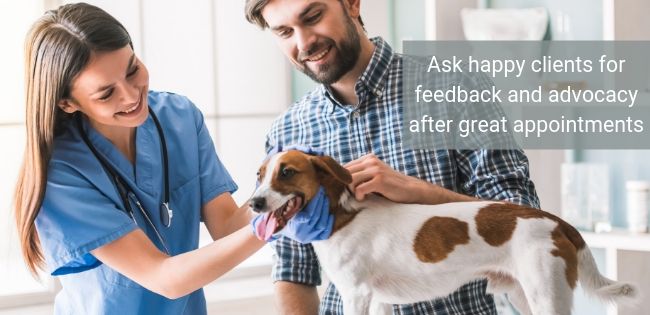 At the end of a visit, ask clients an open-ended question: "How was your experience with Dr. ______ today?" Not only is this a genuine way to get feedback, but it can also help you sneakily find out their happiness level. If they are happy, they may want to share their thoughts online. If the response is not positive, you can rectify a negative situation before a review is left.
Encourage reviews through an email campaign or a newsletter by including the option for clients to leave a positive review. After each client's appointment, send them a follow-up email that includes doctor notes, instructions, and recommendations. This is a great opportunity to ask the client about their experience and to leave a review.
Use website review tools or widgets that allow you to give clients an opportunity to leave a review on your website by way of a form. Conversion rate (in this case, completion on that online form) is usually high, and it can even improve your website's SEO performance.
Yelp: The Special Case
Yelp guidelines prohibit the direct request of business reviews. But that doesn't mean you can't steer your happy clients there: see our tips in the "Yelp Check-ins Can Lead to Reviews" section of our blog "Social Check-Ins Add Marketing Meaning to Veterinary Appointments".
Ensuring Advocacy from Reviews
While online reviews live in public forums, with time, they can become "stale." You can renew their influence by sharing them on your social channels. You can do this easily on Facebook and Twitter by copy and pasting. For Instagram, you can create a graphic featuring the review. Factor review shares into your posting editorial calendar to show potential clients just how much your existing clients love your staff and practice!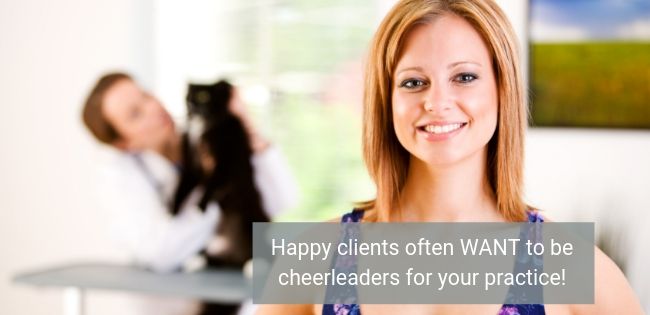 If your clients are happy -- and happy enough to share their experiences online -- then they WANT to be cheerleaders for your practice. Thank them for their efforts and encourage even more good reviews by replying to them in the various review platforms. This online interaction is key to giving local pet owners, as potential clients, a preview of the bonds they could develop if they trust your staff with their pets' care.