Building Your Practice's In-House Marketing Team
By Michele Drake, DVM, Chief Veterinary Officer
As the owner-doctor of The Drake Center for Veterinary Care, I have to find ways to make my practice stand out. We're in an incredibly competitive area: Encinitas, California, right on the coast where everyone wants to live. It's beautiful and popular, but that means there are a lot of veterinarians here.
To succeed, I've decided to lean into marketing, even as a veterinarian whose expertise is traditionally in medicine, not in business or sales. And because I need to focus on being the practice owner-doctor, I have to build a marketing team that I can trust, including employing an in-house marketer. Here's how your practice can benefit from adding that role to your staff.
How Does the Practice Owner Fit into the Marketing Team?
Team building starts from the top, and it's important that veterinary practice owners embrace marketing. Practice owners set the tone for the business culture and brand, and they must establish the mission and brand as a component of everyday business. That example will lead all staff members to understanding the culture and, ultimately, to letting that guide how they perform their jobs each day. This includes the practice's actual marketing staff, of course. If they are confident in the mission and brand, the messages they put out will clearly and consistently represent the practice's culture.
Practice owners must also have an understanding of how our consumer (the local pet owner) chooses where to seek veterinary services. A GeniusVets workshop and education staple is the roadmap, or the Customer Journey, from adopting a pet to becoming a bonded veterinary client. It's important for practice owners to know that how local pet owners hear about their practice, decide to schedule an appointment, and choose to return throughout the lives of their pets all happen through marketing.
How Much Does the Practice Owner Need to Understand About Marketing?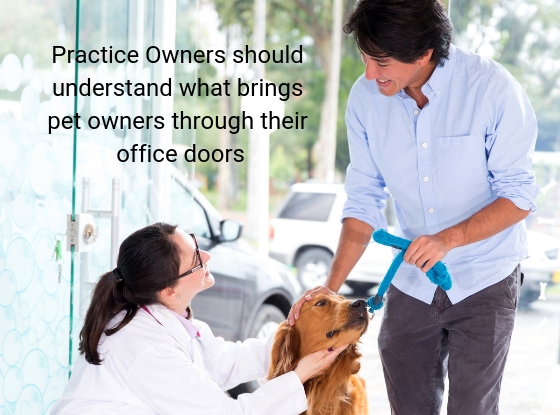 Having a grasp of the practice's marketing doesn't mean deep-diving into SEO or web development. Instead, it simply means having a basic idea of what digital marketing is. What does the business website look like? What social media platforms bring local pet owners to that website? Does that website lead to phone calls and appointment requests? Owner-doctors have to understand that this website is an important tool.
The website is the backbone of what the business's marketing team (the website/marketing agency plus the in-house marketer) uses to project the brand out to the public. Those resources used to center on the printed Yellow Pages, but now this includes social media, Google ads, email newsletters, and more. While practice owners don't have to know all there is to know about modern digital marketing, they need a team they can trust to use those resources to attract clients.
So am I, personally, posting on Facebook? No. Do I interact with the agency that helps make my SEO amazing? Not really, no. I have a marketing person on my internal staff. Having this person actually in the office, steeped in the culture, and advocating for the business is vital. Then I can focus on my roles of providing medical care and making high-level business decisions -- just like any owner-doctor should.
Your Practice's Internal Marketer
I talk to a lot of veterinarians across the country, and I often find that they simply task a technician with posting to Facebook, hopefully in a couple of spare hours each week. Unfortunately, if your hospital is like most, technicians can never be sure that they'll have "spare" time on a consistent basis. Additionally, a true marketer and a technician have very different skills and very different personalities. Sure, techs understand the business culture, but marketing should be done by someone who is passionate about it AND who does not need to juggle it with patient care, supply orders, equipment maintenance, and continuing education.
Your veterinary practice needs and deserves a dedicated internal marketing professional. This person should have the time, space, and tools to connect the business with current customers and potential customers as a primary job role. So, what traits does this person need to succeed in this role?
Your Marketer Should Be a Pet Owner
Anyone who would market for a veterinary practice needs to have a dog or a cat, or hopefully both. At the very least, they must love pets and have been a pet owner at some point. This gives them the pet owner's perspective. To communicate with pet owners, it's not the tech, receptionist, or doctor perspective that truly matters. Practices are not marketing primarily to other doctors or technicians; they are marketing to prospective clients. A veterinary marketer needs to have personal experience with the wants, needs, questions, and language of that target audience.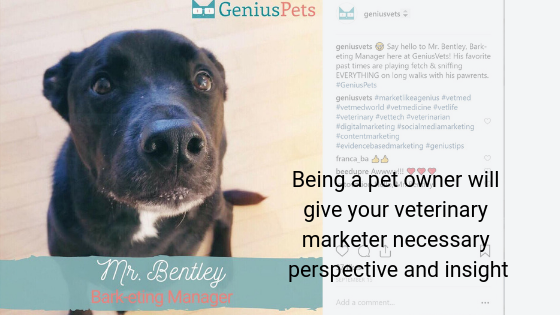 Of Course, Your Marketer Needs a Marketing Background
A particular marketing degree isn't necessarily key, but a passion for marketing certainly is. Most importantly, this person should have experience with social media. Once your practice has a high-quality, optimized website, social media will be where most of your digital marketing efforts are focused. In addition, they also need to be a good, polished writer because they'll be communicating with local pet owners via writing. For example, when we write blogs in my practice, the doctors and other support staff never physically write anything. Our internal marketer does all of the actual writing on our behalf. 
They Must Be a Technical Translator
In order to write those blogs, create infographics, promote products and services, or decide on event participation, your veterinary marketer will need to interview various staff members. They'll do some research as well. Furthermore, they'll need to confirm that any written recommendations match the practice philosophy. Then they have to take all of that technical information to create content that is easy for pet owners to both comprehend and consume. Veterinary jargon must become "plain English." How-to blogs can include easy-to-follow videos. Infographics get layered over cute pet photos. "Marketing," in the veterinary field, is often synonymous with "translating."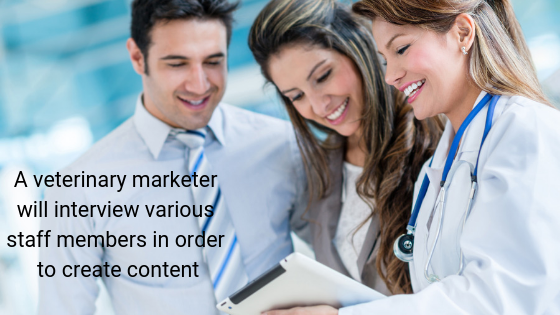 A Veterinary Marketer Should Be Independent and Resourceful
This does not mean that your marketer has to know everything about veterinary medicine, but this must be somebody who can be an independent learner and an independent worker. Remember, the owner-doctor is busy running the practice, which does not include constant, focused attention on one individual. The practice owner needs to depend on the internal marketer to work with the time and resources they have to create great messaging. Can they identify the doctor with an exotics background, the tech with a radiology specialty, or the receptionist with stellar photography skills? And are they willing to approach these specific people when needed? The marketer should be empowered and flexible enough to use the strengths of the entire staff, not only those of the practice owner.
Veterinary Marketers are Also Leaders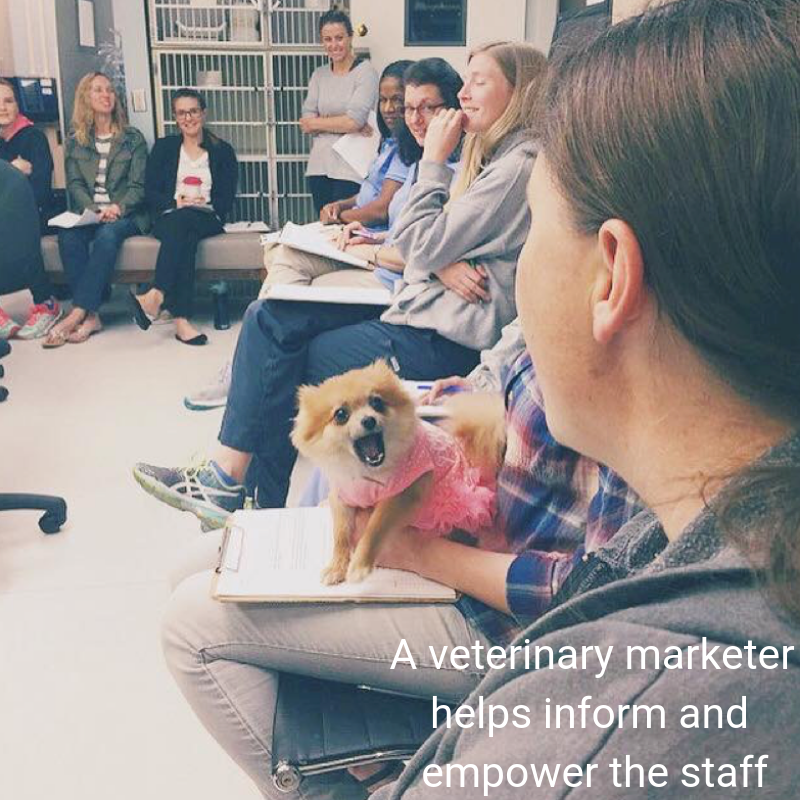 Veterinary marketing is a team effort. For example, on my marketing team, I have myself, our practice manager, and our marketer. We meet monthly, and in these meetings our marketer presents analytics and results. She provides status updates for current projects. And she brings ideas for what's next, letting me know what I might be able to help with. I'll weigh in and offer suggestions of my own to confirm that our vision and culture are reflected, but she takes the lead for promotions, events, and focus ideas. The marketing person is the one who stays on top of all the tasks and gets them all done.
But remember, the entire staff is also part of the marketing team, meaning that they market the practice every day when they go in the exam rooms, take phone calls, answer emails, and more. And they all need to deliver consistent information and messaging. At The Drake Center, at every staff meeting, our marketer informs the staff about current initiatives, alerts them to areas that need improvement, and asks for help with certain tasks. The veterinary marketer must keep the staff well-informed because an informed staff is an empowered staff.
Getting Started and Setting Growth Expectations
If you have never had a true marketer in your practice, consider starting out with a part-time hire. This could be for 15 or 20 hours a week, depending on the size of your practice. Because this does not need to be a professional marketer, per se, you could even consider someone who is new to the field. But as you grow, that person's role should grow also. As you get bigger, you'll require more hours from this person. This role will include blog writing, video production, social media management, event planning, newsletter creation, online reputation management, and much more, so it's easy to imagine that the role would grow as the practice grows. Therefore, you should hire with that growth in mind. Your marketer should be willing and able to expand their role, because of course they're going to help expand your business!
Building an Agency Partnership
In-house marketing will need to work hand-in-hand with efforts from any external digital marketing agency: the practice website, Google ads, SEO, etc. The internal marketer and a representative from the agency will hold regular meetings to discuss strategy, with goals such as increasing website visits and converting those visits into phone calls. The in-house marketer brings "in the trenches" experience, and the agency brings professional expertise; these combined strengths will both bond existing clients and attract new ones. The veterinary marketer can take advantage of the agency's proven strategies and tools in this valuable partnership.
If you want your veterinary practice to stand out, you'll need an outstanding marketer on your staff. You'll see that role and your business grow together!
The GeniusVets Veterinary Marketing Professionals Facebook Group is the place for any veterinary marketer -- new or experienced -- to find support, ideas, and professional connections. And if you'd like more information about how your in-house marketer can team up with our marketing professionals, please reach out to us!
Visit GeniusVets on Facebook to watch as Dr. Drake speaks about this topic, sharing more about how the marketing team works in her practice: