Building Trust Through Treatment During Veterinary Appointments
By Michele Drake, DVM, Chief Veterinary Officer and Shannon Pecora, MA, Marketing Manager
It goes without saying that the veterinary care you provide comes from a caring, knowledgeable, and skilled staff. High-quality medicine is at the heart of any practice's mission. But you can set your practice apart with a commitment to ensuring clients understand treatment, being upfront about costs, and following up on your patients' progress.
Local pet owners make appointments at your practice, obviously, to seek treatment for their pets, but you can create an exceptional appointment experience by emphasizing trust-building through the care you provide. In addition to quality medicine, your practice should be known for treating patients and clients with integrity, concern, and clarity. Let's explore how to do this with each appointment.
Preparing and Planning Before Treatment Begins
Wellness and preventive visits can often bring exactly what the medical team and pet owner expect, in terms of both treatment and costs. But, of course, sometimes those exams uncover additional conditions. Plus your schedule and exam rooms are full of appointments for sick or injured pets. In all of these cases, it's important to communicate your plan to the client before treatment even begins.
Once you've made your diagnosis on a patient, you generally establish a treatment plan. How you explain this to -- really discuss this with -- the client is key to building trust. First, the doctor will let the client know how they'd like to approach care: what procedures, techniques, and/or medications are needed in this pet's situation. Initially, this is not a discussion about cost; this is a time to help the pet owner understand the care your team will provide to their best friend. This understanding is what makes them trust you, setting them up to agree to the proposed treatments before you even talk about costs.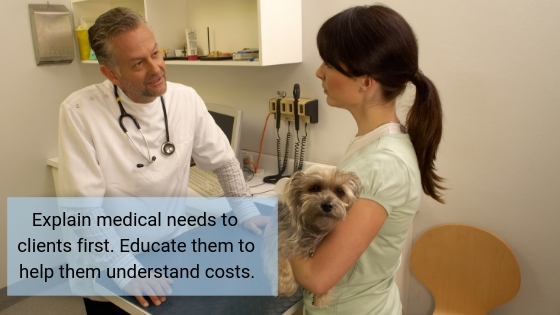 Once the technician is ready to present the written treatment plan to the client, it is already clear why each of the included items should happen. The client is already educated about the benefits to their pet. This makes talking about cost easier. The technician is not put in a position to justify the necessity of any procedure or medication, because the client has just had the opportunity to get this information from the veterinarian. The technician can certainly answer any new questions or reiterate any points, but the goal is to have eliminated as many surprises as possible in this beginning stage. The bottom line is that you must emphasize quality medical care first so that pet owners grasp where their payment would be applied. Again, trust is built when the best interests of the pet come first, leading to an informed discussion about pricing next. 
When the Unexpected Happens, as it Often Does
Obviously, when a patient is admitted to your hospital and things change, which they do all the time, the signed treatment plan needs to include a phone number (or two!) to reach the client. For example, this is common with dentistry, when an x-ray reveals an additional needed tooth extraction. This presents a change to the treatment plan, as well as another opportunity for you to show your client how forthright you are. When you're upfront about the updated procedure, added pain medications, and further costs, they can feel like an active participant in their pet's care, and more importantly, they can have confidence in your credibility. The last thing you ever want is a client coming in at the end of the day to a bill that is more than they anticipated. Create clear expectations during the treatment phase to avoid frustration at checkout.
Keeping Clients Connected
You can give clients a touchpoint by having the doctor call the families of surgeries and other hospitalized patients with midday updates and discharge these pets directly to their owners at the end of the day. This gives the clients first-hand conversation time with the clinician who cared for their pet if the morning drop-off involved only a technician. Receiving a review of their pet's day from the veterinarian gives them insight into who exactly treated their pet -- and demonstrates your compassion and concern. The trust continues to build that way.
Ending the Appointment on a Great Note - with Clear Notes
At-home care is where you need pet owners on the team. Make this easy for them by providing clear instructions, delivered both verbally and in writing. Have your technician demonstrate medication dosing, as well as describe any warning signs to look out for. All of this information should be available on a printed or emailed invoice, too.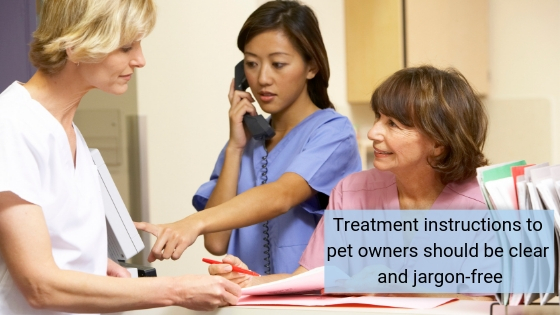 Chances are, you're already taking this step, but don't forget to periodically evaluate instruction templates. Recommendations may need to be updated, and medication information may change. It's also vital that you take the time to review the language you're using. Be precise and medically correct, but avoid any jargon that can create a barrier to comprehension and affect pet care. You'll set pet owners up for success, and they'll be able to see the effects of your stellar medical services each day at home with their pets.
Treatment Continues Beyond the Appointment Day
Once the day settles into evening for pets and their families, they may find that they have new questions, or they may realize that they've forgotten important information. Particularly for surgeries and admitted patients, you'll want to give their owners a lifeline of sorts. Avoid general worry -- and more importantly, at-home care mistakes -- by providing a resource as late into the evening as you can. You may have call forwarding or a dedicated practice cell phone so that a doctor can be reached for a certain period after hours. For example, at The Drake Center for Veterinary Care, clients can reach a doctor until 10:00 pm on the day of certain surgical discharges. This shortens their window of possible uncertainty since they won't have to wait until the next day's business opening to reach out to you.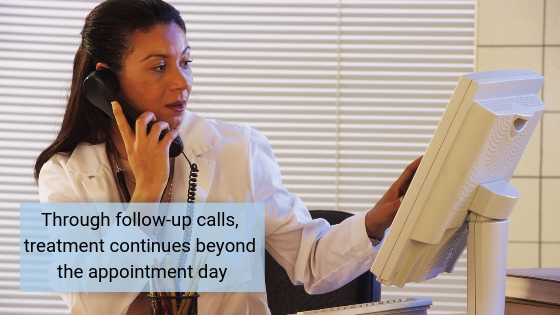 Certainly, the next morning, clients can expect a phone call to check in. Generally, it's going to be a technician, or occasionally a receptionist depending on what the procedure was. Pet owners want to hear that you're concerned. Is the pet is doing well and recovering properly? Does the client have any additional questions? At this time, remind them of any follow-up appointments and of any informational resources that you sent home the previous day. While the main purpose of this phone call is to continue your patients' best care, this simple task does wonders for client bonding. They see that the "appointment" can actually extend beyond their time in your office, and they'll appreciate this personalized attention.
It's also important to note that there are other methods of staying connected AND providing treatment outside of the exam room. Though there are regulations and standards to consider, such as existing doctor-client-patient relationships and examination methods, telehealth options are in the pipeline for many practices, nationwide. This could include phone answering services, video chat, and even text messaging. In fact, the service MyPetDoc actually allows pet owners to simply ask Alexa their pet health-related questions, and then follow up with a veterinarian, virtually, for further information. Technology can help you build trust and bonds through treatment in ways you may have never before thought possible!
Trust-building with clients is important for many reasons. In order to provide not just adequate healthcare, but the best healthcare, you have to make clients feel comfortable during each stage of their pet's treatment. Every appointment experience needs to start and end such that they feel confident and informed in allowing your staff to treat their best friend. Building client bonds starts with solid medicine, but it also includes communication of cost, procedures, and follow-up needs. If pet owners can trust your staff, your recommendations, and your methods, they will be more likely to work with you, and their pets will get the care they need.
Learn more about how marketing helps you build trust with local pet owners throughout your community: contact GeniusVets for a FREE 30-minute consultation with one of our veterinary marketing experts!